The National Park Service (NPS) has a long history of working in collaboration with the travel and tourism sector to manage responsible tourism that supports conservation and facilitates enjoyment of public lands. This story is one of a series profiling success stories and case studies of NPS-tourism sector collaboration.
By Donald Leadbetter and Jennifer Leslie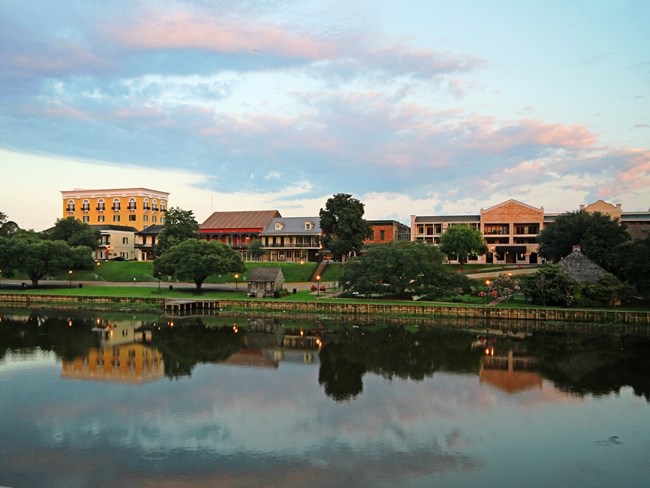 For 35 years,
National Heritage Areas
have proved to be a successful model for a new kind of national park, designed as public-private partnerships that celebrate, protect, and amplify the heritage of a nationally significant region. Tourism plays an important role in the success of the heritage area model, serving as a tool that supports conservation of the unique character, history, resources, and recreation opportunities across these landscapes.

The National Park Service does not typically own the land within heritage area boundaries, though a park unit could be embedded within one. Rather, the National Park Service advises a managing organization for the heritage area, frequently a local non-profit established for that purpose. These private organizations can move nimbly to form collaborative relationships with a range of partners, including tourism and destination management organizations.

In some cases, heritage area staff work in the same office as a tourism partner to closely coordinate destination development, management, and promotion. Many tourism organizations feature heritage area publications, like brochures or magazines, in visitor centers. Some, like the Colorado Tourism Office, feature heritage areas on their
digital platforms
.

Heritage areas often span a variety of municipalities and might need to work with multiple tourism organizations across different counties, cities, or states. Thanks to the large geographic scale of many heritage areas, they can help promote visitation across a region or destination, helping to minimize over-tourism challenges and spreading out the economic benefits for communities.

For example, at the most popular natural destination in New York State, the Niagara Falls National Heritage Area sponsors a shuttle bus to take visitors from the popular waterfall to the surrounding communities, encouraging exploration and longer stays. Nearby tourism organizations and other local businesses donated the bus and closely monitor the
direct effects
on the local economy.

To fund their management and marketing activities, heritage area organizations coordinate closely with partners. A few have arranged agreements with local governments to benefit from bed taxes on hotel stays. Others heritage organizations have staff on the payroll of local partners, while many receive grant money to support tourism management in their region.

The heritage area model can rejuvenate commerce and community vibrancy in historic districts by working with businesses and attractions to help them plan, promote, and prepare for tourism. Recently, the Wheeling National Heritage Area helped reshape downtown Wheeling, West Virginia by supporting recreation, arts, community development, historic preservation, and interpretation, turning the quiet town into a vibrant and lively space with thriving local businesses. The revamped
main street
won the 2019 Great American Main Street Award for this transformation.

Heritage areas can also host activities and visitor uses that other types of protected areas cannot. For example, the Mormon Pioneer National Heritage Area received a
grant
to develop off-highway vehicle (OHV) trails. Many national parks in Utah cannot allow OHV use, but some areas within the heritage area boundary can sustain motorized recreation. Other national heritage areas have created a different set of alternative uses by hosting movie sets, weddings, and even ballets while others offer receptive services (services that aid tour providers in accommodating their customers).

National heritage areas not only preserve history and character. As lived-in landscapes, these areas reveal how communities have evolved and adapted to changing times.

Rivers of Steel National Heritage Area commemorates the innovation of the steelworks era of the late 19th and early 20th centuries. In Pittsburgh, on the banks of the Monongahela River, a set of massive steel furnaces not only embody the industry that shaped the region but have been given new life as a strikingly unique event and work space for the community. Modern artists work with steel, bringing fire back to the furnaces, while graffiti artists are free to use an outdoor wall as a canvas—reflecting how people relate to the landscape today. Similarly, the Blue Ridge National Heritage Area has created
craft and music trails
to showcase the rich veins of artistic expression throughout the Blue Ridge Mountains.

The National Heritage Area model is unique and adaptable to a variety of landscapes, with tourism playing a key role in supporting community vibrancy and cultural vitality. While the National Park Service is most famous for its stewardship of traditional national parks, heritage areas demonstrate a unique, collaborative approach to supporting healthy communities through innovative practices that preserve local character just as much as natural resources.