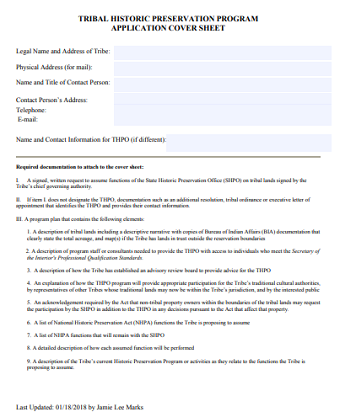 APPLY HERE.
Here can find the most updated THPO Program application. Use this application and application guidance to craft your THPO program plan. Program staff are available to you to offer guidance, technical assistance, and examples that will help you craft your program plan.

If you would like to be certified before the next funding deadline on June 30th, we recommend getting in touch as soon as possible. The application process typically takes around 3-7 months to complete and involves an NPS review period and an external review period. Applications are accepted on a rolling basis. However, in order to be eligible for funds in the next fiscal year, a THPO Memorandum of Agreement must be signed by June 30 of the prior fiscal year. Thus, an application that is approved in June 2019 would be eligible for FY20 funds and an application approved in July 2019 would be eligible for FY21 funds. Reviewing the application guidance, and the application videos linked here can assist you in streamlining the application process.
Please submit a Tribe's THPO proposal by email to: thpo_program@nps.gov or jamie_lee_marks@nps.gov
THPO Application Training
APPLY HERE.