Not every great artist of the American conservation movement was born on American soil. Thomas Moran, a painter who studied the works of master landscape artist J.W. Turner, was born in England. Moran was a Hudson River School painter who became famous for his images of the Rocky Mountains and Yellowstone National Park.

Thomas Moran was the chief artist for Scribner's Monthly, a magazine of literature, art, science, and other national interests. Moran produced vivid pictures for a variety of topics in the magazine, capturing the imagination of the American public. He took the skills of traditional European landscape artists he learned under Turner and included them in the magazine. This contribution captured the attention of Ferdinand Hayden.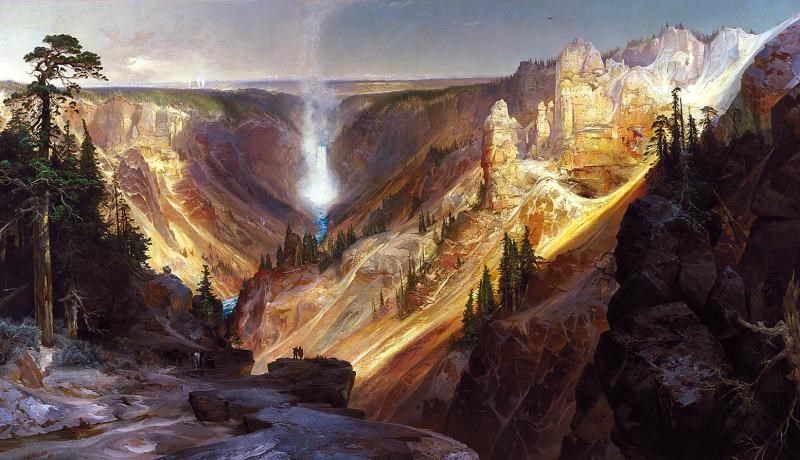 Moran was invited on the Hayden Geological Survey of 1871, a westward journey sponsored by the US Geological Survey that traveled to the northwest region of Wyoming and sparked the conservation of Yellowstone. This journey to a land filled with deep caverns, spouting geysers, and sparkling mineral pools astonished Moran and his companions. While many of the survey participants wrote back with records of their findings, Moran chose to use his brushes and canvases to illustrate the spectacular places he visited. Over the course of the expedition, Moran filled a diary with sketches of the sites visited each day and wrote about the splendor of the region. Some of the artworks Moran produced at this time, including the famous painting "The Grand Canyon of the Yellowstone" that can be seen today in the Smithsonian Museum of American Art, served as inspiration for the initial conservation of Yellowstone. By illustrating the wild spaces of the region with his pencils and brushes, Moran influenced the initial decision to preserve Yellowstone for future generations. His portraits came to the attention of the United States Congress and President Ulysses S. Grant. On March 1, 1872, Yellowstone National Park, the world's first national park, was born when Grant signed the Yellowstone National Park Protection Act into law.
Thomas Moran's work quickly became permanently associated with the Yellowstone region. After returning from his trip, Moran became known as Thomas "Yellowstone" Moran. He joined another survey in 1874. His paintings produced on this and other expeditions became central to shaping the definition of nature that inspired 19th-century scenic preservation movements.

Before Moran painted the Yellowstone region and made his sketches bring it to life, the American public had trouble believing the reports of the wonders it held. When Moran captured the national imagination with his majestic paintings and sweeping landscapes, he cemented for one of the first times the national treasures of the region. A generation of Americans was inspired to take pride in the wild spaces of the West, even if they might never travel to these wonders themselves.