Sustainability in Action: Reducing C&O Canal's Carbon Footprint
The National Park Service is investing $29 million in 81 individual energy efficiency and water conservation projects at national parks throughout the greater Washington region.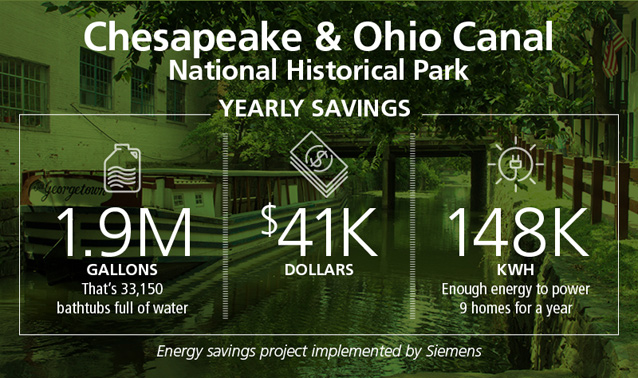 Reducing Energy Consumption
Reducing Energy Consumption
C&O Canal NHP's most significant contributor to GHG emissions is purchased electricity. To reduce overall energy use and operating costs, the park:
Upgraded to ENERGY STAR computers.

Created a plan to reduce lawn mowing activities.

Encouraged telework for park employees.

Implemented a policy of turning off lights, computers, and monitors when not in use.

Eliminated the use of air conditioning on specific floors and in certain buildings.

Investigated and developed renewable energy sources where possible.
Energy Savings Performance Contract
As part of the larger National Capital Region (NCR) Energy Savings Performance Contract (ESPC) project, C&O Canal NHP:
Installed programmable thermostats in park facilities.

Replaced antiquated appliances with low-flow water fixtures and performed an ice machine retrofit.

Upgraded to LED lighting with intelligent lighting controls.

Identified areas that would benefit from solar tube technology.
The C&O Canal NHP expects to reduce their GHG emissions by 21 percent through the ESPC.
Reducing Transportation Emissions
Transportation is the second largest contributor of GHG emissions at C&O Canal NHP.  To reduce transportation-related emissions, the park:
Relocated Park Headquarters to a more accessible, central location.

Leased flex fuel and hybrid vehicles when renewing leases and eliminated two SUVs from the park fleet.

Right-sized vehicles and established the practice of using small utility vehicles for short trips.

Held virtual employee meetings to reduce transportation emissions from park employees.

Purchased battery-operated lawn equipment and weed eaters.

Educated employees about flex fuels and biodiesel vehicles.

Introduced a "no idling" policy for park-owned vehicles.
Increasing Climate Change Education Efforts
C&O Canal NHP hosts approximately 4 million visitors each year. The park's climate education and outreach efforts are ongoing and extend beyond park employees to include visitors and the local community. These efforts include:
Educating visitors and park employees on climate change impacts and how to reduce GHG emissions.

Placing interpretive signs in restrooms that highlight energy efficient improvements.

Encouraging bike commuting on the Towpath and Capital Crescent Trail.

Installing warm season grasses to replace mowed turf where appropriate and developing education materials about the environmental benefits of the program.
Last updated: September 22, 2016