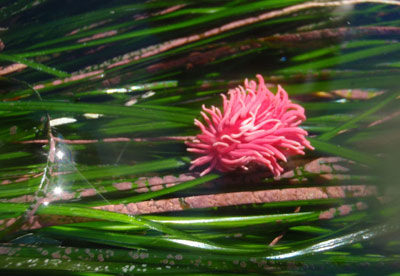 Common Name
Surfgrass
Scientific Name
Phyllospadix sp.
Habitat
Rocky intertidal and subtidal areas with turbulent surf
Additional Information
Surfgrass is a type of seagrass, or marine flowering plant, that occurs in turbulent waters at or below the low tide line. Surfgrass plants can pollinate both at the surface of the ocean, or while completely submerged. Unlike eelgrass, which grows on soft bottoms, surfgrasses require a rocky substrate to latch onto so they don't wind up washed ashore or stranded at sea. Surfgrass beds support many species of invertebrates, juvenile fish, and epiphytic algae. The upper portions of brilliant green surfgrass beds occur in the rocky intertidal zone. During negative tides, they are often exposed to the air where their inhabitants may be feasted upon by birds or explored by intrepid tidepoolers.