Seagrass Beds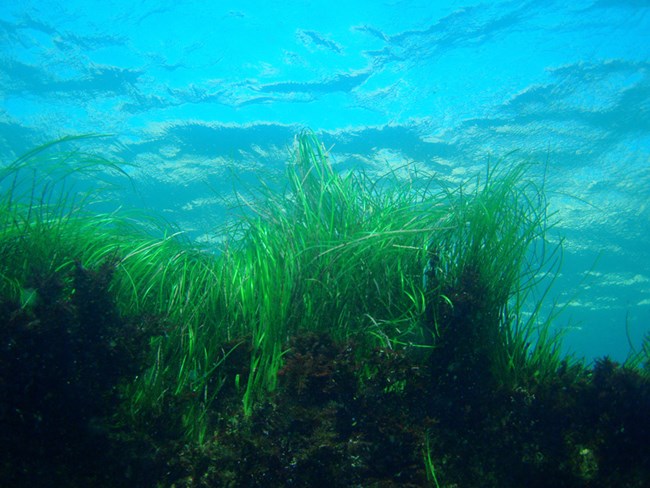 Ecology
Seagrasses are types of marine flowering plants that grow in large patches, or beds, in relatively shallow waters. They have long, narrow leaves, and are so named for their resemblance to terrestrial grasses. Unlike kelp and other seaweeds, seasgrasses are vascular plants that produce flowers and seeds.
Seagrass Species
Surfgrass and eelgrass are the two types of seagrasses that thrive at Channel Islands National Park: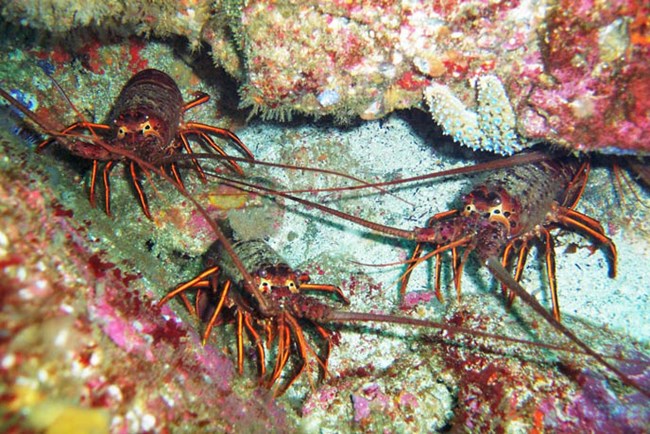 Importance
Seagrass beds provide food and shelter to a wide variety of marine life and are particularly important as nursery habitat for young fish and invertebrates such as kelp bass and California spiny lobsters. Seagrass beds are also one of the most productive ecosystems on the planet. As the plants undergo photosynthesis, they sequester more carbon than a rainforest of similar size. It is estimated that seagrass beds occupy just 0.2% of the ocean seafloor but account for an astonishing 10% of all the carbon buried annually in the sea. Additionally, seagrass ecosystems help filter, clarify and oxygenate seawater, stabilize sea floor sediments, slow strong currents, and reduce coastal erosion.
Current Threats and Conservation Efforts
World-wide, eelgrass beds are on the decline due to a variety of causes. Dredging in bays and estuaries is destroying prime habitat while sources of pollution are resulting in algae blooms that cloud the water and prevent photosynthesis. In California alone, 90% of eelgrass acreage has been destroyed since the 1950's. The relatively pristine eelgrass beds at Channel Islands National Park face fewer challenges to their survival than those along the mainland coast but threats still exist. For example, since boaters and eelgrass both prefer sheltered coves like Smugglers Cove, Scorpion Anchorage and Prisoners Harbor, Channel Islands eelgrass beds are susceptible to damage by anchoring. This threat was reduced when a local group called the Santa Barbara Channelkeeper provided eelgrass bed location information to boaters and island visitors. These materials are working to help educate boaters on where to anchor to best preserve vibrant eelgrass ecosystems.
Last updated: January 26, 2017