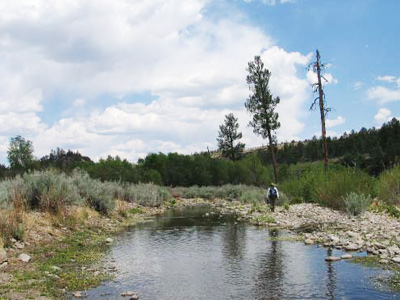 Riparian areas supply food, cover, and water for a variety of wildlife. They also serve as migration routes and habitat connectors. Riparian corridors help control water pollution, reduce erosion, mitigate floods, and increase groundwater recharge. Riparian systems perform numerous ecosystem functions important to human populations. Yet they are one of the most endangered forest types in the United States.
For these reasons, streams were chosen as a focus for monitoring in the National Park Service Sonoran Desert Network and Southern Plains Network. Portions of several major river systems (or their tributaries) are found within parks of both networks.
Long-term monitoring of streams helps us to better understand aquatic and riparian ecosystems. This monitoring measures 10 ecological indicators: stream channel morphology (pattern and geometry of a stream channel); riparian vegetation community dynamics; exotic plant species status & trends; exotic plant early detection; core water quality parameters; nutrient dynamics; microorganisms; pollutant metals; surface water quantity; and aquatic macroinvertebrates. Fish will be monitored as funding is available.