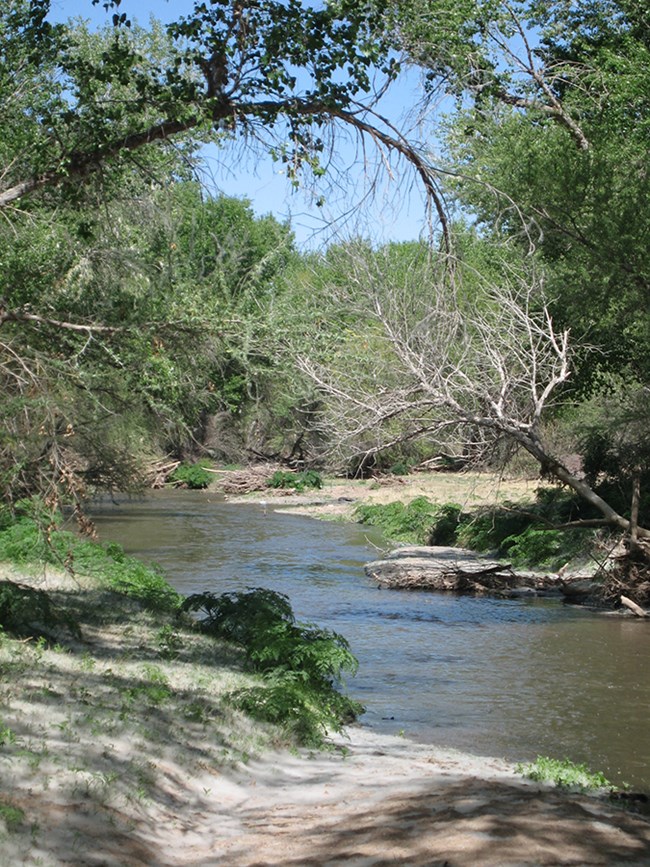 Overview and Importance
Many National Park Service units in the U.S. Southwest were established to protect precious cultural resources. In most cases, however, the surrounding natural environment is an equally significant part of the story.
When Padre Eusebio Kino and his fellow missionaries visited the Tucson Basin in 1694, the Santa Cruz River valley was controlled by the Sobaipuri, an O'odham group. Their villages were situated along streams, near concentrations of plants and animals, including freshwater fish. Father Kino also founded his mission near the banks of the Santa Cruz. River water allowed the mission to grow grapes, grain, vegetables, medicinal plants, and maintain livestock.
Tumacácori National Historical Park preserves Kino's mission sites and a segment of the Santa Cruz River. Since 1951, the river has received a steady flow of treated effluent from the Nogales International Wastewater Treatment Plant (NIWTP), 10 miles upstream of the park. As a result, the park segment now supports a rare southwest cottonwood–willow riparian environment, one of the most endangered ecosystems in the U.S. Recent changes to effluent inputs have reduced the river's flow, however.
Streamflow is just one of the parameters the Sonoran Desert Network is monitoring at Tumacácori and three other National Park Service units. The goal of the program is to detect broad-scale changes in stream health by observing certain measures over time—and to give park managers early warning of any issues they may need to address. The network measures water quality, water quantity (streamflow), channel morphology (the shape and composition of the streambed), riparian vegetation, and macroinvertebrate communities.
Stream conditions are closely related to climate conditions. Because the two are better understood together, the network reports on climate in conjunction with water resources. Reporting is done by water year (WY), which begins in October and ends the following September.