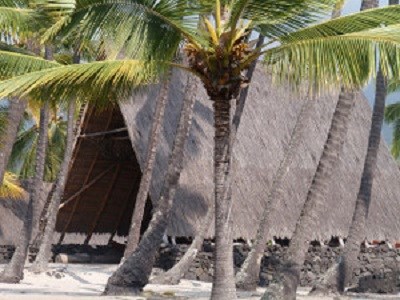 In the Hawaiian Islands -- on the barren lava fields of Kona -- lies the historic City of Refuge. Here for more than 700 years, ancient Hawaiians found sanctuary after violating the sacred laws of the kapu, which was then punishable by death. Once a safe haven for the island's aboriginal peoples, Pu'uhonua o Honaunau National Historical Park preserves ancient Polynesian sites and practices that still influence the Hawaiian people. The park offers great insight into Hawaii's ancient Polynesian history and culture through the structures at the Honaunau (royal grounds); the Pu'uhonua (City of Refuge); the Ki'i (wooden statues) guarding the temple of Hale o Keawe; the great wall marking the boundary between the royal grounds and the Pu'uhonua; and the nearby Kiilae village.
At Pu'uhonua o Honaunau, a large wall marks the division between the royal grounds or Honaunau and the refuge quarters or Pu'uhonua. The royal grounds of Honaunau descend from the slope of Mauna Loa to the ocean, which provided the 13th century village with optimal land for farming. The location of the royal quarters on Honaunau Bay also gave residents access to fresh drinking water. Servants caught fish from the royal pond to serve the village ali'i (chiefs). Residents had access to the resources they needed, but travel to and from the island was not possible for villagers who did not belong to the royal court. Chiefs and their attendants were the only inhabitants of Honaunau who could use the canoe landing on the beach. To prevent villagers from using the canoes or leaving Honaunau, Ki'is (wooden images) stood around the temple of Hale o Keawe to caution residents against defying the kapu.
Built around 1650, Hale o Keawe served as a temple and mausoleum for the remains of Pu'uhonua o Honaunau's 23 chiefs. According to ancient Hawaiians, the bones of the deceased chiefs held mana (great spirtual power), and burying the chiefs' bones at Hale o Keawe would protect the village, especially the Pu'uhonua or City of Refuge. The ancient Hawaiians built the temple at the entrance of the Pu'uhonua. They believed that placing Ho'okupu (offerings) on the stone structure's lele (tower) would allow them to make personal requests for their own salvation.