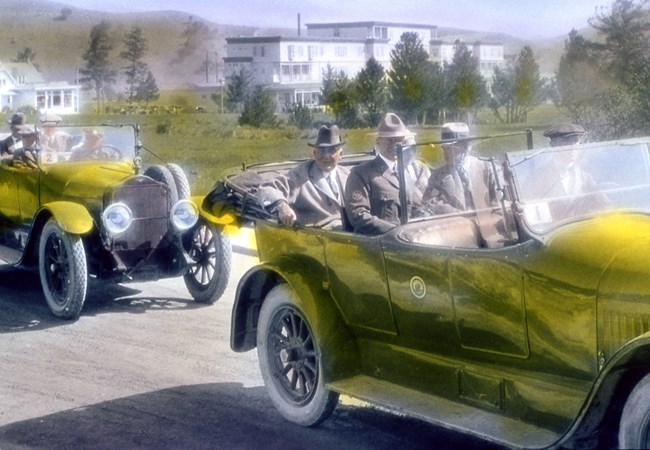 Public Health in Our Parks: A Brief History
Ellen Westfall, Public Health Fellow,
NPS Office of Public Health
In the late 1800s and early 1900s, the United States witnessed rapid urbanization and economic growth as a result of the Second Industrial Revolution. At the same time, travel became more affordable than ever before thanks to improvements and expansions to the US railway system, as well as the advent of the car. These technologies made cross-country trips feasible for the first time, resulting in tens of thousands of excited national park tourists traveling long distances to see some of the first founded parks, including Yellowstone, Yosemite, the Grand Canyon, and Hot Springs. The allure of new outdoor adventure experiences beckoned, and Americans heeded the call.The National Park Service, officially formed in 1916, was met with unprecedented challenges in managing the influx of traffic from visitors and residents in and around park lands. Scarlet fever and tuberculosis outbreaks, which were highly communicable and potentially fatal at the time, were an extremely dangerous threat in urban areas. As a result, city dwellers visiting the parks increased the risk of outbreaks, causing concern among park managers. Disease prevention, as well as water quality protection, pest control, and the expansion of existing sewage and waste disposal systems, quickly became critical to the health and safety of park lands, tourists, and employees. In 1921, the US Public Health Service, headed by US Surgeon General RADM Hugh Cumming, and Stephen Mather, the first Director of the National Park Service, established a strategic alliance to combat these public health challenges. The agreement authorized the assignment of Public Health officers to national park lands so that they could improve park sanitation, visitor hygine, and medical practice. Today, this work is continued by the U.S. Public Health Service officers who specialize in sanitary engineering, environmental health, and more. The partnership between the National Park Service and US Public Health Service has also adapted to address modern public health concerns: the effects of climate change, racial health disparities, and challenges concerning outdoor accessibility and mental wellness. The Office of Public Health (OPH) assists in navigating these challenges by serving as the primary liaison of the U.S. Surgeon General for all U.S. Public Health Service officers assigned to the Department of the Interior- the federal executive department in which the National Park Service is designated. While OPH has been dedicated to protecting park visitors from disease, it also serves the role of promoting healthy practices in parks. In 2018, the
Healthy Parks Healthy People
program was established to promote national parks as a physical and mental health resource for America's public.For the past 100 years, the US Public Health Service and National Park Service have worked tirelessly to make parks healthy and safe places for everyone to enjoy. We celebrate the progress that this partnership has fostered and look forward to what we can accomplish together.