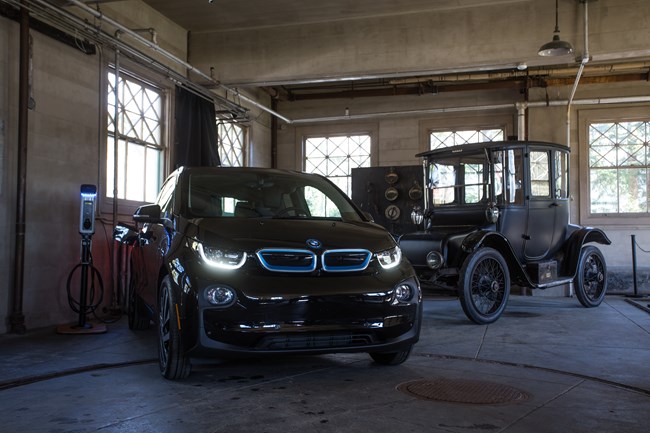 A Donation from BMW and the National Park Foundation Recharges Travel to Several National Parks
The National Park Service, the National Park Foundation, BMW of North America, the U.S. Department of Energy, concessioners, and gateway communities have collaborated to provide new technologies for travel options to and around national parks. As part of this public-private partnership, BMW of North America, working through the National Park Foundation, donated and arranged for the installation of 100 electric vehicle (EV) charging ports in and around national parks.

The automobile has long been central to the great American vacation in national parks. While our treasured landscapes offer familiar vistas time after time, the automobile has changed greatly, and parks want to meet the needs of visitors who use electric and plug-in hybrid electric vehicles. Through this joint effort, electric vehicle drivers will have more places to charge the car while recharging themselves with nature and parks.

Expanding EV access also minimizes greenhouse gas contributions and reduces the car's overall carbon footprint, helping the NPS fulfill its mission to preserve natural, historic, and cultural resources unimpaired for the enjoyment, education, and inspiration of this and future generations.

BMW of North America installed the first of these stations in April 2017 at Thomas Edison National Historical Park in New Jersey. More than 90 EV charging ports (with AC and DC fast chargers) are now available in or near more than a dozen national parks across the United States.

Let's go for a little drive across the country to check them out...
State
Park
Location
Massachusetts
Cape Cod National Seashore
Town of Wellfleet Town Hall
New Jersey
Thomas Edison National Historical Park
Visitor Center
Pennsylvania
Delaware Water Gap National Recreation Area
Roost Deli and Market
Gettysburg National Military Park
Museum and Visitor Center
Florida
Biscayne National Park
Dante Fascell Visitor Center
Everglades National Park
Ernest F. Coe Visitor Center
Flamingo
Shark Valley
Big Cypress National Preserve
Oasis Visitor Center
Arizona
Grand Canyon National Park
Maswick North Lodge
Yavapai Lodge Market
The Grand Hotel
Grand Canyon Railway Hotel
California


Death Valley National Park
The Inn at Death Valley
(part of the Oasis at Death Valley)
The Ranch at Death Valley
(part of the Oasis at Death Valley)
Channel Island National Park
Island Packers Cruises
Golden Gate National Recreation Area
Fort Mason Center
Washington
Mount Rainier National Park
Longmire Inn
Paradise Inn
Olympic National Park
Sol Duc Hot Springs Lodge
Lake Crescent Lodge
Kalaloch Lodge
In addition to these locations, charging stations in other areas were donated for use by NPS fleet vehicles as part of our effort to minimize fuel costs and reduce our own carbon footprint.

We know that people are creatures of convenience and habit. Adding new EV charging ports in these places helps link people to parks in a different way and increases the likelihood of EV drivers driving longer distances and finding a more convenient way to make their outdoor recreation plans a reality.

Public-private partnerships like this one help the National Park Service address opportunities and challenges as we begin our second century of stewardship of America's iconic historic, cultural, and natural resources. This is a perfect opportunity for more people to disconnect from the daily routine and plug into an outdoor experience of a lifetime.