Article by Jack Wood, Geology and Photogrammetry specialist, NPS Contractor; and Vince Santucci, Senior Paleontologist / Paleontology Program Coordinator, NPS Geologic Resources Division
for Park Paleontology Newsletter, Fall 2018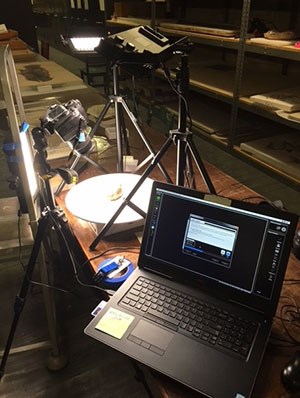 Structure-from-motion (SfM) photogrammetry methods are an increasingly common component of paleontological research and resource management. SfM methods have become especially important in the field of ichnology and are used to document individual tracks and longer trackways and, in some examples, to recreate lost track sites from historic images. Most importantly, SfM allows the user to gather precise measurements and provide scientifically valid information about a specimen that can, in turn, be shared around the world as a computer file. The Geologic Resources Division (GRD) is striving to develop a robust SfM program to support park units and regions with digital documentation efforts, training for staff, and building capacity for 3D data processing.
GRD has pursued SfM technologies because the method uses off-the-shelf equipment, e.g., consumer-grade cameras, computers and software, which is capable of creating high fidelity 3D data. This method for 3D data generation should be more accessible to parks and regions compared to other methods and technology, such as laser or structured light scanning, that require specialized equipment. In fact, photogrammetry 3D data can be gathered and processed with a smart phone, which is often adequate for rapid visualization of any object. At the other end of the technology spectrum, by using a quality digital single lens reflex (DSLR) camera with precisely calibrated scales (or control sticks) and dedicated photogrammetry software, highly accurate and scientifically reproducible data can be obtained. This data can be used for comparative analysis or fabrication of replicas.
As of this writing, 268 NPS units have fossils resources, few of which are available to the general public. Many of these fossils are managed in situ (meaning in place as found) or with some parks, curated through an onsite facility or museum. However, many paleontological specimen have been collected by researchers from institutions outside of the NPS, often prior to the destinations of parks and monuments. One of the most important types of fossils are what is termed a holotype. Holotypes are specimens used to describe and name a species, and serve as the specimen of reference for that species for future research. The Smithsonian's National Museum of Natural History, the Field Museum of Chicago, and the Northern Arizona Museum of Natural History, among other institutions around the country, have many specimens that were found in areas now managed by the NPS, including important holotypes. Photogrammetry methods allows for the generation of 3D data from a fossil that has cross-appeal to researchers, park or museum visitors, and NPS staff. While many institutions will loan specimens, many are often so fragile that even minor handling can cause irreparable damage to these resources. Replicas and virtual models (see example) provide a way to enhance visitor engagement without risk to valuable specimens. Virtual models can connect museum patrons to the NPS unit of origin for a specimen or bring back an important fossil to a park through digital interpretation.
Even when managing paleontological resources in situ, documenting fossils with photogrammetry can be an act of resource conservation and preservation. White Sands National Monument in southern New Mexico boasts the largest gypsum dune field in the world. Less known is the presence of Pleistocene animal tracks, including those of proboscideans (such as mammoths or mastodons), giant ground sloths, wolves, and the North American Lion. Recently published research provides strong evidence of interactions of human and giant ground sloths, recorded in trackways found within the monument. The abundance of trace fossils is so great that the monument should be considered a "megatrack site". These tracks occur in soft, unconsolidated sands of the paleo-shores of Pleistocene Lake Otero rather than stone. Once exposed at the surface the sediments and trace fossils can be quickly obliterated by wind erosion. Because of the ephemeral and delicate nature of the tracks, photogrammetry has become a key component for the study of the human and extinct animal tracks. In fact, White Sands is one of several parks or regions that is creating a robust in-house capacity for obtaining and processing SfM data to virtually document and preserve the story that can be read from the tracks in the monument.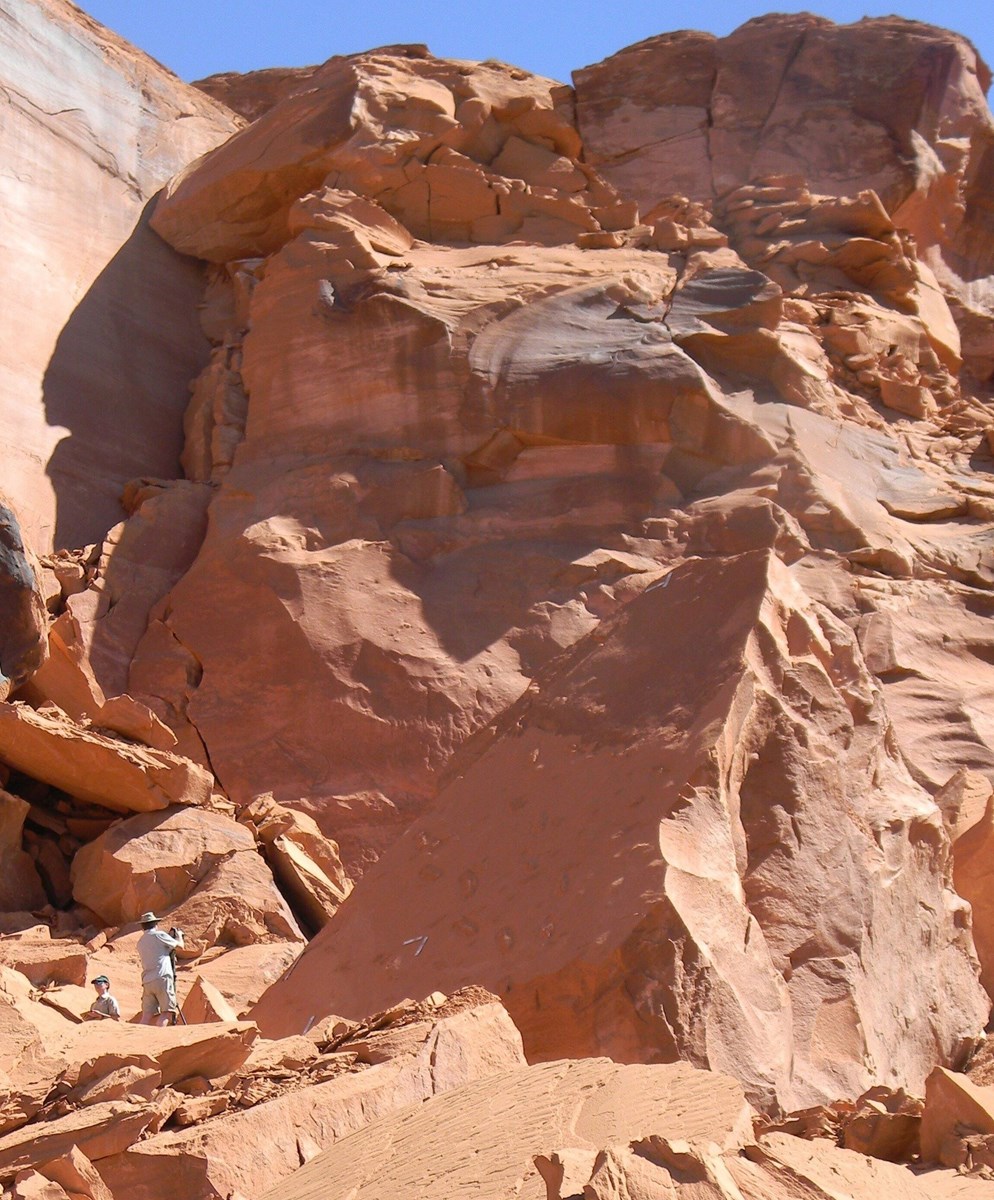 Another good example of managing in situ fossil tracks and trackways is along the shore of Lake Powell in Glen Canyon National Recreation area, Arizona and Utah. The Navajo Sandstone and the overlying Powell Sandstone, for example, are well-known for Early Jurassic vertebrate tracks, including abundant dinosaur tracks. Also preserved are traces of invertebrates (think insects) and other animals crossing the paleo-dunes now "frozen" into the sandstone. Variations of lake level can reveal previously unknown track localities, while lake high-stands can inundate sites for years. Many of these track sites have been found to contain trace fossils that are scientifically important. Photogrammetry provides a means to record the surfaces of bedrock exposures as well as blocks that have fallen from the canyon walls. Using photogrammetry models as an interpretive tool can enhance the experience of park visitors, protect resources, and provide valuable data for researchers even if sites are underwater.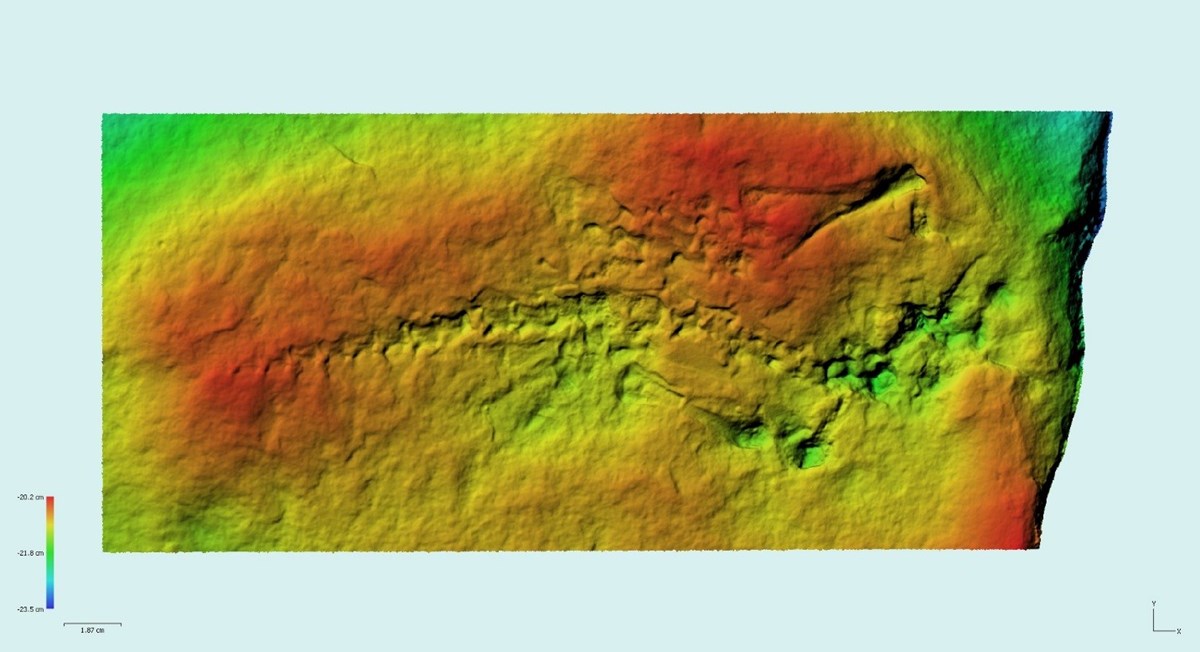 Another example of the uses of SfM methods is how the data can be enhanced through digital means to highlight features and textures. Similar to cartographic methods of creating digital terrain or digital surface models, a keyed color ramp can be employed to denote the elevation of a point on a surface above a fixed datum. This can allow for improved visualization of the variations in a rock surface that hosts fossils. If photogrammetry is used to document an area, this can bring the viewer into the realm of virtual reality and allow a park visitor or even someone at home to view and interact with resources from a park.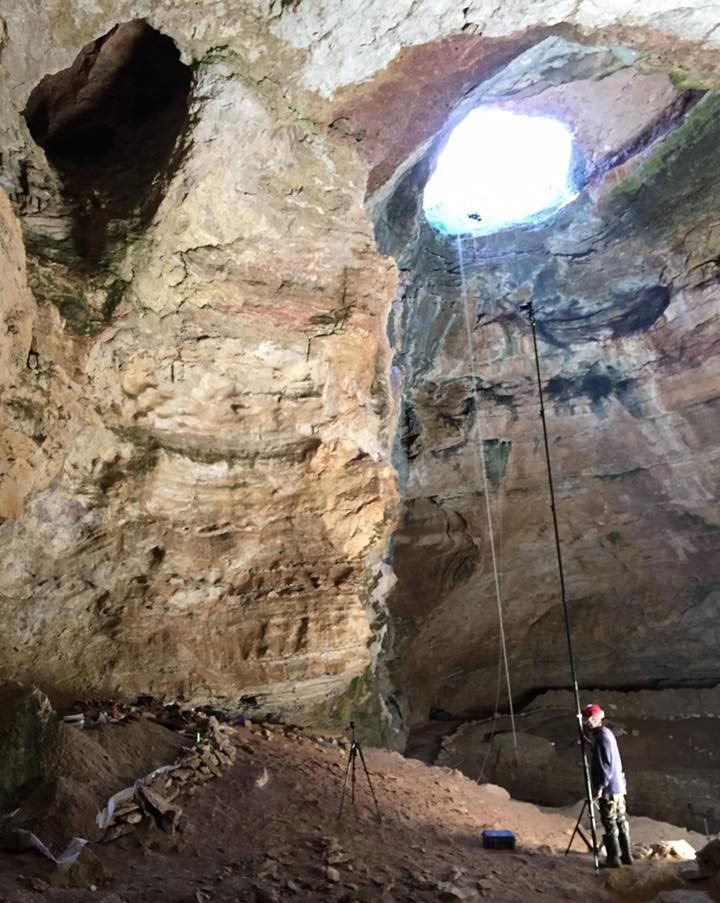 For anyone who would like to start experimenting with photogrammetry, all you need is a camera, a couple of scale bars, and a computer with photogrammetry software. The staff at GRD can help you get started, whether you want to start at the low end with a readily available camera, or go full-in with a DSLR camera and dedicated computer system. GRD can provide scale bars, technical assistance (e.g., data processing), support with write-ups and "how-to-do's" and even on-site help, whether for training or data acquisition. To get started, just contact the authors.