Article
Pancho's Scrapbook
Visit our keyboard shortcuts docs for details
Duration:

8 minutes, 17 seconds
Wouldn't it be amazing to hear the story of Tumacácori from one who has witnessed it first hand. Or is it "first wing?" Ranger Melanie and her feathered co-host read aloud, with discussion points to explore.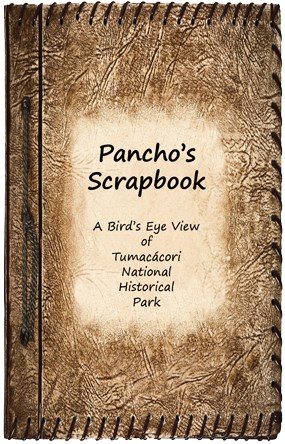 Pancho's Scrapbook
Follow along with this feathered, first-hand witness to all of Tumacácori's history.
Download
Pancho's Scrapbook
(6Mb, .pdf).
Download the
Pancho's Scrapbook FIND ME hunt
(1Mb, .pdf)
Or, watch for these bits of trivia:
1) What is Pancho's scientific name?
2) In what year did Pancho meet Kino?
3) When was the big Pima Rebellion?
4) Where did the last mission residents take the santos for safe keeping?
5) Who sent Pancho a congratulatory letter in 1908?
6) Tumacácori's doors are replicas from which Sonoran mission?
7) How many missions in total does Tumacácori National Historical Park protect?
Last updated: May 30, 2020