Geodiversity refers to the full variety of natural geologic (rocks, minerals, sediments, fossils, landforms, and physical processes) and soil resources and processes that occur in the park. A product of the Geologic Resources Inventory, the NPS Geodiversity Atlas delivers information in support of education, Geoconservation, and integrated management of living (biotic) and non-living (abiotic) components of the ecosystem.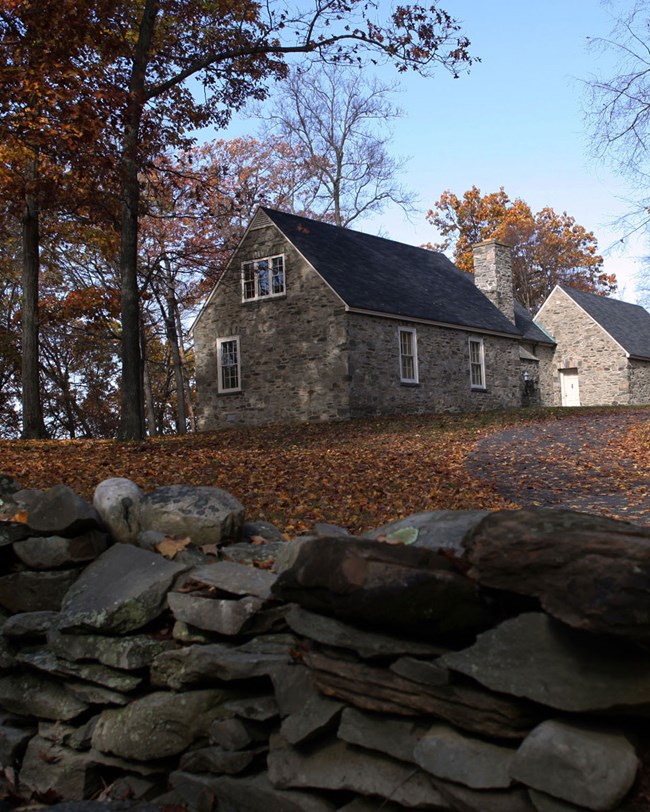 Geologic Features and Processes
[Site Under Development]
Both Saratoga National Historical Park and Roosevelt-Vanderbilt National Historic Sites lie along the Hudson River Valley in eastern New York State encompassing some 3,400 and 1,100 acres, respectively. Saratoga National Historical Park, authorized on June 1, 1938, commemorates the two Revolutionary War battles fought there three weeks apart in 1777. The park contains four separate units (the main battlefield, Saratoga Monument, "Victory Woods", and the Schuyler House) and sits 60 km (40 miles) north of Albany, New York. Located between Albany and New York City in Hyde Park, Roosevelt-Vanderbilt National Historic Sites includes three separate park units – Vanderbilt National Historic Site (designated December 18, 1940), Eleanor Roosevelt National Historic Site (authorized May 26, 1977), and Home of Franklin D. Roosevelt National Historic Site (designated December 15, 1944). Saratoga National Historical Park covers portions of four 7.5'- quadrangles and Roosevelt-Vanderbilt National Historic Sites lie within one 7.5'-quadrangle.

In eastern New York State, the Hudson River cuts a valley through bands of Devonian-age marine sedimentary rocks deposited in an ancient basin prior to the Taconic orogenic event. At Saratoga, the river meanders across its valley with broad, flat floodplain areas alternating with steep cutbanks and bluffs. At the main battlefield unit, bluffs rise 70 m (240 ft) above the western bank of the Hudson River. Above the river valley are dissected upland areas with exposed bedrock, rolling hills, and narrow valleys draining west to east flowing streams. At Hyde Park, 160 km (100 miles) further south, the Hudson River is wider and affected by tidal fluctuations extending up the valley from the Atlantic Ocean. Bluffs flank both sides of the river. Vanderbilt National Historic Site sits on a high, steep bluff rising nearly 60 m (200 ft) above the river. Home of Franklin D. Roosevelt National Historic Site sits on a gentler slope rising 50 m (160 ft) above the river. A few small-scale streams dissect the bluff, creating isolated knobs. Further upslope at to the east, atop the bluff, Eleanor Roosevelt National Historic Site contains a portion of the marshy Fall Kill watershed. Rolling hills and low ridges characterize the surrounding landscape.

Relatively undeformed and unmetamorphosed layers of shale, greywacke, low grade slate, and sandstone comprise the geologic bedrock units of this stretch of the Hudson River. Units include the black shales of the Canajaharie Formation, the Mount Merino Formation of shales and low grade slate, and the Austin Glen Formation containing greywacke, turbidites, shale, and sandstone. At Hyde Park, the sandstone beds in the Austin Glen Formation support the high bluffs above the river. Surficial geology played an important role in the battles at Saratoga and influenced the Vanderbilt and Roosevelt settlements. Pleistocene Ice Age glaciers covered this portion of eastern New York. When the glaciers retreated northward, melting ice dumped vast deposits of till to blanket the landscape. During glacial retreat, a glacial lake formed, filling the Hudson River Valley. This lake drained 10-12,000 years ago and left abundant lacustrine clay and sand throughout the region. Due to a lack of stabilizing vegetation immediately following glaciation, winds transported fine sediments forming paleodunes locally. Local streams and rivers are constantly eroding through these unconsolidated sediments creating valleys, ravines, and notches along the banks of the Hudson River.
Regional Geology
Home of Franklin D Roosevelt National Historic Site is a part of the Valley and Ridge Physiographic Province and shares its geologic history and some characteristic geologic formations with a region that extends well beyond park boundaries.
The
Geologic Resources Inventory
produces digital geologic maps and reports for more than 270
natural resource parks
. The products listed below are currently available for this park, check back often for updates as many maps, reports, and posters are still in progress.
Scoping summaries are records of scoping meetings where NPS staff and local geologists determined the park's geologic mapping plan and what content should be included in the report.
Digital geologic maps include files for viewing in GIS software, a guide to using the data, and a document with ancillary map information. Newer products also include data viewable in Google Earth and online map services.
Reports use the maps to discuss the park's setting and significance, notable geologic features and processes, geologic resource management issues, and geologic history.
Posters are a static view of the GIS data in PDF format. Newer posters include aerial imagery or shaded relief and other park information. They are also included with the reports.
Projects list basic information about the program and all products available for a park.
Related Articles
Home Of Franklin D Roosevelt National Historic Site
National Park Service Geodiversity Atlas
The servicewide
Geodiversity Atlas
provides information on
geoheritage
and
geodiversity
resources and values within the National Park System. This information supports science-based
geoconservation
and interpretation in the NPS, as well as STEM education in schools, museums, and field camps. The
NPS Geologic Resources Division
and many parks work with National and International geoconservation communities to ensure that NPS abiotic resources are managed using the highest standards and best practices available.
For more information on the NPS Geodiversity Atlas,
contact us
.