Geodiversity refers to the full variety of natural geologic (rocks, minerals, sediments, fossils, landforms, and physical processes) and soil resources and processes that occur in the park. A product of the Geologic Resources Inventory, the NPS Geodiversity Atlas delivers information in support of education, Geoconservation, and integrated management of living (biotic) and non-living (abiotic) components of the ecosystem.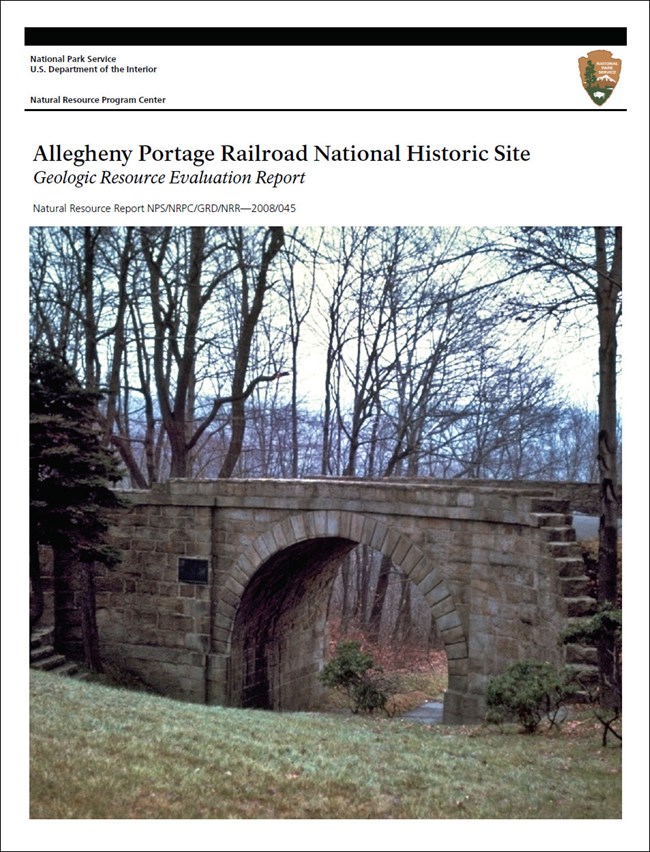 Geologic Features and Processes
The park stretches 59 km (37 mi) through the Allegheny Mountains in Blair and Cambria Counties. The mountains there range in elevation from 346 m (1,135 ft) to 734 m (2,408 ft) above sea level. Prior to construction of the railroad, the mountains were a significant obstacle to boat trade between the eastern and western divisions of the Pennsylvania Mainline Canal. After the railroad was built, trains portaged the boats across mountain slopes of more than 5 degrees.

The main unit of the park lies on the divide between the Chesapeake Bay watershed to the east and the Ohio River basin on the west. Blair Gap Run flows from Cresson Summit towards the Juniata River, and Bradley Run flows towards the West Branch of the Susquehanna River on the Chesapeake Bay side and on the Ohio River side water flows parallel to the Little Conemaugh River.

The Allegheny Front
The Allegheny Front is a sharp escarpment that divides the Appalachian Plateaus and the Valley and Ridge physiographic provinces. This topographic feature extends from northern Pennsylvania into southeastern West Virginia. Overall, the front has an elevation change of roughly 610 m (2,000 ft) and is approximately 280 km (174 mi) long. Historically, the Allegheny Front was an imposing barrier to east-west trade and transportation routes. Thus, this topographic feature was the reason for the construction of the Allegheny Portage Railroad.

The eastern side of the Allegheny Front consists of rounded and linear hills dissected by narrow valleys. These hills step up to the top of the escarpment and are composed of rocks that are highly folded, faulted, and deformed as a result of the Alleghenian orogenic event. In stark contrast, the western side of the front has undulating hills sloping away from the escarpment and is composed of relatively undeformed, horizontally layered rocks that resemble the sediments as they were deposited.

Predominant rock types of the Allegheny Front include sandstone (with some local conglomerate), siltstone, and shale (Whitfield et al. 2001). Geologic features associated with the front in Pennsylvania include Blue Knob, Horse Shoe Curve, Hunter Rocks, Turtle Rocks, Wolf Rocks, and Wopsononock Lookout.
Paleontological Resources
Fossils have been recorded from the Pottsville Formation and/or Allegheny Formation within the boundaries of Allegheny Portage Railroad. Other formations found within the park are known to contain paleontological resources, although no reported discoveries have occurred within Allegheny Portage Railroad. Rocks in the park area contain fossils that record the beginnings of ancient life (fossil algae called stromatolites) through the evolution of land plants and the mass extinction following the Permian Period.
All NPS fossil resources are protected under the Paleontological Resources Preservation Act of 2009 (Public Law 111-11, Title VI, Subtitle D; 16 U.S.C. §§ 470aaa - 470aaa-11).
Geohazards
Geologic processes that affect slopes, such as landsliding, slumping, chemical weathering, block sliding, and slope creep, constantly change the landscape at the park. Runoff erodes sediments from open areas and carries them down streams and gullies. Erosion naturally lowers higher areas, and the lower areas are filled in with sediments, modifying the historic context of the landscape.

The geologic units in the park are a heterogeneous mix of shale, sandstone, siltstone, limestone, dolomite, conglomerate, and mudstone. Clay-rich units such as shale and mudstone may deteriorate when saturated with water and are prone to fail when exposed on steep slopes. When more resistant rock units such as sandstone and limestone overlie weaker units preferential erosion may undercut the resistant rocks and result in rockfalls.
Cave and Karst
Allegheny Portage Railroad NHS contains 300-million year old, thin-bedded Mississippian and Pennsylvanian-aged limestones with solutional features indicative of karst. Springs and seeps within the Summit Unit of the park form the headwaters of Blair Gap Run, a pristine stream valued for its native trout. These park's springs and seeps may be karst-related.
All NPS cave resources are protected under the the Federal Cave Resources Protection Act of 1988 (FCRPA)(16 U.S.C. § 4301 et seq.).
Abandoned Mineral Lands
Allegheny Portage Railroad AML sites include 19 individual mined features, an additional 9 mine features are just outside the park boundary. All features are related to underground coal mining, and they include adits, seeps, subsidence features (into underground coal mines), iron precipitate mounds, and waste rock piles.

Abandoned and inactive mines pose environmental and health problems for the Allegheny Portage Railroad area. Foremost among these is acid mine drainage and residual heavy metal contamination of ground water, surface water, and soil. Mine areas within and upstream from the Allegheny Portage Railroad units produce acid mine drainage. Fluvial sediments (sediments carried by streams and rivers) can contain metals and other waste materials.
NPS AML sites can be important cultural resources and habitat, but many pose risks to park visitors and wildlife, and degrade water quality, park landscapes, and physical and biological resources. Be safe near AML sites—Stay Out and Stay Alive!
Geology Field Notes
Students and teachers of college-level (or AP) introductory geology or earth science teaching courses will find that each park's Geologic Resource Inventory report includes the Geologic History, Geologic Setting, and Geologic Features & Processes for the park which provides a useful summary of their overall geologic story. See Maps and Reports, below.
Regional Geology
Allegheny Portage Railroad is a part of the Appalachian Plateaus Physiographic Province and shares its geologic history and some characteristic geologic formations with a region that extends well beyond park boundaries.
The
Geologic Resources Inventory
produces digital geologic maps and reports for more than 270
natural resource parks
. The products listed below are currently available for this park, check back often for updates as many maps, reports, and posters are still in progress.
Scoping summaries are records of scoping meetings where NPS staff and local geologists determined the park's geologic mapping plan and what content should be included in the report.
Digital geologic maps include files for viewing in GIS software, a guide to using the data, and a document with ancillary map information. Newer products also include data viewable in Google Earth and online map services.
Reports use the maps to discuss the park's setting and significance, notable geologic features and processes, geologic resource management issues, and geologic history.
Posters are a static view of the GIS data in PDF format. Newer posters include aerial imagery or shaded relief and other park information. They are also included with the reports.
Projects list basic information about the program and all products available for a park.
A NPS Soil Resources Inventory project has been completed for Allegheny Portage Railroad National Historic Site and can be found on the NPS Data Store.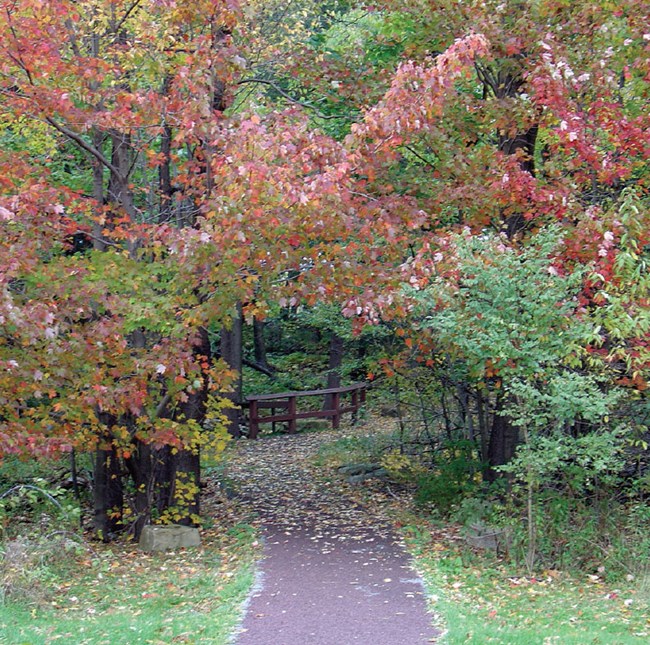 Related Links
Related Articles
Allegheny Portage Railroad National Historic Site
National Park Service Geodiversity Atlas
The servicewide Geodiversity Atlas provides information on
geoheritage
and
geodiversity
resources and values within the National Park System. This information supports science-based
geoconservation
and interpretation in the NPS, as well as STEM education in schools, museums, and field camps. The
NPS Geologic Resources Division
and many parks work with National and International geoconservation communities to ensure that NPS abiotic resources are managed using the highest standards and best practices available.
For more information on the NPS Geodiversity Atlas,
contact us
.