North Country: Trail to Great Adventures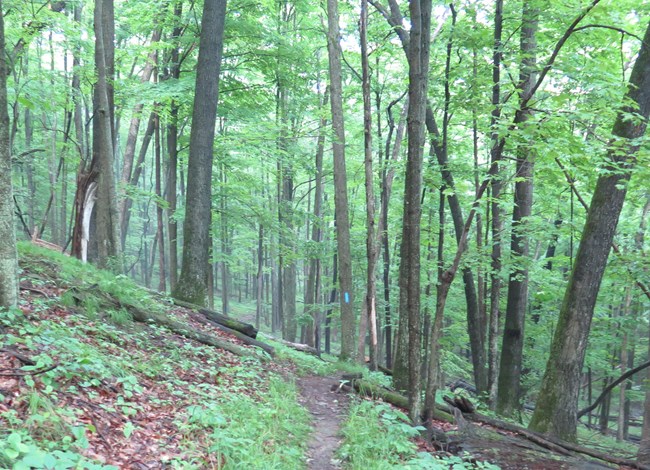 Unlike the Appalachian, Pacific Crest, and Continental Divide NSTs, which follow mountain ranges, the North Country Trail NST journeys through a variety of environments in the northeastern and north central United States. From the grandeur of the Adirondack Mountains in New York, it meanders westward through the hardwood forests of Pennsylvania, through the countryside of Ohio and southern Michigan, along the shores of the Great Lakes, and through the glacier-carved forests, lakes and streams of northern Wisconsin and Minnesota. Its western terminus lies in the vast plains of North Dakota.

The North Country NST answers the call of hikers and other trail users for pathways on which to escape from hectic lives for a chance to explore America at a walking pace, rather than at freeway speeds. North Country trail users are discovering places where they can look out over forested hills and valleys, places where the beautiful work of nature's hand appears undiminished, and places where our rich and diverse cultural heritage can be understood, enjoyed, and relived.

The North Country Trial exists as much for the enjoyment of the casual walker as it does for the challenge of those who will travel its entire length. Whether you use it for an afternoon of walking, a day of cross-country skiing, or a week or month of backpacking, you will find adventure as you encounter and explore forested pathways, marshes, and bogs, waterfalls, sand dunes, tallgrass prairies, old logging railroad grades, lighthouses, Revolutionary War forts, and small rural communities. From the Missouri River in North Dakota to the shore of Lake Champlain in New York, the diverse features along the trail will help users understand how the land was formed, how it has been settled, and how it has been used and altered by humans.

This diversity of landscape and scenic and historic features along the North Country NST is perhaps its most appealing quality. Large areas of publicly owned lands, such as national forests, major state parks and forests, and Adirondack Park in New York, offer wilderness and near-wilderness experiences. These remote sections of the trail will be especally enjoyable to those who value the solitude of such areas. A journey through these remote areas also rewards trail users with outstanding scenery, such as in Pictured Rocks National Lakeshore, Michigan, where 44 miles of the trail follow the Lake Superior Shoreline with its Grand Sable Dunes, Twelvemile Beach, and Pictured Rock Cliffs.

Somewhat in contrast to the remote sections are the portions of the trail which pass through or near many small villages and towns and a few large cities. These communities offer access to the trail, lodging, and other accommodations, opportunities to resupply for long-distance users, and interesting cultural features associated with their history.

Water has left a spectacular imprint on the North Country. Glacial ice sculpted the basins of our Great Lakes, cut valleys, and left behind numerous rivers and lakes. Today, water is still at work carving our landscape. The North Country Trail takes hikers to scenic gorges such as Watkins Glen in New York, Slippery Rock Creek in Pennsylvania, Old Man's Cave in Ohio, and the St. Louis River in Minnesota. The sight and sound of waterfalls will be frequent greeting to trails users, particularly in Upper Michigan and Wisconsin. The North Country's rivers and lakes will become favorite companions, especially at the end of the day when camp is made.

The scenic beauty of the natural resources along the trail is complemented by the many cultural features. Trail users can pause and marvel at the prehistoric Indian earthworks along the train in Ohio. All along the trail, North Country NST travelers are reminded of the original inhabitants of this region by the many locations that sill carry names given to them by American Indians and recorded by European explorers and traders.

No less marvelous that the ancient Indian earthworks are marvels of modern engineering to be encountered along the trail, such as Michigan's 5-mile-long Mackinac Bridge, spanning the waters between its two peninsulas, or North Dakota's Garrison Dam near the western terminus of the North Country NST. In between our ancient yesterdays and the present is a spectrum of history that can be enjoyed along the North Country Trail through visible remnants and interpretive facilities—historic forts, canals, lighthouses, and gristmills; sites of logging and mining camps; portage routes of the voyageurs; and much more. All are waiting to be explored and to tell their story to trail users.

The North Country NST is becoming one of our country's major trails, offering unparalleled opportunities to enjoy a cross-section of American's rich natural and cultural heritage. Come visit the North Country—by trail. Whether on foot, Snowshoes, or skis, great adventure lies just ahead.
Last updated: November 19, 2018