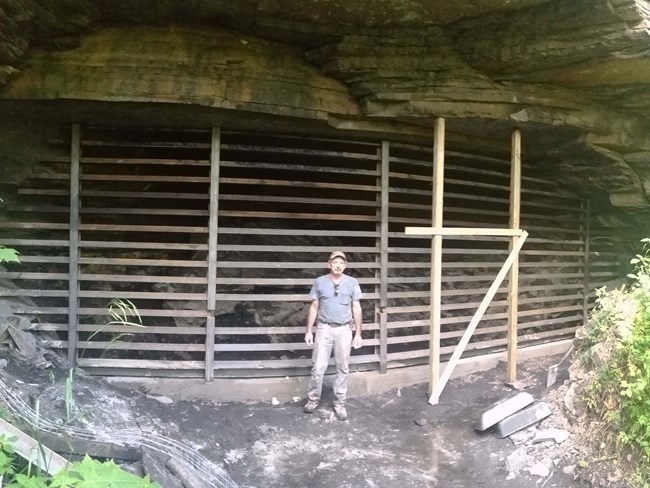 Why is the park interested in bats?
Bats are an important part of ecosystems and food webs. Though some species of bats feed on fruit, seeds, or pollen, the species that live in West Virginia are insectivores. They consume huge numbers of insects every night, filling a unique ecosystem role as nocturnal insect predators. Unfortunately, a new disease called white-nose syndrome is affecting bats across the United States. To better protect bats, biologists are studying how local bat populations are changing.
Research Highlights
Ten species of bats have been documented at New River Gorge, including three federally threatened or endangered species.
White-nose syndrome has dramatically reduced the populations of some bat species.
The park helps conserve bats by surveying and protecting critical tree habitats. Gating of mine entrances also protects bats from people and protects people from mines.
Bat species found at New River Gorge National River
Hibernating bats
Big brown bat (Eptesicus fuscus)*
Eastern small-footed (Myotis leibii)*
Indiana bat (Myotis sodalis)*
Little Brown bat (Myotis lucifugus)*
Northern long-eared bat (Myotis septentrionalis)*
Tri-colored bat (Perimyotis subflavus)*
Virginia big-eared bat (Corynorhinus townsendii)
Migratory bats
Eastern red bat (Lasiurus borealis)
Hoary bat (Lasiurus cinereus)
Silver-haired bat (Lasionycteris noctivagans)
*bat species known to get white-nose syndrome
How do biologists study bats? What have they learned about bats in the park?
Biologists use a variety of techniques to study bats. Special traps (e.g. harp traps) can be used to catch bats at specific sites in the park, such as mine entrances. Biologists can then identify the species and number of bats that are living in a mine. Trapping of bats in the park both before and after white-nose syndrome's arrival in West Virginia shows a dramatic decline in some species due to the disease.