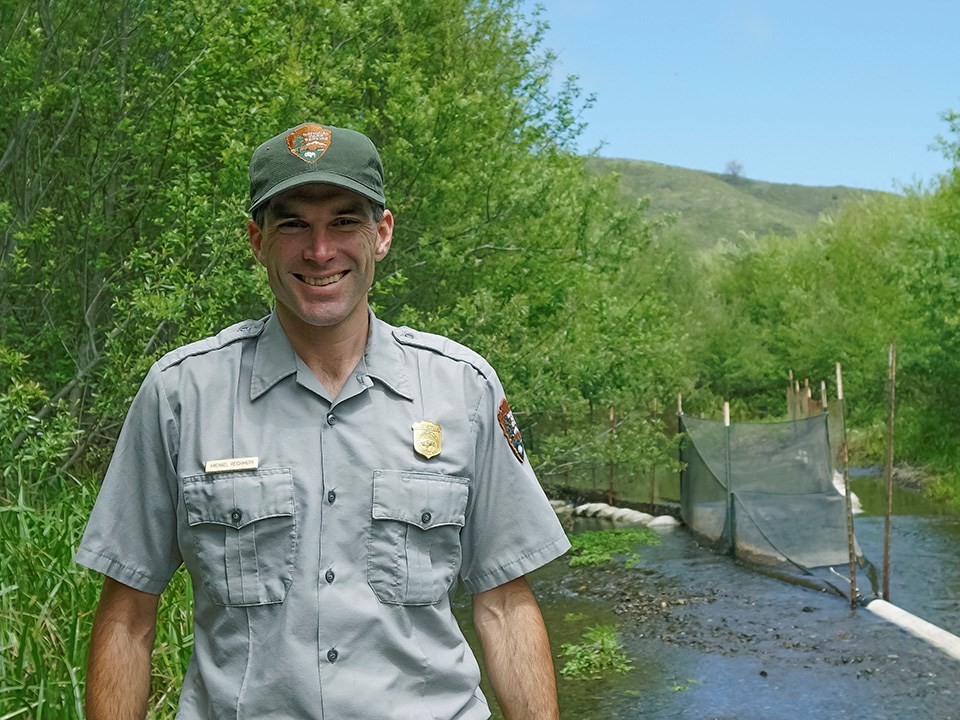 On Discovering Fish, Biology, and the Outdoors...
"Growing up, I had lots of fish tanks. There's all sorts of different varieties and body shapes of fish that make you wonder: how did this evolve? Why would a fin turn into this, or that? That's what first got me into fish, even as a kid. I think I was always interested in biology and the outdoors. I was in Boy Scouts, so we did a lot of backpacking and camping. My high school had a fish hatchery, so that's how I got more into biology and decided I wanted to go the fisheries route. Fisheries offered a combination of my interests: working with fish, and being outside."
"I was told that you need to go out and get experience early, so I started volunteering in college. First I did some restoration projects, then spawning surveys with California Department of Fish & Game (now California Department of Fish & Wildlife). I also worked with the California Conservation Corps during my summers, building in-stream structures for coho salmon."
"I was pretty lucky to get a job with the U.S Fish & Wildlife Service right out of college. Originally, I figured I would get a couple of seasons under my belt and apply for grad school. But I worked a full year at that first job, and they offered me a higher position, so I took that....and kept moving up. I ended up not going going back to school for a variety of reasons, and I'm okay with that. Now it's becoming more the norm to have a graduate degree if you want to make a career in fisheries."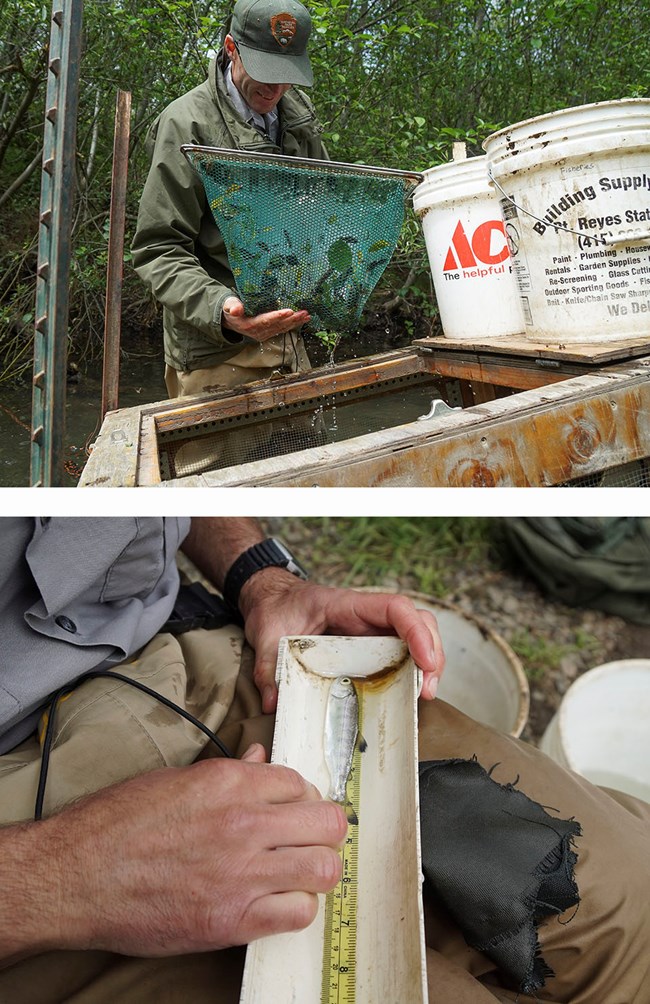 On His Work with The National Park Service....
Because coho salmon are an endangered species and steelhead trout are threatened, the National Park Service is responsible for monitoring and protecting them. Fisheries biologists like Michael and the 'fish crew' are part of a larger effort to learn about the size, distribution, and behavior of these populations in order to better understand their habitat requirements and engage federal, state, and local stakeholders in their protection.

"Transitioning from the U.S Fish & Wildlife Service to the National Park Service took a little getting used to. I went from performing research projects in some of the most remote areas of California to counting fish in Muir Woods, with visitors constantly asking questions and photographing my work."
"I think my favorite thing about my job is handling and seeing fish all the time. I got into salmon because of their unique lifecycle and the crazy journey they make: from stream to ocean as juveniles, then back to the same stream they were born in to spawn as adults."

"I still find it interesting to sit and watch the salmon spawn, it's just neat. When people actually see the coho mating, they get pretty jazzed. The salmon chase each other and do something called 'working the gravel,' where they move rocks around to cover their eggs. There's a lot of action. It's exciting for people, even just to see a big fish in a small creek."
"In general, people love wildlife. And unfortunately, there isn't as much wildlife as there used to be. But if we try, we can probably get there. In the case with salmon, there is a potential for them to rebound and come back in the numbers they used to be at. That would mean not only having a recreational fishery, but a potential food source as well."
"It's tough to work with the outside factors you have no control over, but at the same time, it's part of what makes things exciting. We have one of the longer datasets for coho monitoring in the region. I think that attests to us maintaining high quality data and going after funding to consistently support the program."
The San Francisco Bay Area Network Salmonid Monitoring Program pursues support from partnerships such as California Conservation Corps' Watership Stewards Program, a mentorship and service initiative which places successful applicants with scientists from natural resource organizations around the state.
On Life Outside of Work...
"A lot of my interests outside of work are...fish. My wife always says to me, 'You snorkel at work, and you see fish at work, but we go on vacation and you still bring your snorkel mask with you!' Stuff like that. I think one effect of working with natural resources is how you treat the land, even when you're not at work."
"It's nice that both of my kids like what I do. They show a definite interest when I take them with me to check the smolt traps. For Christmas this year, I got my son his own pair of waders. The expression on his face when he opened the box was priceless."
Reflections...
"Education is a good place to start, and also just getting out there is important. If you don't get the experience, then you're not going to know what you really want. There's a difference between having an idea of what you want to do and actually experiencing it."

Interview and Profile by Maritte O'Gallagher, May 2018.