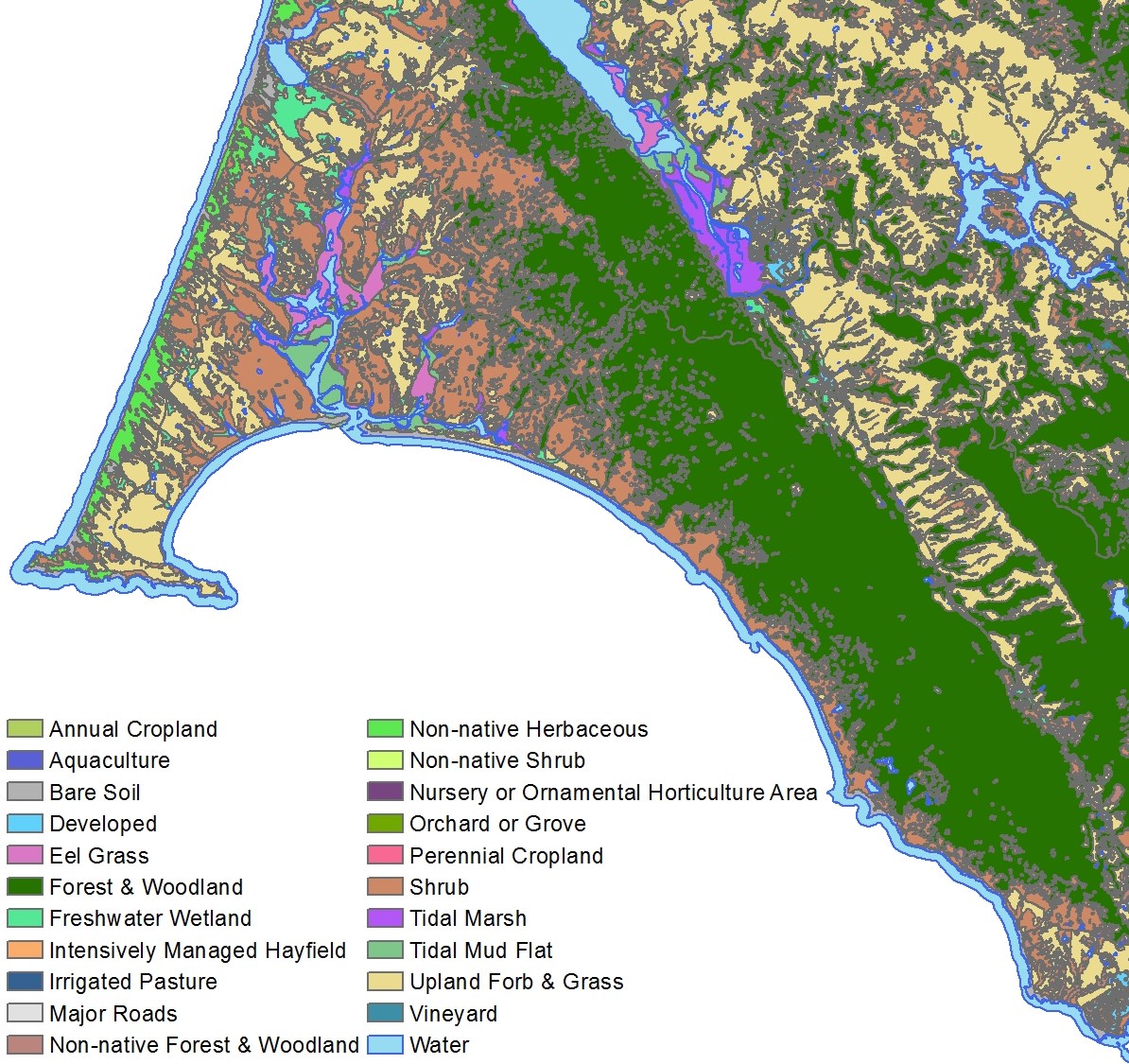 February 2020 - A draft "Lifeform Map" is now available for Marin County. It represents the latest milestone in the Marin Countywide Fine Scale Vegetation Map and Landscape Database Project, co-led by the Golden Gate National Parks Conservancy, in collaboration with a broad coalition of agencies and partners.* The project's ultimate goal is to produce highly detailed maps of land cover and plant communities, for the first time at a countywide scale. With this data, private land managers and public agencies will be better able to develop climate change adaptation strategies, perform watershed and flood management, focus wildfire planning and forest health projects, and plan restoration and conservation efforts. The project team met its first milestone of completing new, high resolution aerial imagery for the County early last year.
The new draft lifeform map was created in part using that aerial imagery. Other inputs included measurements like tree canopy height that were modeled from LiDAR data collected for the project last winter. The imagery and LiDAR information were automatically analyzed based on a set of rules informed by expert image analysts to create a preliminary map with 22 different lifeform and land cover classes. Examples of the classes specified on the map include Developed [land], Shrub, Non-native Herbaceous, Eel Grass, and Tidal Mud Flat. Forest & Woodland and Upland Forb & Grass are the most prevalent lifeform classes on the draft map.
The draft lifeform map will serve as a key input to machine learning algorithms that, in conjunction with expert aerial photo interpretation and extensive field validation work, will produce the countywide fine scale vegetation map. That map will specify far more detailed vegetation community classifications. The project team expects to release both the final lifeform map and the fine scale vegetation map in 2021.
Check out the draft lifeform map datasheet for more information, and for links to access the data. Still have questions? Contact Danny Franco.

*Project partners include: Golden Gate National Recreation Area, Point Reyes National Seashore, California State Parks (Bay Area Districts), Marin County Parks, Marin Municipal Water District, Marin Resource Conservation District, Marin Agricultural Land Trust, US Geological Survey, California Native Plant Society, County of Marin, ...and many more!!