Article
Vegetation Mapping Projects Underway in Marin and San Mateo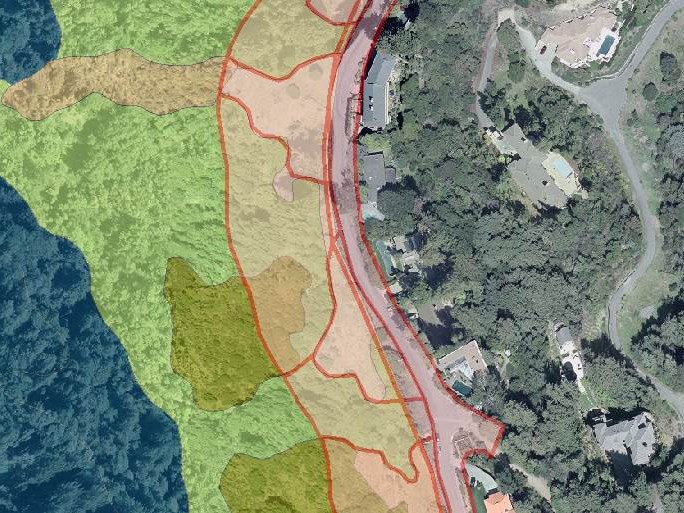 April 2019 - Detailed landscape and vegetation maps are powerful tools. They can help resource managers and community officials to detect changes in the landscape over time. Along with their underlying data, they can be used to understand and manage fire and flood hazards, critical habitats, climate change resiliency, and more. In Marin and San Mateo Counties, previous mapping efforts used varying methods and focused solely on individual agency lands, making it challenging or impossible to interpret the data at a landscape level. But now, the Golden Gate National Parks Conservancy is co-leading efforts to produce fine scale vegetation maps for both counties. A broad coalition of agencies and partners* are collaborating on the efforts.
The Fine Scale Vegetation Map and Landscape Database Project teams are using a unique, interdisciplinary approach. They are combining on-the-ground vegetation sampling with a remote sensing technique that uses machine learning, LiDAR analysis, and photo-interpretation of high-resolution aerial imagery. The resulting maps will represent the most comprehensive surveys to date of the counties' topography, built and natural features, and plant communities.
Last month, the project teams met their first milestone: new, high resolution aerial imagery is complete for both counties. This data is, or will soon be, available on the Marin Map and Open San Mateo County websites. Now, vegetation field sampling is underway, which should wrap up this summer. From there, the teams anticipate another three years of work ahead. This will include tasks like using the aerial imagery and field sampling to classify and map vegetation types. Mapping [fire] fuels and water features, and various accuracy assessments are also still ahead.
Have questions? Get in touch with Danny Franco to learn more.
* Project partners include: Golden Gate National Recreation Area, Point Reyes National Seashore, California State Parks (Bay Area and Santa Cruz Districts), Marin County Parks, San Mateo County Parks, Marin Municipal Water District, San Francisco Public Utilities Commission, Marin Resource Conservation District, San Mateo Resource Conservation District, Peninsula Open Space Trust, Marin Agricultural Land Trust, Midpeninsula Regional Open Space District, US Geological Survey, California Native Plant Society, County of Marin, County of San Mateo, San Mateo Fire Safe Council, ...and many more!!
Last updated: April 30, 2019