Kentucky: Mammoth Cave National Park
Mammoth Cave National Park is home to numerous limestone caves, two beautiful rivers, and rugged landscapes clothed in forests, as well as the most extensively explored cave system in the world, Mammoth Cave.  This extraordinary system of caves covers over 412 miles (659 km) of surveyed passageways. Documented within its extensive passageways are the stories of how human cultures past and present have utilized and valued caves.
Recognized for its superlative karst features, Mammoth Cave National Park is two landscapes in one. A mosaic of forest types, grasslands, and caves supports more than 1,300 plant species and is home to more than 70 threatened, endangered, or state-listed species. Mammoth Cave is recognized as having one of the most diverse karst biota in the world. The Green River holds one of the most diverse populations of mussels in the eastern United States. While the vast majority of the park's forests were subject to timber harvest, the Big Woods area is comprised of 300 acres of uncut timber and is listed in the Kentucky Registry of Natural Areas.
Mammoth Cave first came into modern prominence prior to the War of 1812 as a saltpeter cave. Around four hundred thousand pounds of saltpeter were removed from the cave and made into gunpowder for the War effort. Mammoth Cave's saltpeter works have been documented by the National Park Service's Historic American Buildings Survey, and much of the infrastructure is still viewable inside the cave.
In addition to a large quantity of saltpeter, cave miners discovered a rich assortment of ancient artifacts discarded by the cave's earliest users. From 5,000 years ago until nearly 2,000 years ago, Native Americans also explored and mined the upper three levels of Mammoth Cave. Covering over sixteen miles of the system, they sought gypsum, selenite, mirabilite, epsomite and other related minerals. Other archeological sites in the area show evidence of paleo-Indian, Archaic, Woodland and Mississippian Indian cultures. The early Woodland culture is particularly important. It marked the independent development of organized horticulture in the Western Hemisphere, with primitive agriculture on river floodplains, and was the period of the first exploration and mining in Mammoth Cave. Thousands of artifacts, including torches, gourd bowls, mussel shells, cord, pottery, and woven cloth, as well a handful of petroglyphs and pictographs, and even bare foot prints, have persisted through the millennia, sheltered by the cave environment.
The existence of these ancient relics, in particular, began to draw public interest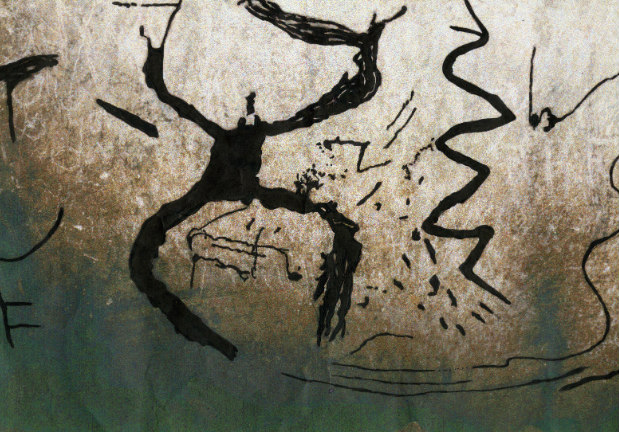 Prehistoric drawings such as this are still found on cave walls. 
National Park Service photograph
to Mammoth Cave. Recognizing the cave's potential as a public attraction, Franklin Gorin, a lawyer from nearby Glasgow, KY bought the property in 1838. Gorin brought slaves to the cave for the express purpose of guiding tourists through the cave. When Dr. John Croghan of Louisville purchased the cave the following year, he kept many of the experienced slaves on site. With slaves guiding groups consisting of both American and international visitors, social, as well as physical boundaries, were challenged. Slaves such as Nick and Mat Bransford and Stephen Bishop would later be followed by others of African American descent, such as Will Garvin and Ed Bishop, in making names for themselves as guides and explorers. The cave still preserves the memories of these men through stories of their exploits, discoveries, and written accounts from visitors which are still shared today.
Under Dr. Croghan's ownership, the cave was explored for new reasons. Consistent with the medical understanding of the times, he considered the possibility that the cave air would be therapeutic for his consumptive (tuberculosis) patients. Housing was built in the cave where, from 1842 to 1843, patients could live and take in the cave air. It was a futile effort for patients clinging to life. Yet, their stone buildings continue to stand in the cave as monuments to man's desire to live.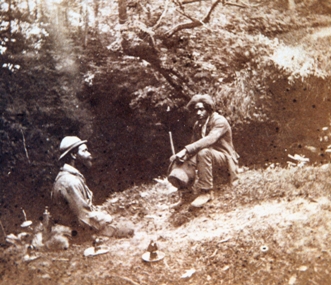 Guides Matt and Nick Bransford pose at the entrance to Mammoth Cave. 
Charles Waldack, 1866.
That desire would be displayed again when Floyd Collins, a local caver and cave business operator, found himself trapped in Sand Cave. By the 1920's, numerous other caves had opened up for tourism in the local area. Competition among cave owners, including the internationally known Mammoth Cave, ushered in a period known as the Kentucky Cave Wars. Under this pressure, Collins was seeking out a new cave to open when, in the winter of 1925, his foot became trapped by a fallen stone. The rescue attempt lasted for over two weeks and would be heralded as one of the major media events of its day.
Just over a year later, Congress, inspired by the report of the Southern Applalachian National Park Commission, passed legislation authorizing the establishment of a National Park. To meet the terms required, over 45,000 acres had to be acquired from some 600 landowners. In 1935, four camps of Civilian Conservation Corpsmen arrived to begin construction of roads, trails and other surviving structures both on the surface and in the cave. By July 1, 1941 Senator Barkley was able to announce the creation of Mammoth Cave National Park. Mammoth Cave was later honored by recognition as a World Heritage Site in 1981, a designation as the Mammoth Cave Area Biosphere Reserve in 1990 and listed on the National Register of Historic Places in 1991.
The center of Mammoth Dome rises 
nearly 200 feet within the cavern.
National Park Service
 
The region has attracted explorers and tourists, and supported the Kentucky tourism industry since the 19th century. One historic site is the Old Guide Cemetery that contains the graves of guides, explorers, and victims of consumption. Twenty-one graves fill Old Guide's Cemetery. Three are known to be patients from the experimental consumption hospital, run by the landowner Dr. John Croghan. Another grave is that of Stephen Bishop, famous enslaved cave explorer and guide of Dr. Croghan. 
The park also maintains the restored cars used by the Mammoth Cave Railroad Company to transport tourists to Mammoth Cave between 1886 and 1929. The short spur-line ran from Glasgow Junction to Mammoth Cave Hotel greatly improving the transportation and economy of local residents. The historic railroad is now part of the Mammoth Cave Railroad Bike and Hike trail.
The caves and grounds reflect the history of the communities which existed prior to the national park's establishment. Old churches like Joppa Baptist Church and Cemetery and Good Spring Baptist Church and Cemetery remain today, telling the stories of community gatherings and everyday life in the nineteenth century.
Mammoth Cave National Park provides the thrill of exploring the caves and other sites as well as opportunities for biking, canoeing, camping, and horseback riding. The park offers ranger-led tours and campfire programs. Visitors can learn more about the history of Mammoth Cave and what to see and do at the Mammoth Cave National Park visitor center.
Mammoth Cave National Park is located at 1 Mammoth Cave Parkway, Mammoth Cave, KY. The visitor Center is open daily (closed December 25) with core hours from 8:45 am to 4:15 pm, Central Time. Tour times, Visitor Center Hours, and visitor services change seasonally. For more information, visit the National Park Service Mammoth Cave National Park website or call 270-758-2180.
GPS Coordinates 
Lat/Long: N 37° 11' 13.115'' ¦ W 86° 06' 05.197''
Decimal Degrees: +37.186976 ¦ -86.101444
UTM (Zone 16N, NAD83): 579779.491 ¦ 4115977.605 m
Mammoth Cave National Park has multiple listings on the National Register of Historic Places (Multiple Properties Document, Mammoth Cave Baptist Church image and document, Mammoth Cave Historic District image and document). The Park is also a World Heritage Site and unit of The Man and the Biosphere Reserve.
Photos of Mammoth Cave can be found on the Open Parks Network (CCC workers and glass plate negatives).  Mammoth Cave National Park's Saltpeter Works have been documented by the National Park Service's Historic American Buildings Survey. A map of many modern cemeteries in Mammoth Cave National Park can be found through the Southeast Archeological Center. 
Mammoth Cave National Park is the subject of an online lesson plan, Mammoth Cave: Its Explorers, Miners, Archeologists, and Visitors. The lesson plan has been produced by the National Park Service's Teaching with Historic Places program, which offers a series of online classroom-ready lesson plans on registered historic places. To learn more, visit the Teaching with Historic Places website.
Last updated: August 18, 2017