Virginia: Maggie L. Walker National Historic Site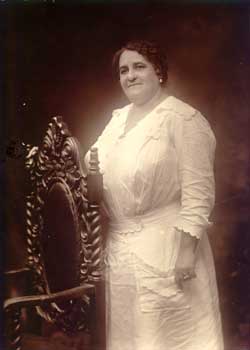 Maggie Lena Walker (1864-1934) was a woman dedicated to leadership. Born the daughter of a slave and former laundress, Maggie Walker spent her life actively involved in leading the African American community in Richmond and beyond. Determined that neither race nor sex need be limits on one's participation in society, Maggie Walker headed a bank and successfully guided it through the Great Depression while serving as the secretary-treasurer for a national fraternal organization. Maggie L. Walker National Historic Site presents the life and accomplishments of this remarkable woman through her home.
Visitors to the site can take a one-hour tour of her home and see the two-story Victorian house with Gothic and Italianate elements in which she and her family lived beginning in 1904. Walker was mother and provider to her immediate and extended family as well as leader of the St. Luke Penny Savings Bank (later the Consolidated Bank and Trust Company) and the Independent Order of St. Luke. An early adopter of many technologies, Walker electrified the house and added steam heat soon after purchasing the property. She also sold her horse and carriage in 1910 for another new development—the electric car. Walker's penchant for change was not limited to these devices. She was active in a community of black leaders throughout the country who tried to drive social change and broaden opportunities for African Americans in general. A self-taught businesswoman, Walker established a library in her house that contains not just a substantial collection of business texts, but also mementos from a lifetime of friendships with people like Mary McLeod Bethune and other prominent figures through her involvement with the National Association of Colored Women (NACW) and the National Association for the Advancement of Colored People (NAACP). Her house illustrates the manner in which a prominent African American family lived in Richmond. Most of the furnishings and fixtures are just as Walker left them, even though family continued to live in the house until 1979.
Before becoming a businesswoman and banker, as a high school student, Maggie Walker joined the Independent Order of St. Luke, a fraternal and burial society. The Independent Order of St. Luke pooled resources to provide insurance and other services otherwise unavailable to blacks. After her election as secretary in 1899, she began to expand the organization through three initiatives: the publication of the St. Luke Herald, a newspaper for members; the establishment of the St. Luke Penny Savings Bank; and the promotion of black businesses. These projects were mutually reinforcing. The newspaper provided a communication tool for the order and a space for the advertisement of black-owned businesses, while the bank (headed by Walker) extended credit to those not served by white-run banks. There is some disagreement as to whether Walker was the first female head of a bank in the United States; what seems certain is that she was the first female head of a successful bank. In fact, during the Great Depression, the St. Luke Penny Savings Bank took over all other black banks in Richmond and adopted a new name, the Consolidated Bank and Trust Company. A testament to her sound leadership, the bank that Walker led and grew continues to operate in Richmond and southeastern Virginia.

Maggie L. Walker National Historic Site commemorates and tells the story of the life of an outstanding African American woman, who was a leader and savvy businesswoman. Maggie Walker used the tools she had to create change. When most publications would not advertise black businesses, she helped found a newspaper that allowed black business owners a place to advertise; when African Americans were poorly served by white-run banks, she started an extremely successful bank chain. Even in her own house, Walker continually improved her surroundings.
Maggie L. Walker National Historic Site, a unit of the National Park System and a National Historic Landmark, is located in the historic Jackson Ward neighborhood, at 600 North 2nd Street in Richmond, VA., just south of Interstate 95. Click here for National Historic Landmark registration file: text and photos. For more information, visit the National Park Service Maggie L. Walker National Historic Site website or call 804-771-2017. The park has seasonal hours and is closed on Thanksgiving, Christmas, and New Year's Day. 

Maggie L. Walker National Historic Site also appears in the National Park Service Richmond, Virginia Travel Itinerary.
Last updated: August 4, 2017