Knife River Indian Villages National Historic Site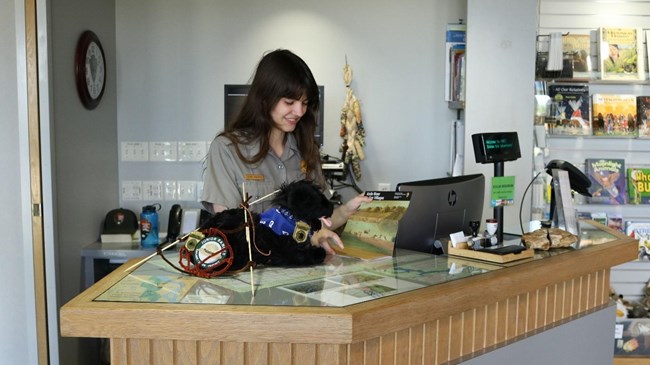 In honor of the 50th anniversary of the National Trails System, five special dogs, the Lewis and Clark Pups, will travel in the paw prints of their ancestor Seaman, dog of Meriwether Lewis.
The pups will travel more than 3,700 miles to complete their mission to commemorate and protect the Lewis and Clark National Historic Trail. Rocky, Harper, Dakota and Keelie will be joined by Seaman Jr. as he completes his portion of the mission from the International Space Station.
Each pup will be stopping at various visitor locations along the trail and submitting a blog post from each stop. Follow Rocky, Harper, Dakota, Keelie, and Seaman Jr. on their adventures at:
https://www.nps.gov/lecl/newfie-news.htm
Rocky here! I'm lending a hand at Knife River Indian Villages National Historic Site!
The first thing I did was help Ranger Sierra greet visitors.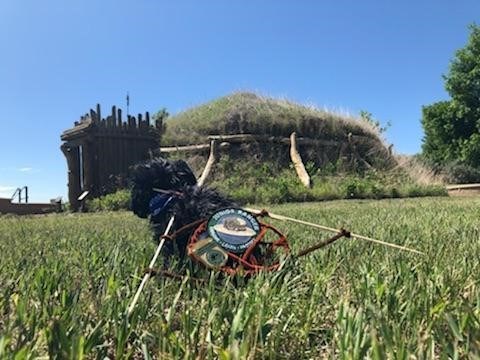 Another ranger built me a travois that I wore all day. Dogs like me used to help the Hidatsa and Mandan people carry heavy loads with travois. They piled up these small sleds with wood used for farming tools, building earthlodges, and more! Logs were a little too heavy for me, so instead I proudly carried a Junior Ranger badge and patch.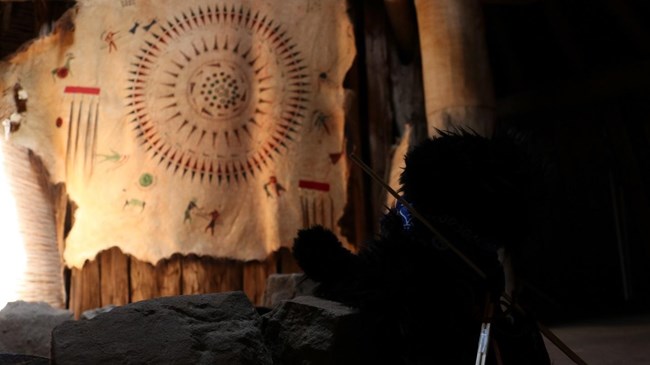 Next I headed outside to give a tour of the park's reconstructed earthlodge. Wow, it's so much bigger on the inside than it looks from out here! Did you know about 20 people lived in each home!?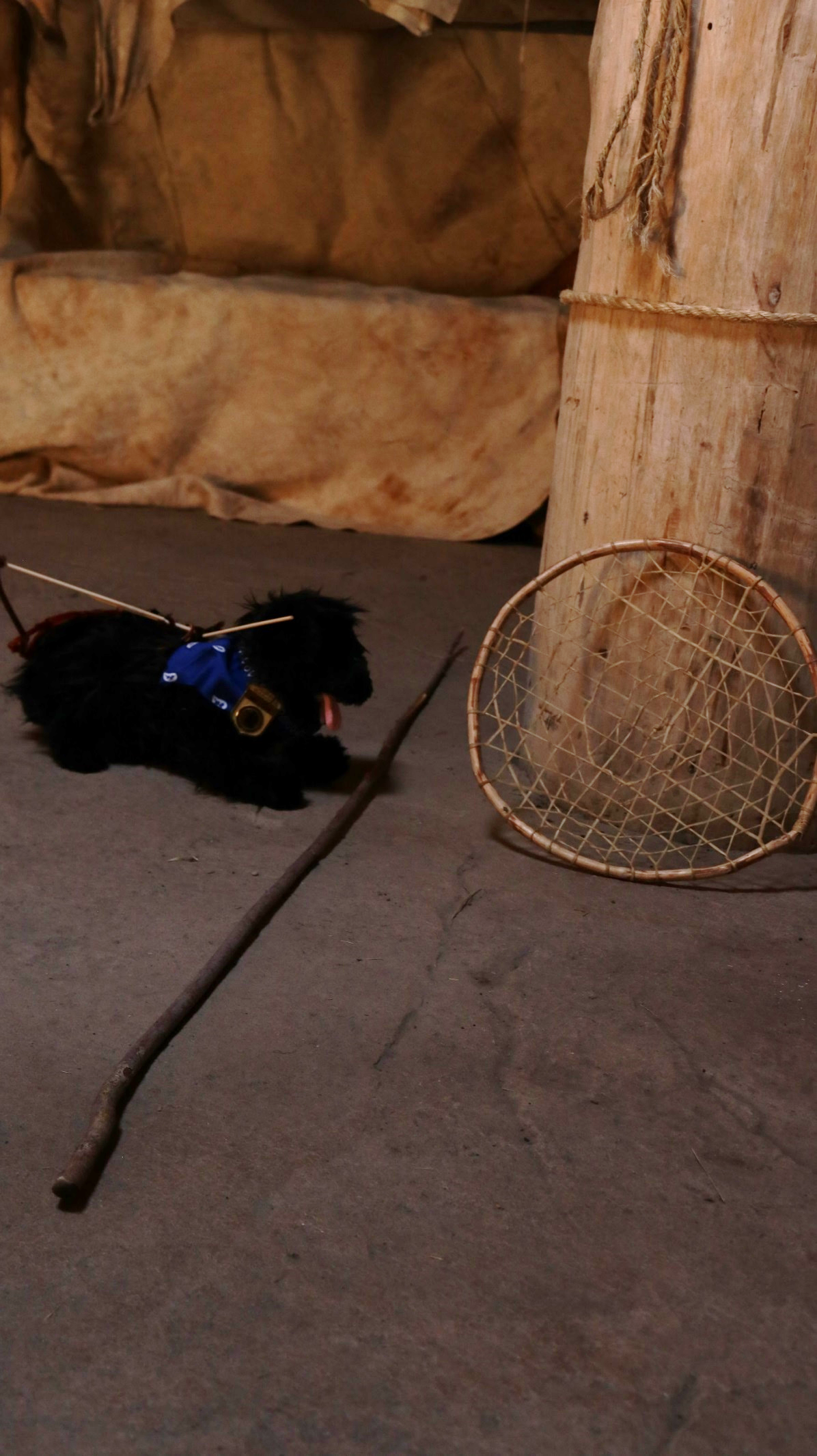 I learned that American Indians played many different games out here. My favorite game was called hoop and stick. Especially the stick part. The goal was to toss the stick through the hoop to practice hunting.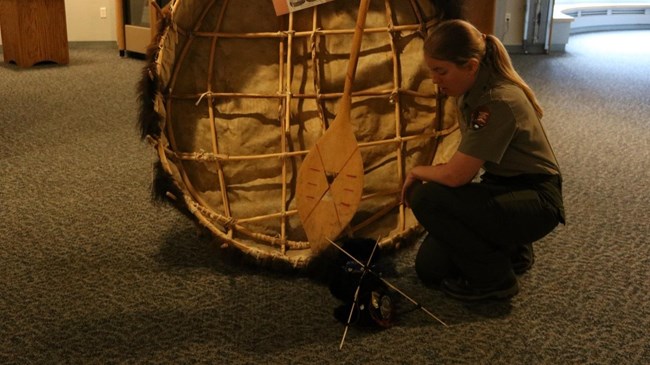 Back inside, Ranger Amanda showed me a bull boat. These boats are made from bison hides, and were used to navigate the Missouri and Knife River. The hole in the middle of the oar was to make it easier to row with less resistance.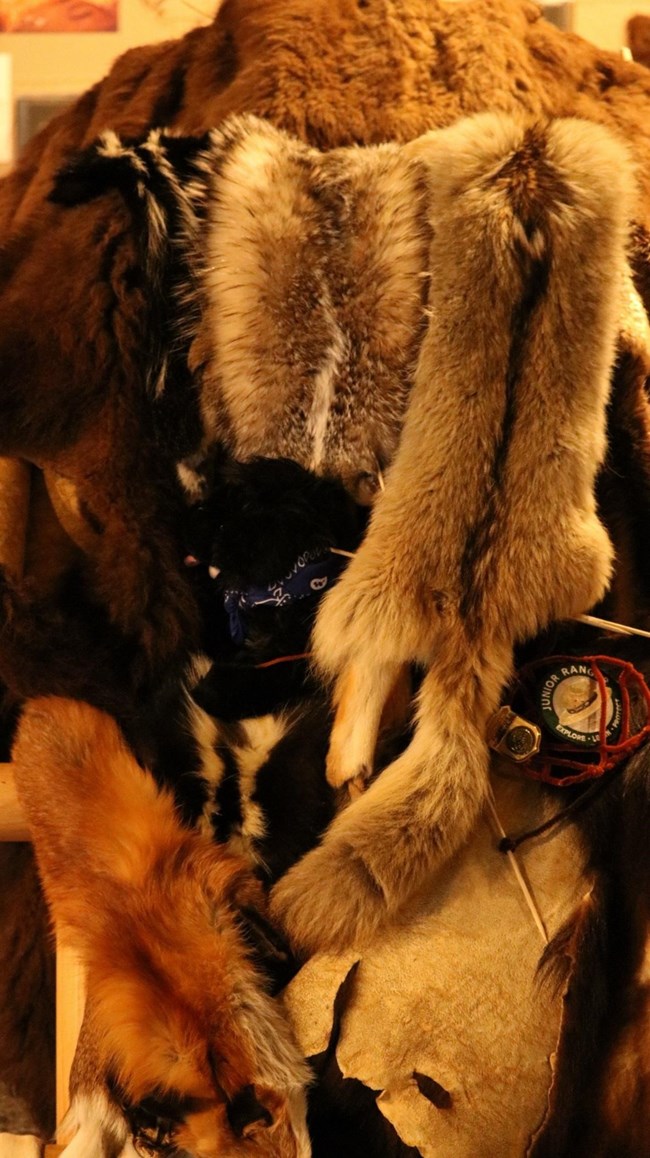 After a hard day's work, I took a nap in the fur rack. It was super cozy, and rested me up for my travels to come! I had a great time at Knife River Indian Villages and learned a lot along the way!
Learn more about Knife River Indian Villages National Historic Site:
Website
Facebook
Instagram
Learn more about the Lewis and Clark National Historic Trail:
Website
Facebook
Instagram
Newfie News Blog
Last updated: August 3, 2018