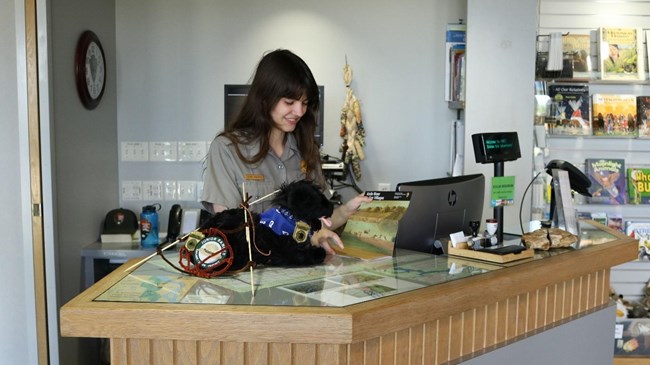 In honor of the 50th anniversary of the National Trails System, five special dogs, the Lewis and Clark Pups, will travel in the paw prints of their ancestor Seaman, dog of Meriwether Lewis.
The pups will travel more than 3,700 miles to complete their mission to commemorate and protect the Lewis and Clark National Historic Trail. Rocky, Harper, Dakota and Keelie will be joined by Seaman Jr. as he completes his portion of the mission from the International Space Station.
Each pup will be stopping at various visitor locations along the trail and submitting a blog post from each stop. Follow Rocky, Harper, Dakota, Keelie, and Seaman Jr. on their adventures at:
https://www.nps.gov/lecl/newfie-news.htm
Rocky here! I'm lending a hand at Knife River Indian Villages National Historic Site!
The first thing I did was help Ranger Sierra greet visitors.