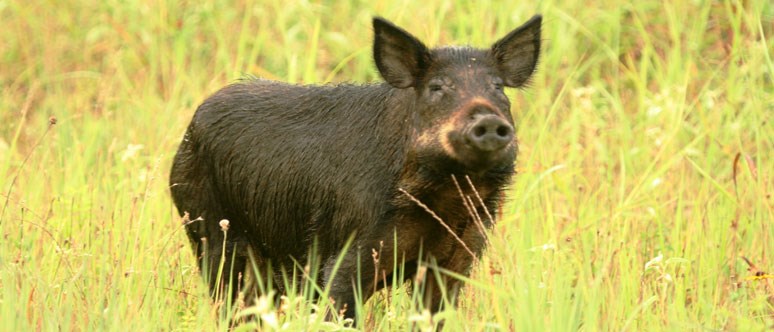 Hawaiian oral history tells us of the unique birth of a child named Kamapuaʻa or the "hog-child".

His mother, Hina, had embraced a chief's younger brother, Kahikiula, and gave birth to Kamapuaʻa on the northern coast of the island of Oʻahu. After his birth, the eldest son of Hina threw Kamapuaʻa away and his mother later found him wrapped in her kapa (garment made of bark) in the form of a hog. The hog was taken to his grandmother and she cared for him until he grew older to become a strong and handsome man. The uncle of Kamapuaʻa, Olopana, strongly resented him. The struggles Kamapua'a faced growing up caused him to become defiant and destructive. The hair on his body was cut short, and he displayed his tattoos to take the appearance of a hog. He wore a pigskin loin cloth around his waist and in place of the ordinary feather cloak worn by chiefs, he carried a pigskin covered with bristles over his shoulders. His hog-like temperament, full of lust and wrath, was echoed in his appearance.

As he grew older, Kamapuaʻa sailed throughout the islands on a beautiful shell-- a leho. He fought many battles building his strength with chiefs and competed in gambling, surfing, and hōlua sledding. Kamapuaʻa voyaged to the island of Hawaiʻi and landed on the south-east coast of Kīlauea. He learned of Pele and how she voyaged from Kahiki to make her home in Halemaʻumaʻu crater. He made his way to where Pele and her family lived then stood on a long, flat point of land called Akanikōlea. There, he began to chant to Pele:
A ka luna i Puuonioni,
Noho ke anaina a ka wahine,
I ka luna o Wahinekapu,
He oioina Kilauea,
He noho ana o Papalauahi,
Ke lauahi wale la no o Pele ia Puna.
Ua one a kai o Malama,
E malama ana e, aloha.

On the heights of Puuonioni
The company of women sat,
On the heights of Wahinekapu
On the peak of Kilauea.
Where sat Papalauahi,
For Pele throws her flames in Puna.
For the lowlands at Malama are covered with sands,
Keeping watch over them. Aloha.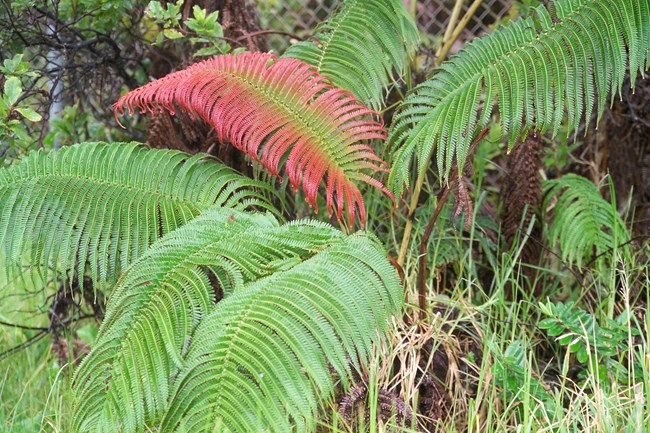 The sisters of Pele, known as the Hiʻiaka sisters, saw this beautiful man chanting and was perplexed by the disinterest of Pele. Kamapuaʻa chanted once again and teased her, referring to here as a woman pounding noni; meaning she had red eyes from eating a food that was only eaten during a famine. Irritated by the persistence of Kampuaʻa, Pele retorted, "that is not a man, but a hog" to ridicule him. Pele and Kamapuaʻa continued to chant back and forth, mocking one another, until the two fell into a heated battle.

Pele sought out her uncle, Lonomakua, to bring forth the fires of the pit. Soon volcanic gas and molten rock exploded into air towards Kamapuaʻa and his body was engulfed by its heat. Unharmed, Kamapuaʻa called out for his sister, Keliʻiomakahanaloa, who came up in the form of a small cloud from the south. Heavy rain filled the pit below until it overflowed, putting out the fire of Pele as they tried to rekindle it.

With the heavy rain and forest as his domain, Kamapuaʻa raced into the crater in the form of a hog and swallowed it whole. In his stomach was Pele and her family on the brink of death. Kamapuaʻa compassionately decided to free them from certain death under the direction of his ʻaumakua (deified family ancestor). He ascended back to Akanikōlea where he previously stood and watched as the volcanic flows from Pele slowly returned. He manifested in his different kino lau, elemental forms, such as the ʻamaʻu fern, and pushed back her fire. This battle continued for some time; where no one gained a single advantage.
Having been shared by many Hawaiians over long periods of time, different versions of moʻolelo may vary, in some cases significantly.
Read more about moʻolelo relating to Hawaiʻi Volcanoes National Park