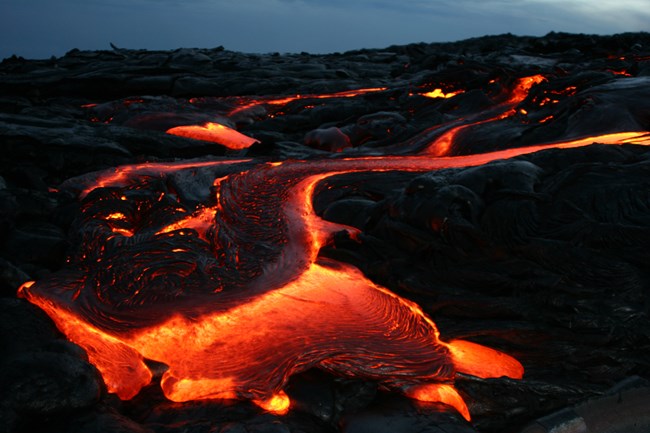 This story describes how young Pele (the Hawaiian deity of volcanic activity) came to govern fire.

When Pele became of age, it was the responsibility of her uncle, Lonomakua to teach her how to make fire. Lonomakua took Pele deep into the earth of a darkened lava tube and told her about the movements of the world around them. They talked about the sun and the moon, the tides of the ocean, and the different types of clouds, winds, and rain. Lonomakua told her about the island they lived on. How the freshwater from the volcanoes flowed down towards the ocean along different types of rock and soil. For months, he told her everything that she needed to know.

After Pele held this knowledge that was handed down to her, it was time for her to learn how to make fire. Lonomakua got a block of ʻaunaki (soft wood) and put it on the earth. Lonomakua instructed Pele to hold the ʻaunaki firmly and to listen to her uncle. In his hands he held an ʻaulima (hard pointed stick) and rubbed it hard against the ʻaunaki. Lonomakua chanted and chanted in the darkened cave.

Soon Pele began to feel the ground shake. She saw a spark coming between the ʻaunaki and ʻaulima. Pele encouraged the fire to grow and soon the fire shot to the top of the cave illuminating what was around them. She became excited as the flames danced into the air above their heads. It was at that moment Pele knew it was her kuleana, her responsibility to keep this fire burning.
Having been shared by many Hawaiians over long periods of time, different versions of moʻolelo may vary, in some cases significantly.
Read more about moʻolelo relating to Hawaiʻi Volcanoes National Park
Last updated: October 28, 2020