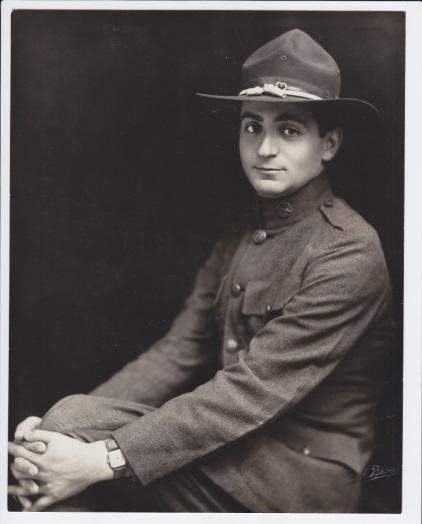 One of Ellis Island's most famous immigrants provided the soundtrack to America's participation in the First World War.
Israel Berlin immigrated through Ellis Island from Russia in 1893 at the age of five, along with his parents and five siblings. His family fled for their lives from the pogroms that were targeting Jews throughout eastern Europe. Young Israel watched as his Russian home burned to the ground, leading the family to begin their long journey to a new life in New York City.
Israel inherited a lot of musical talent from his father, a synagogue cantor. He began his career as a teenager, singing in saloons and cafés before publishing his first original song in 1907. A spelling error on that first piece of sheet music listed the composer as "I. Berlin," and the name stuck. Irving Berlin was soon hired as a songwriter by a Tin Pan Alley music publishing company and he went on to compose his first big hit, "Alexander's Ragtime Band," in 1911.
When the United States entered the First World War in 1917, Berlin and other Tin Pan Alley songwriters began to produce patriotic popular music. Berlin came out that year with songs such as "For Your Country and My Country" and "Let's All Be Americans Now," both of which reflected the experience of immigrants to the United States. He also continued to write music to divert those who needed a break from wartime concerns.
In 1918, 30-year-old Irving Berlin was drafted into the US Army, which recognized his musical talent and put it to work. While serving with the 152nd Depot Brigade at Camp Upton in Yaphank, New York, Corporal Berlin produced a musical revue performed by soldiers called "Yip Yip Yaphank." Intended to raise funds to build a community center on the army base, the production went on to play in New York City, complete with acrobats, dancers, and jugglers. Berlin's songs combined a patriotic salute to the army with humorous commentary on the life of the common soldier.
Two timeless classics emerged from "Yip Yip Yaphank." Berlin himself played the role of a grumbling soldier to perform "Oh! How I Hate to Get Up in the Morning." The composer was by nature a night owl, and his irreverent lyrics about early-morning army life have struck a chord with soldiers of all eras. The song became a hit again during the Second World War, when Berlin performed it as part of his new Broadway revue and movie called "This Is the Army."
A very different song was written to express an immigrant's gratitude toward the country that gave him a home. "God Bless America" was intended to be the finale of "Yip Yip Yaphank," but Berlin set it aside because he felt the work was too solemn for this production. "God Bless America" was officially released two decades later, when singer Kate Smith performed it on her radio show in 1938. Irving Berlin never saw combat and was honorably discharged from the army as a sergeant in 1919.
The music of Irving Berlin has served for generations as an inspiration to US military personnel and to all Americans. His work earned him a Congressional Gold Medal, a Presidential Medal of Freedom, an Academy Award, and a Tony Award. He would go on to write more than a thousand songs over a 60-year career, including the scores for 17 Broadway shows and 16 Hollywood films. Many of his works are now recognized as classics, including "Always," "Anything You Can Do (I Can Do Better)," "A Pretty Girl Is Like a Melody," "Blue Skies," "Cheek to Cheek," "Easter Parade," "Happy Holiday," "I've Got My Love to Keep Me Warm," "Let's Face the Music and Dance," "Puttin' on the Ritz," "Steppin' Out with My Baby," "There's No Business Like Show Business," and "White Christmas."