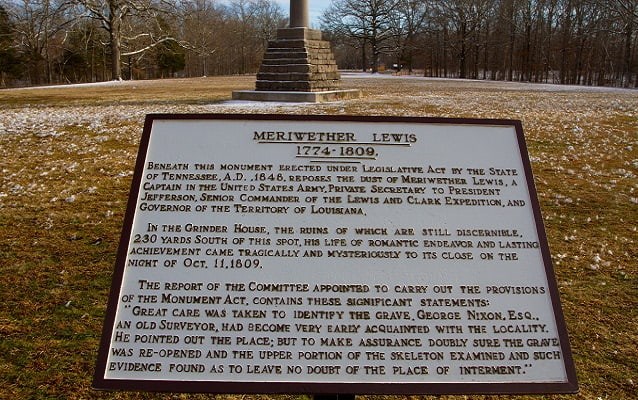 The importance of the Old Natchez Trace as a road of national significance cannot be overestimated. The existence of the trail, and its subsequent use by travelers during America's history, brought about the opening of the Western frontier.

Meriwether Lewis traveled the Natchez Trace during his final trip in 1809, when he was governor of the Louisiana Territory. Accompanying him were Major James Neelly, John Pernier, and Neelly's servant. When they reached the Chickasaw Agency, six miles north of the present location of Houston, Mississippi, Lewis asked Neelly that the trunks with the expedition journals would be sent to "the President" in the event that anything happened to him. Stephen Ambrose records in Undaunted Courage that "Neelly assumed Lewis meant Jefferson, not Madison," then the current President.

On October 11, at Grinder's Stand (also "Inn"), 72 miles short of Nashville, most historians believe that Lewis, suffering from depression and anxiety, shot himself in the head and died the following morning. Thomas Jefferson had much earlier noted Lewis's depressions, when he served as the President's secretary, and believed that they ran in the Lewis family.

The Meriwether Lewis Monument and grave in Lewis County, Tennessee, are located about 100 yards from the site of Grinder's Stand. The Inn was located on the Old Trace, near the crossing of Little Swan Creek, and was said to border American Indian territory.
Last updated: October 30, 2017