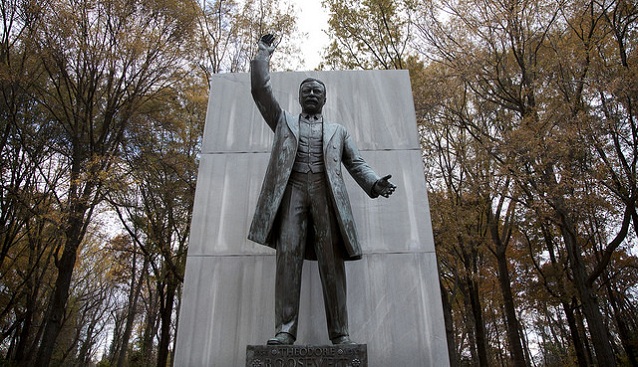 Believe it or not, the District of Columbia's largest presidential memorial is not located on the National Mall. It's in the Potomac River. In the river, you say? Can't be. Indeed it is! Theodore Roosevelt Island is a living memorial dedicated to the 26th president. The 88-acre island includes a memorial plaza, statue, and fountains, surrounded by trails in the woods and marsh environs.
You may ask yourself why an entire island in the Potomac River would be dedicated to this president. Theodore Roosevelt was not only president of the United States; he was also a hunter, taxidermist, soldier, ornithologist, author, family man, and influential in the conservation movement of the early 20th century. He was the consummate outdoorsman who didn't just walk the walk and talk the talk—he made a difference. 
Perhaps his greatest legacy during his two terms in office was his pioneering efforts and stewardship of the nation's resources. The passing of the Antiquities Act of 1906 allowed Roosevelt and future presidents to put land, structures, and places of cultural and environmental significance under government protection. During his two terms in office, President Roosevelt's conservation efforts and legislation led to setting aside 230 million acres of federal land for future generations of Americans.