National Park Getaway: Ocmulgee National Monument
By Angela Bates, Park Ranger, Ocmulgee National Monument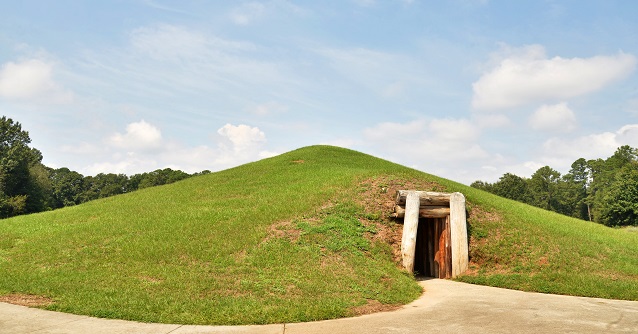 In the heart of Georgia lies a place that has been settled for 17,000 years. Ocmulgee National Monument's human history dates to the Paleo-Indian Period, and the area was occupied until the Muscogee (Creek) removal in 1826. Upon arrival at the Visitor Center, you will see over 2,000 artifacts on display, including a Clovis Point spear head dating to 10,000 BCE, earthen pottery made around 3,500 BCE, and European dishware from the 1700s CE.
Ocmulgee is home to the largest archeological dig in American history, with more than 3 million artifacts found by 800 Works Progress Administration (WPA) workers in the 1930s. Four different prehistoric cultures inhabited this area before European settlement in the late 1500s. One such group was the Mississippians, who constructed earth mounds for their elite members of society beginning around 900 CE. Their structures survive to this day, attracting visitors worldwide to the park. 

As you explore the park and cross the bridge leading toward the Earth Lodge, you will step back in time. The Earth Lodge floor is 1,000 years old and served as the council chamber used by the Mississippians for meetings and ceremonies. Try to imagine yourself sitting in one of the 50 seats discussing important issues of your day 1,000 years ago. 
When you leave the Earth Lodge, you will walk toward the Great Temple Mound and across a railroad bridge to a large field. This area served as an ancient ball field where games like stickball and chunkey were played. Walk past the site of the British Trading Post that was occupied from 1690 to 1715, where the Muscogee (Creek) Indians traded animal skins for European goods such as bells, glass beads, and muskets.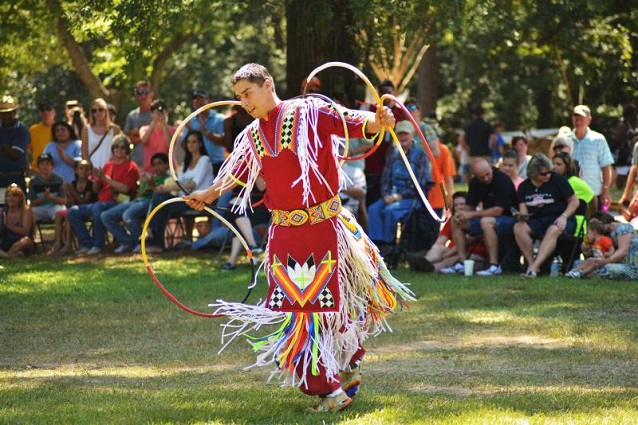 When you arrive on top of the Great Temple Mound, you will see downtown Macon, Georgia, toward the southwest and hear the roar of cars from the interstate. However, imagine being on top of the mound 1000 years ago. What would you have seen? What would you have heard?  A bustling village along the Ocmulgee River with a population of 2,000 people busily going about their day. The men would have been fishing, hunting, and building mounds while the women were making baskets, pottery, and growing crops.  You would hear people talking, singing, and laughing as they went about their daily activities. Today only 7 mounds remain for visitors to experience the culture that once thrived here.
The park is self-guided, so visitors can walk or drive to the Great Temple Mound and explore 6 miles of nature trails. Many visitors prefer to visit in the spring and autumn when the humidity is low. During the third weekend in September the park hosts its annual Indian Celebration. During this most popular event of the year, over 200 American Indians share their history and culture with visitors.  
Last updated: April 5, 2017