National Park Getaway: Niobrara National Scenic River
By Kristen Maxfield, Chief of Interpretation & Education, Niobrara National Scenic River

Sometimes, you find the best things where you may least expect them. In the middle of the Great Plains, amid the waving golden prairie grasses of the Nebraska Sandhills, winds the Niobrara National Scenic River. An oasis in a dry landscape, the sight of the river is a dramatic change.
A ribbon of green trees filled with warblers flitting through the branches and dotted with wildflowers lines the banks. River otters slip quietly into the cool water, while turtles bask in the sun. Hundreds of waterfalls pour from the bluffs, or can be found hidden in the river's tributaries. The natural beauty of the Niobrara National Scenic River is an irresistible draw. If you visit once, you may be hooked. Many visitors return every summer.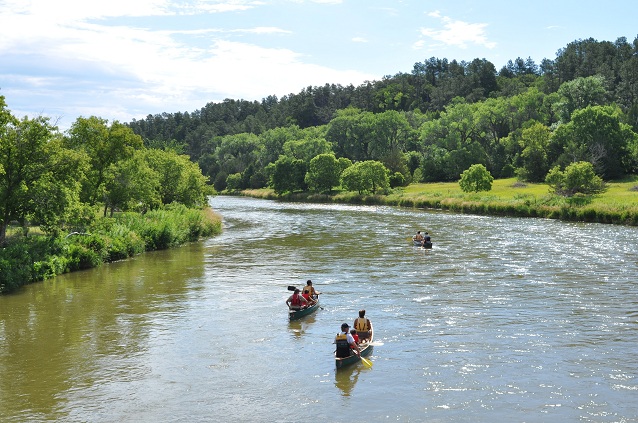 Meandering 76 miles through north-central Nebraska, the Niobrara National Scenic River is a study in contrasts. The eastern half is shallow, braided, and more suited to the least terns and piping plovers that nest there than for river recreation. But the western section, with its rocky riverbed and 300-foot bluffs, is perfect for paddling a canoe or kayak, or just relaxing on a tube. This portion is suitable for beginners, who can usually handle the Class I and Class II rapids. But it also offers a challenge to skilled paddlers: the Class III Rocky Ford rapid can easily flip an unwary visitor. If you don't have your own equipment, you are not without a paddle. There are outfitters (PDF) who would be happy to help out—many with their own campgrounds, as well.
You can also explore the river without getting your feet wet. While most of the land around the river is privately owned, there are a couple of gems that anyone can visit. Hike to one of the most beautiful waterfalls in the river valley at Fort Niobrara National Wildlife Refuge. Take a driving tour to see Sandhills prairie wildlife, including prairie dogs, elk, and bison. Camp at Smith Falls State Park, home to the tallest waterfall in Nebraska. A trail will lead you through basswoods, aspens, ponderosa pines, and Sandhills prairie—a unique combination of plants that leads to the diverse wildlife you may see along the way. Make sure to bring your binoculars to both sites—with both eastern and western species, the bird watching is incredible.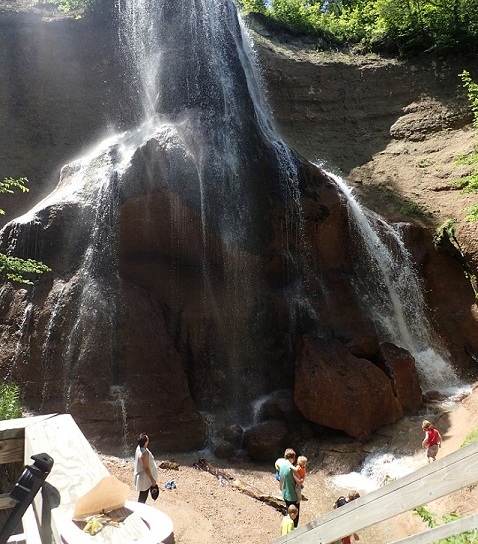 Visitors are as varied as the river itself. If you like to join the crowds, Fridays through Sundays in the summer tend to bring out the more social gatherings. Join hundreds of tubers congregating at the state park canoe landing and take your turn to cool off under Smith Falls. But if you're seeking wildlife and solitude, come during the rest of the week. A great blue heron may be the loudest company you can find.
Give us a call or stop by the Niobrara National Scenic River Visitor Center in Valentine, Nebraska. We'd love to help you find your park!
Last updated: June 30, 2016