Article
Funding Granted for Much-needed Monarch Conservation Efforts in Marin County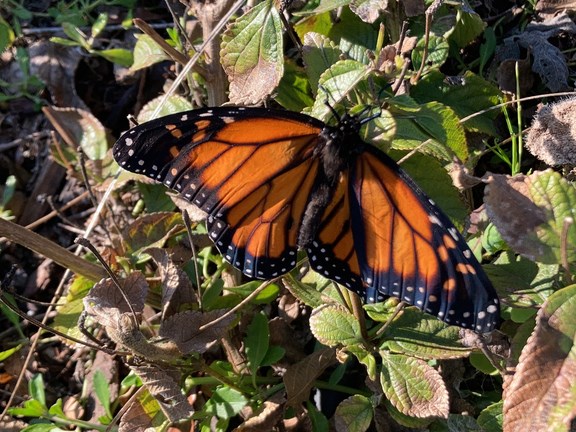 March 2021 - Working within the structure of the One Tamalpais Collaborative, the Golden Gate National Parks Conservancy received $400,000 in funding through the California Wildlife Conservation Board's pollinator rescue program to invest in protection of monarch butterflies in Marin County.
This decision comes at a critical moment for monarchs. Although fewer than 2,000 monarchs were counted in overwintering sites this winter—an estimated 97% decline from their historic numbers—the U.S. Fish & Wildlife Service has not yet made the decision to grant monarchs protected status on the endangered species list.
Though the work to revive monarch populations is far from over, the grant awarded to the One Tam project represents a positive step, and is one part of a larger matrix of science-based conservation efforts working together to build capacity for stewardship and engagement across Marin County.
According to the Xerces Society, many factors are contributing to monarch decline including habitat loss, parasites, pesticides, and climate change. Although the exact causes for declining numbers in Marin County is not known, improving and expanding coastal overwintering habitat and inland breeding habitat is a way to reduce one pressure point. Leveraging the combined resources and expertise of the One Tam partnership—a formal collaboration from federal, state, and local agencies that manage Mt Tamalpais and its surrounding public lands with support from the Parks Conservancy—will enable a comprehensive, landscape-level stewardship approach to the shared conservation effort of monarch habitat assessment and restoration.
After identifying specific habitat areas for improvement, teams will begin restoration work in both overwintering and breeding habitat with a focus on improving forest stand conditions, removing invasive species, and planting native nectar plants that support monarchs and other pollinators. Plants will come from locally-collected seed raised in a coastal Golden Gate National Parks Conservancy native plant nursery.
Community engagement is another key focal point. One Tam partners will integrate raising public awareness around monarch conservation issues into existing educational programs, offering hands-on opportunities for community volunteers to collect data or improve habitat through planting. The partnership will supplement the Xerces society's long-term monitoring of monarchs in overwintering and breeding sites with other community science projects that focus on floral resources and monarch behavior. One such campaign is the Western Monarch Milkweed Mapper Project, which will help biologists prioritize areas for habitat restoration.
Park ecologists hope to expand the project to more breeding and overwintering sites by late 2022.
Last updated: April 7, 2021