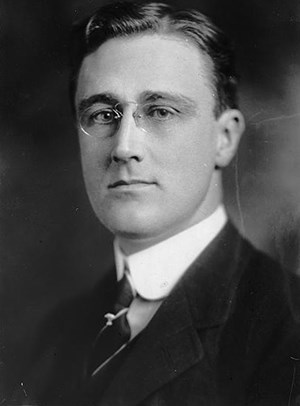 On March 12, 1913, Franklin Delano Roosevelt, a two-term state senator in New York, received the nomination to become Woodrow Wilson's Assistant Secretary of the Navy. Confirmed unanimously by the Senate, Roosevelt was just 31 years old, the youngest Assistant Secretary of the Navy. Previously, his fifth cousin once-removed Theodore Roosevelt had held the same post, and it was no accident another Roosevelt had been slotted into the same role.
While the Secretary of the Navy Josephus Daniels dealt with policy and Congressional matters, Franklin Roosevelt was left to deal with the business of personnel, operations, and contracting. Although he was an amateur in naval affairs, Roosevelt had the energy Daniels required to get things done. For his part, Daniels' demeanor helped Roosevelt learn valuable lessons in politics that would only serve to help his career in the years ahead.
The war in Europe broke out in August 1914. Recognizing the historic moment, FDR wrote his wife Eleanor, "These are history-making days. It will be the greatest war in the world's history."
From the start, FDR worked to prepare the navy for the coming war, and was troubled that others did not see it his way. Wilson's doctrine of neutrality blocked FDR's ambition to ready the Navy, dismissing the idea that the United States would enter the war. Frustrated with the navy, FDR looked to politics, enticed by an open senate seat in his home state of New York. However, FDR's political ambition outpaced his experience, and he lost the election. In the end, he kept his job as Assistant Secretary of the Navy, and many agreed in the years to come he was the exact right man for the job.