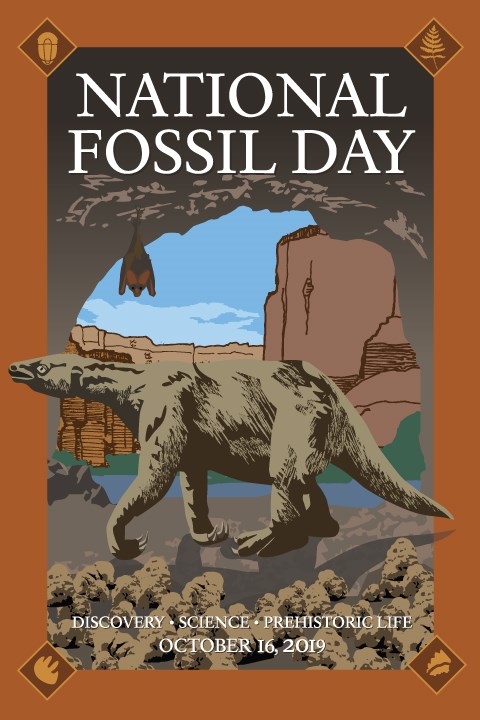 Grand Canyon National Park: 100 Years of Fossil Discovery
The majesty of the Grand Canyon has long inspired adventurers, artists, scientists, and other visitors. The 2019 logo artwork honors the 100th anniversary of the establishment of the Grand Canyon National Park, which occurred on February 26th, 1919 by President Woodrow Wilson. The Grand Canyon also inspired previous presidents such as Benjamin Harrison and Theodore Roosevelt, both of whom worked to preserve this land during their administrations.

Over millions of years, the Colorado River and its tributaries have carved the canyon, cutting through geologic layers revealing the pages of deep time. Many of these layers hold rich fossil records. The majority of the fossil-bearing rocks of the Grand Canyon represent the Paleozoic Era. The oldest of these fossils are approximately 540 million years in age (Cambrian Period). The youngest Paleozoic fossils are 260 million years in age (Permian Period). Paleozoic fossils from the Grand Canyon include some of the oldest evidence of invertebrate animals, ancient plants, early reptiles, and ancient fish. The border corners of the 2019 National Fossil Day artwork shows some notable Paleozoic fossils from Grand Canyon National Park: a trilobite from the Cambrian Bright Angel Shale; a fern from the Hermit Formation; a footprint of Chelichnus, a mammal-like reptile from the Coconino Sandstone; and the large tooth of Megactenopetalus, a shark from the Kaibab Limestone.

Though there is a rich fossil history from the Paleozoic Era at the Grand Canyon, some of the most well-studied fossils from this National Park come from the end of the Cenozoic Era (66 million years to today). These fossils are from the late Pleistocene Epoch (40 thousand to 10 thousand years ago) and show evidence of a different Grand Canyon than what we see today. Fossils of Pleistocene plants and animals have been found in caves and crevices sites along the full length of the Grand Canyon. One of the best Pleistocene cave sites in the Grand Canyon, Rampart Cave, is the focus of the 2019 National Fossil Day Artwork.