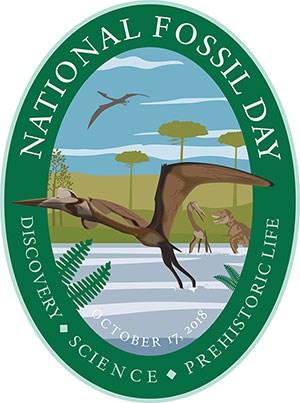 The Last Southern Giants of Big Bend Texas
The logo artwork for the 2018 National Fossil Day features three giants of the Late Cretaceous of southwestern Texas, 69 million years ago. In the foreground, getting ready to take flight from the river, is one of the largest known flying organisms, the pterosaur Quetzalcoatlus northropi. In the middle ground, another Quetzalcoatlus stands its ground against a large tyrannosaur dinosaur. In the background, examples of the early broadleaf tree Javelinoxylon can be seen on the far shore of the river.

The fossils that inspired the 2018 National Fossil Day logo artwork were collected from Big Bend National Park in West Texas, bordering the Rio Grande River and Mexico. Big Bend National Park was established June 22, 1944 and covers 801,163 acres in the Chihuahuan Desert. This park has an outstanding fossil record from the Early Cretaceous (130 million years ago) to the Late Pleistocene (10,000 years ago).

The 2018 National Fossil Day logo artwork depicts fossils from the latest Cretaceous Javelina Formation. The Javelina Formation represents an inland floodplain environment. Meandering rivers carried large amounts of mud, silt, and sand across a broad basin. These sediments rapidly buried the remains of plants and animals that lived in or near these rivers. Large fossilized tree trunks of Javelinoxylon and other tree fossils suggest the Javelina Formation had tall gallery forests near these rivers. Many fossils of fish, turtles, crocodiles, and small mammals have been found along with dinosaurs and pterosaurs.