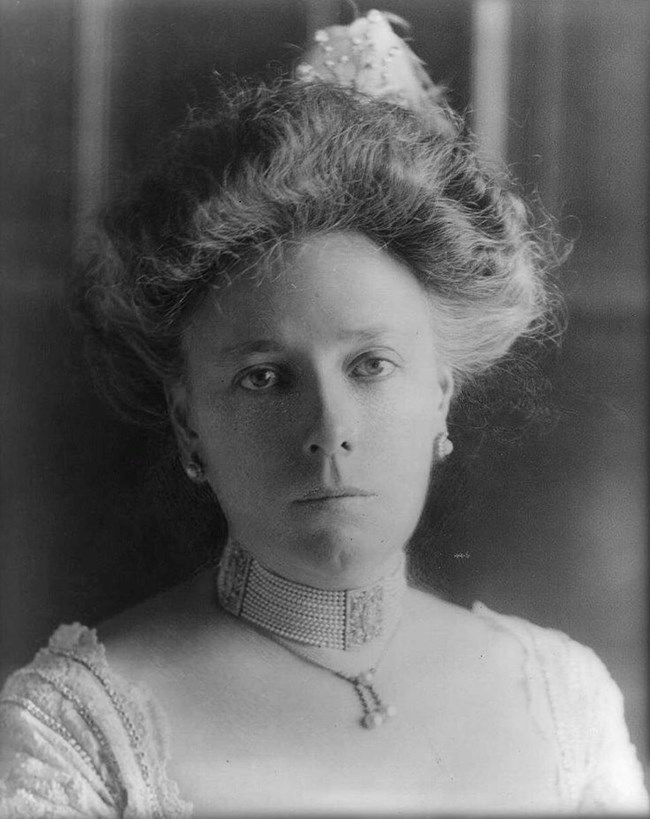 Helen "Nellie" Herron Taft's dream of becoming First Lady propelled her husband William Howard Taft into running for the presidency. For her part, she was a lady of "firsts," and was among the First Ladies to transform the role into the significant one it is today. Her legacy is still evident in parts of the National Mall.
Born in Cincinnati, Ohio in 1861, and a graduate of Cincinnati College of Music, she married William Howard Taft in 1886. Nellie Taft distinguished herself as founder and president of the Cincinnati Symphony Orchestra Association. After the Spanish-American War, President William McKinley appointed William Taft Governor of the Philippine Islands, where he served from 1900 to 1903. There, Mrs.Taft distinguished herself as a public servant. The Tafts worked as a team, reversing discrimination against locals and establishing a policy of equality. She was a fan of Manila's Luneta Park, a swampland transformed in 1820 into the Paseo de Luneta, a plaza in the form of a Roman circus or parade for riding and walking. Later, the Paseo de Luneta served as a fortification, around the old Walled City, or Intramuros, a historic Spanish colonial district that Nellie Taft fought to preserve. The Paseo de Luneta was a community recreation center where concerts were open to all.
When President Theodore Roosevelt appointed William Taft Secretary of War in 1904, the Tafts returned to the United States via Japan, where they were celebrated as political celebrities. Stateside, Mrs.Taft read the McMillan Commission's "city beautiful" plan for the capital, and discovered another niche. Commissioner Daniel Burnham traveled to Manila to see Luneta, and in 1906 a Luneta type plan materialized as West Potomac Park's "Four Fountains" in a recently-established evergreen and rose nursery. By the 1920s, the "Four Fountains" sported Asian magnolias and forsythias, and by the 1930s, Japanese flowering cherry trees. Almost all was destroyed in the 1940s to make way for the new Potomac bridges. Fountain four, now in the George Mason Memorial, and the Cuban Friendship Urn remain, still surrounded by Asian plantings.