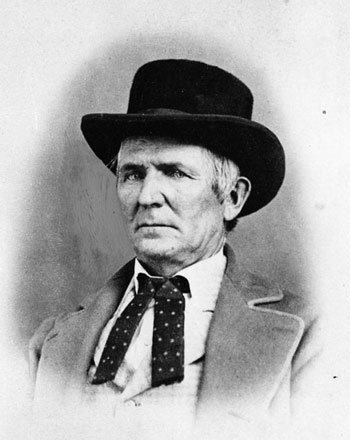 QUICK FACTS
Profession: Member of the Church of the Latter Day Saints
Place of Birth: Kaskaskia, Illinois Territory
Date of Birth: September 12, 1812 
Place of Death: Mountain Meadows, Utah Territory
Date of Death: March 23, 1877
Association with Landscape:
Property Owner and Settler
One of the one most controversial figures of early Mormon history, John D. Lee became a member of the Church of Latter Day Saints (LDS Church) in 1837 at age 25.  One year later, Lee's religious commitment promoted him within the church leadership and he became involved with the church's extensive missionary activities in Illinois, Tennessee and Kentucky. At the same time, Lee also joined the formally organized Mormon militia and played an active part in military conflicts between the Mormon and non-Mormon populations in northwest Missouri. In 1843, Lee accepted the LDS Church doctrine of plural marriage, eventually taking 19 wives and subsequently fathering dozens of children.