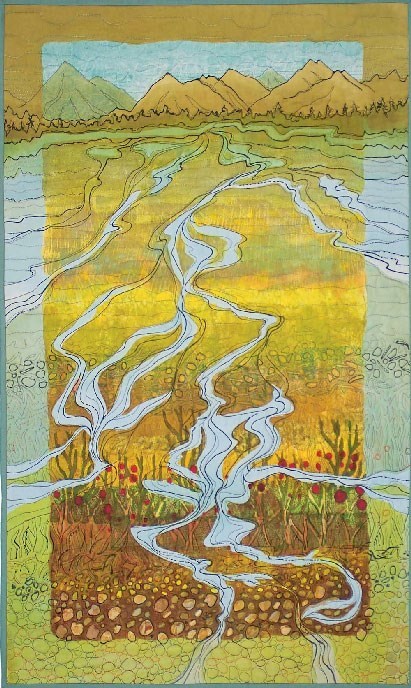 Ree Nancarrow is a quilt artist who has lived in the Denali Park area for over forty years. She chose quilting as her medium of choice in the early 1990's because it provided an enormous variety of scale, color and texture. She dyes or paints most of her fabrics, but also stamps, stencils, silk-screens and elaborately quilts them.
Glacial Run-off
The Denali Park area has been my home since 1965 and also my source of artistic inspiration. My medium of choice has been art quilts since the early 1990's. I dye or paint most of my fabrics, but I also, stamp, stencil, silk-screen and elaborately quilt them. My work in the past two years speaks specifically to a sense of place. I do not strive to do photographic representations, but convey a sense of color and detail that is specific to the area I am describing. "Glacial Run-off" is the first of many pieces that I plan to do after my art residency in Denali. The 10-day stay in a park cabin provided an unique perspective that will influence my work for a long time.
— Ree Nancarrow, 2006

Seasons of Denali
Hanging in Eielson Visitor Center, another of Ree's quilts depicts an iconic view of "The Mountain" in four parts.
Download a key to the quilt
, or
watch a video to learn more about it.