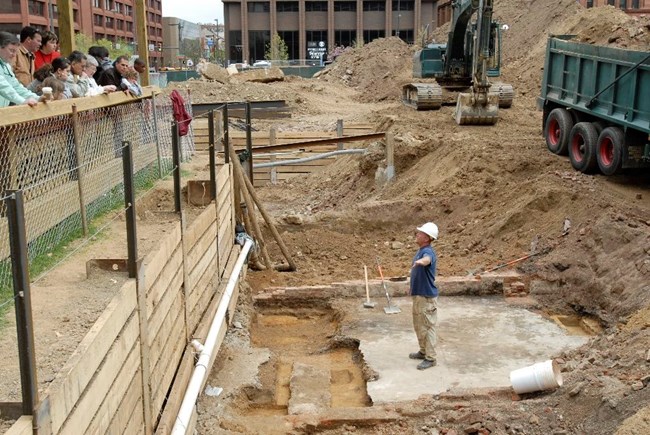 On March 21, 2007 a groundbreaking ceremony was held at the President's House site between the corner of 6th and Market (formerly High) Street in Philadelphia. Attendees were Mayor Street and other city officials, National Park Service staff including archeologists, reporters, and individuals of the public both young and old. After the first bucketful was lifted and laid aside, visitors surged forward to touch and take pictures with the muddy soil—to the astonishment of the archeologists. Why this passionate response
when the sample contained only 20th century construction debris?
Over the next four months of excavation at the President's House site, archeologists got their answer. The site's power lay not in the foundation walls, bits of broken bottles and ceramic dishes, or deep wells they discovered. Rather it was the power of the space itself, the memories embedded in it, and the cry of stories needing and demanding to be told that drew in thousands of visitors to the site each day.
These narratives illustrate the "historical hypocrisy" of freedom and enslavement that the President's House site embodies (Jeppson, Roberts, Brauer, and Levin in Mooney et al., 98). The now-demolished first home at 190 High Street was built in 1767 by Mary Lawrence Masters, widow of William Masters—the former mayor of Philadelphia and the city's largest slave holder. Later occupants included their daughter and son-in-law William Penn (grandson of Pennsylvania's founder), Generals William Howe and Benedict Arnold, and Robert Morris (a signer of the Declaration of Independence). However, the High Street property's most famous residents were Presidents George Washington and John Adams, who lived there with their families and servants (free and enslaved in Washington's case, free only in Adams's) from 1790-1797 and 1797-1800 respectively.