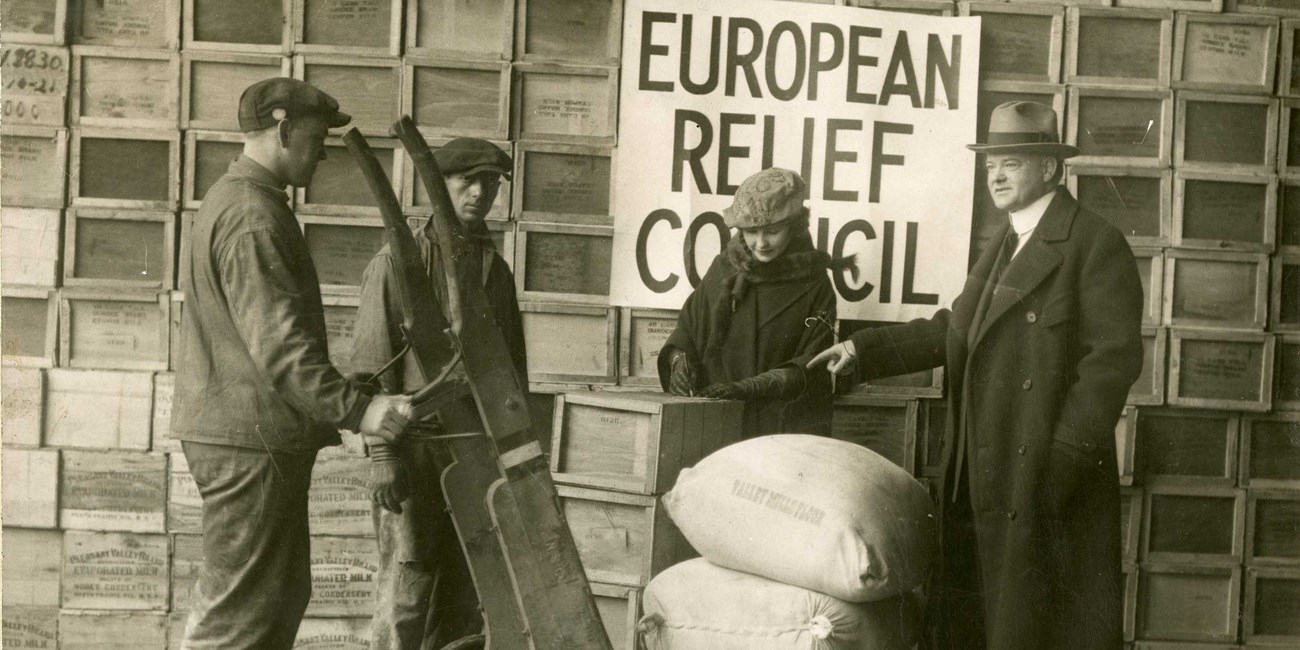 "He is certainly a wonder and I wish we could make him President of the United States. There could not be a better one."

Franklin Delano Roosevelt
Herbert Hoover grew up in a Quaker family and community that valued peace, simplicity, integrity, and service to others. That he took these beliefs to heart became evident when he emerged from the carnage of the First World War as an American and international hero.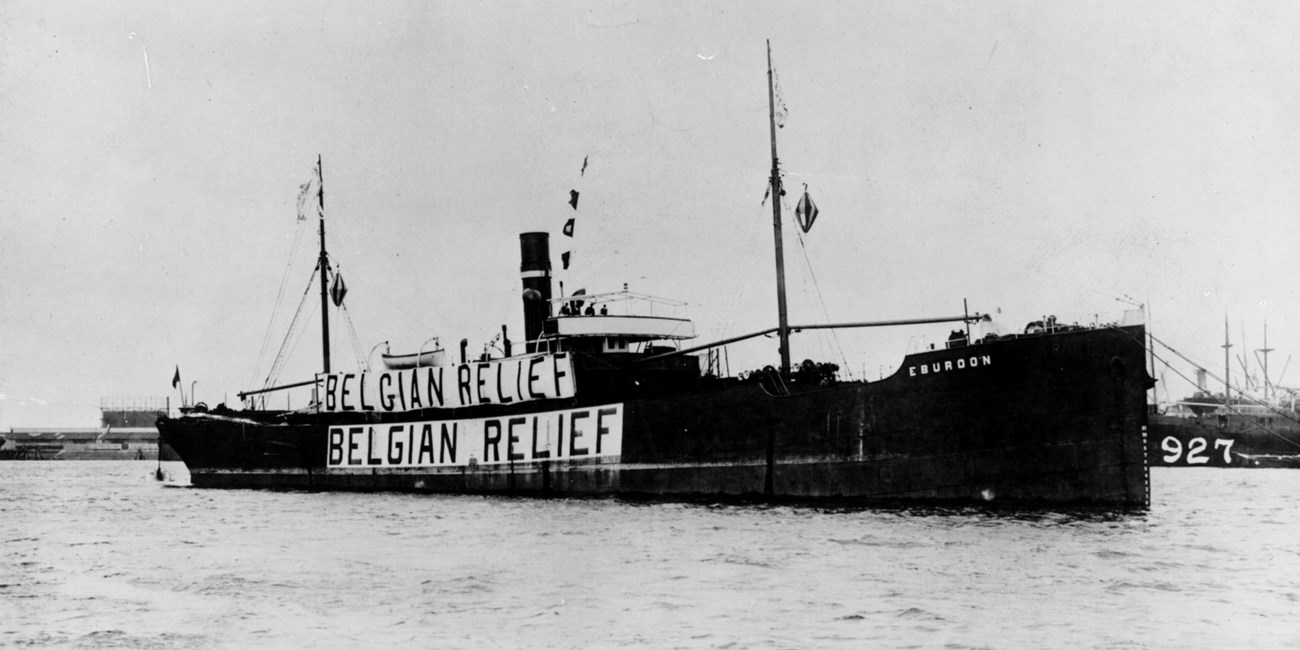 "The Slippery Road of Public Life"
When the First World War began in the summer of 1914, Herbert Hoover was a 40 year- old American millionaire living in London, England. He was a successful mining engineer and global entrepreneur, scouting and investing in mines around the world. The outbreak of the war marked an unexpected turning point in his life. "My engineering career was over forever," he later wrote in his memoirs. "I was on the slippery road of public life."
Stranded American Travelers
In the first few weeks of fighting, tens of thousands of American travelers fled continental Europe to safety in England. When they arrived in London, many of these travelers found they were unable to cash their credit, obtain temporary accommodation, or find tickets for ships that were no longer crossing the Atlantic. Hoover and other Americans living in London organized an emergency relief that provided food, temporary shelter, and financial assistance to their fellow stranded countrymen. American ambassador to England, Walter Hines Page, and other key people in London quickly took notice of Hoover's organizational skills.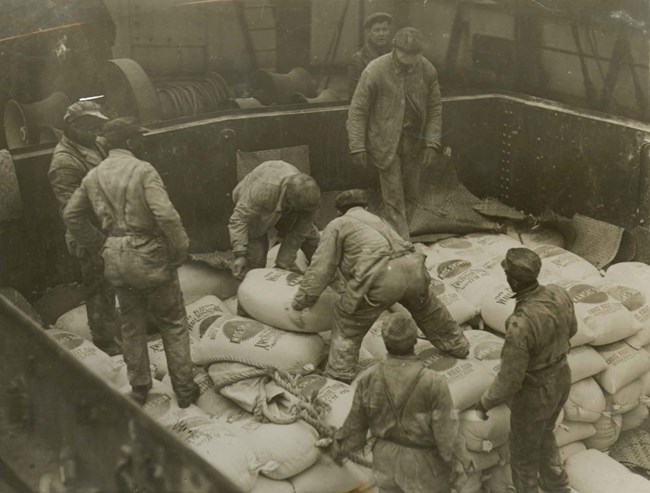 Commission for Relief in Belgium
In October 1914, Page asked Hoover to help with a much larger issue: the mass starvation and destruction in the small country of Belgium. Hoover founded and became chairman of a unique institution known as the Commission for Relief in Belgium (CRB). The CRB gave desperately needed food to more than nine million Belgian and French citizens trapped between the German army of occupation and the British naval blockade. Following weeks of negotiation, Hoover won diplomatic protection for the CRB as a neutral organization. Great Britain agreed to let the food shipments pass through the blockade. Germany in turn promised not to take the food destined for helpless noncombatants.
The CRB operated with volunteers who worked with Hoover to get food supplies from other countries and send them to Belgium, where the commission would supervise the distribution. Under Hoover's direction, the CRB purchased rice from Burma, corn from Argentina, beans from China, and wheat, meat, and fats from the United States. Hoover and his staff worked with a network of 40,000 Belgian volunteers who handled the food distribution. Once inside the occupied country the supplies had to be prepared in mills, dairies, and bakeries. The food then had to be distributed equitably to an anxious population scattered among more than 2,500 villages, cities, and towns. The CRB also had to verify that rations did indeed reach their intended recipients and not the German army.
Saving lives in wartime was its own political minefield. Britons accused Hoover of being a German spy. Americans accused him of violating American neutrality laws. As the war progressed, German submarines started sinking relief ships, which added to the tension between Germany and the United States. Hoover's international business experience, organizational genius, and diplomatic prowess kept the CRB in business. In 1915, Hoover and his team even extended relief beyond Belgium to civilians caught behind the German battle lines in northern France. In all, the CRB's work encompassed a total area of nearly 20,000 square miles and fed approximately eleven million people through cash and food donations.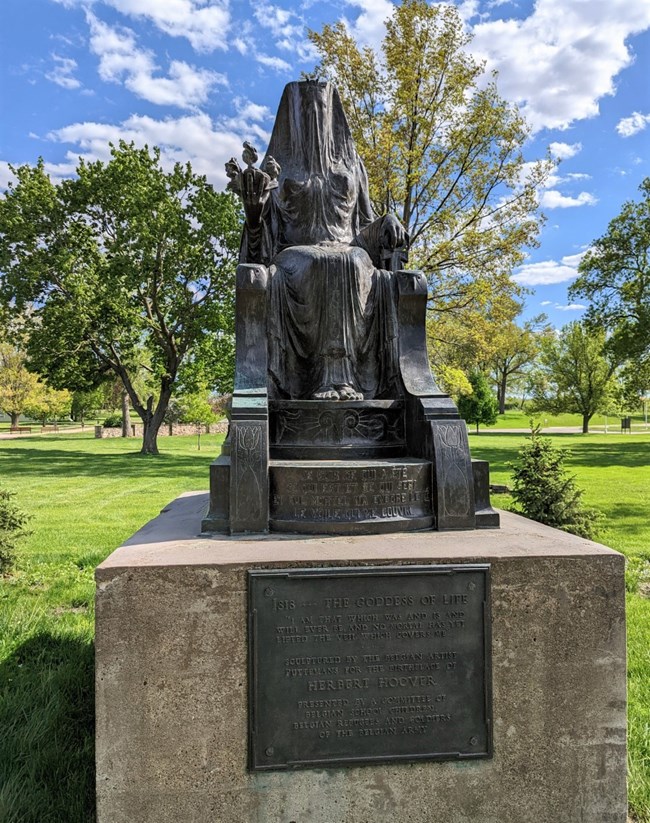 Expressions of Gratitude
Appreciative Belgians sent Hoover several hundred flour sacks embroidered with expressions of gratitude, many of which are displayed at Herbert Hoover Presidential Library and Museum. In 1922, a delegation from Belgium presented Hoover with a seven-foot tall bronze statue depicting Isis, ancient Egypt's goddess of life. In a memo written by Belgian Senator Albert Lejeune, "The committee that commissioned the statue was formed in England during the war and raised most of their funds from civilian exiles and 'practically all of the soldiers of the Belgian army then fighting for the liberation of our territory'."
As represented in the sculpture by Auguste Puttemans, Isis wears a veil as a symbol of the mysteries of life. Her right hand carries the "torch of life" with three flames representing the past, present, and future, while her left hand holds the "key of life." Stanford University housed the statue in one of its libraries until 1939 when the Hoovers brought it to West Branch, Iowa, to overlook the president's restored Birthplace Cottage. It remains there today as part of Herbert Hoover National Historic Site.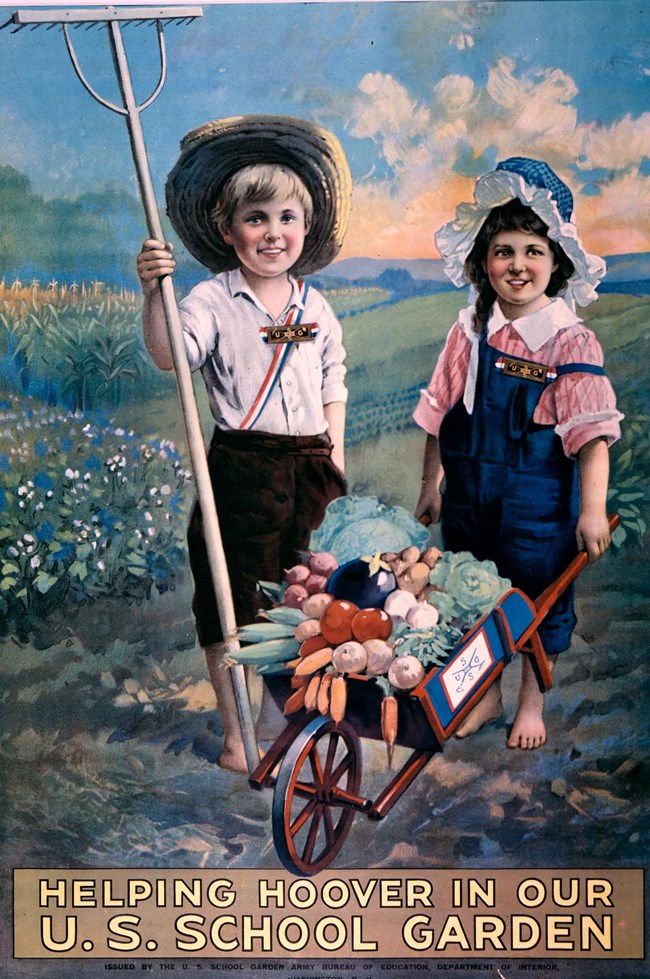 "Food Will Win the War"
In the spring of 1917, the United States entered the war against Germany. President Woodrow Wilson appointed Hoover to "immediately place in operation his plans for food control in the United States." From 1917 to 1918 Hoover served as the head of the U.S. Food Administration, a specially created wartime agency of the federal government.
The "Food Dictator"
From his work with the CRB Hoover had become an international hero. Since the start of the war the Allied powers of Great Britain, France, and Italy had turned to the U.S. for food supplies, most notably wheat, which was vital to helping them win the war. But unless Americans substantially reduced their wheat consumption, they would have none left to send to the hard-pressed Allies. From July 1916 to April 1917 the price of food in the U.S. had increased by more than forty percent. Food riots erupted in working-class and immigrant neighborhoods in New York, Philadelphia, and Boston. Opponents of the administration led by Senator Henry Cabot Lodge warned that if President Wilson insisted on placing food control in Hoover's hands, there would be an even greater revolt in the Senate.
As the head of the U.S. Food Administration, Hoover was often described by members of the American press as a "Food Dictator." Hoover proposed that the agency should consist of businessmen, not bureaucrats, and that it should be "extinguished" after the war. Throughout his time with the administration Hoover called for patriotism and sacrifices that would increase production and decrease food consumption. The government often declared, "Food will win the war." The Food Administration under Hoover urged "Meatless Mondays" and "Wheatless Wednesdays" on American families to reduce their consumption of key staples for the sake of the war effort. Propaganda posters proclaimed, "Food is ammunition— don't waste it," "Be patriotic, sign your country's pledge to save the food", "Eat more corn, oats, and rye products-fish and poultry-fruits, vegetables and potatoes, baked, boiled, and broiled foods", "Eat less wheat, meat, sugar, and fats to save for the army and our allies." Hoover later wrote in his memoirs that his job was to ask people to "Go back to simple food, simple clothes, simple pleasures. Pray hard, work hard, sleep hard, and play hard. Do it all courageously and cheerfully."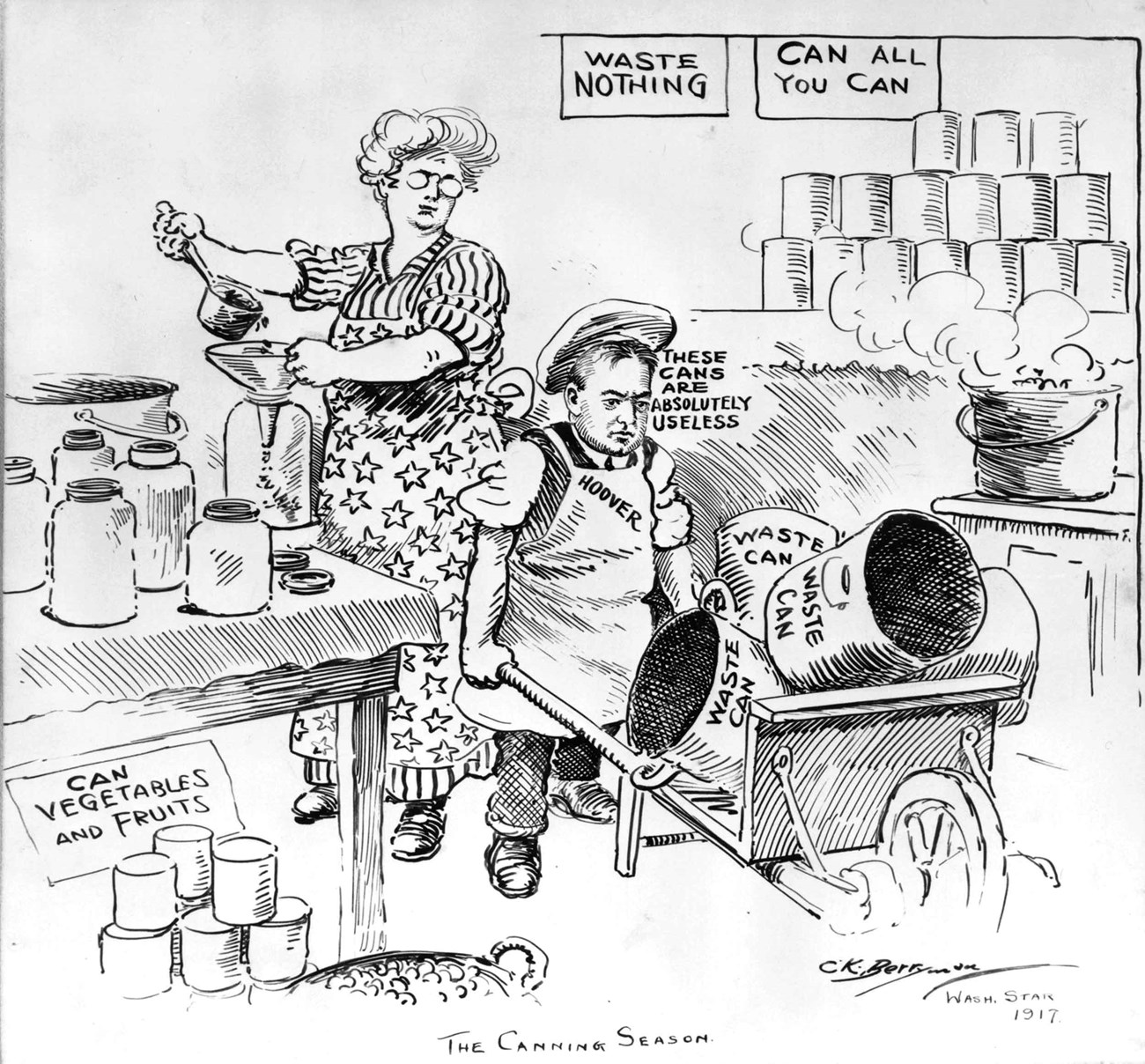 "The Name Herbert Hoover Spelled Life"
Although World War One ended in 1918, Hoover continued his humanitarian work as the head of the American Relief Administration (ARA). Its main purpose was to alleviate the suffering of European children in the years following the war. Congress formed the ARA in February 1919 and gave it an operating budget of $100 million.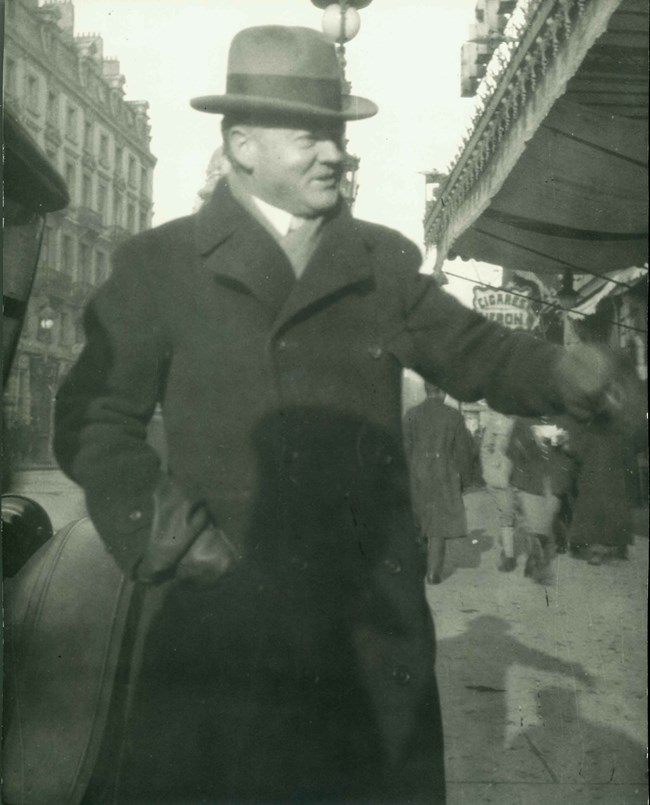 American Relief Administration
American food relief had a political implications in postwar Europe. The new agency played an important role stabilizing the newly independent state of Poland. To the Poles in 1919, the name Woodrow Wilson spelled freedom, while "the name Herbert Hoover spelled life." During the two-year war that broke out between Soviet Russia and Poland in 1919, the ARA in Poland concentrated its efforts on refugee relief, providing food, clothing, and treatments against typhus for displaced persons and returning refugees. At the time of Hoover's visit to Poland in August of 1919, over 500,000 children had been benefitting daily from the meals provided to them from the ARA.
Nothing had prepared the ARA team for what they found in Soviet Russia. The communist state had a transportation system in chaos, a hostile climate, a mistrustful Bolshevik government that spied on the U.S. relief workers, and the horrifying magnitude of a catastrophic famine that threatened 16 million people with starvation at its peak in the winter of 1921. Five months after the arrival of aid relief in the heartland of Russia, the ARA was feeding nearly 11 million people a day in 19,000 kitchens, and had hired 120,000 Soviets to help in their efforts.
Hoover's work in Soviet Russia did not come without controversy. Members of the Soviet government felt he would use his position with the ARA for counterrevolutionary purposes due to his openly anti-communist activities as Food Administrator during the Armistice period. When critics within the US government inquired about whether his work was actually helping Bolshevism, he defended his actions on humanitarian grounds saying, "Twenty million people are starving. Whatever their politics, they shall be fed!"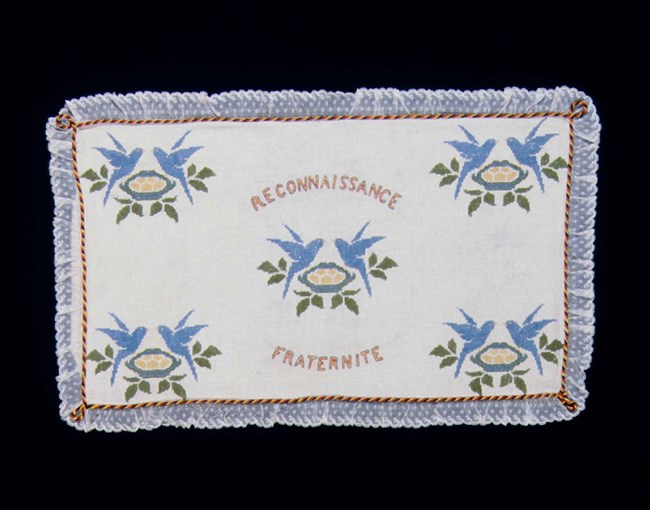 Humanitarianism American-style
In the immediate aftermath following World War I, the ARA had delivered more than four million tons of relief supplies to 23 war-torn European countries. The lessons Herbert Hoover learned as a child of being of service to others, living a simple life, and always trying to be peaceful had never rung more true. His biographer George Nash wrote, "Hoover was really the vanguard of the whole approach that has become associated with America in the last hundred years, namely that when there is a humanitarian tragedy in the world, whether from war or famine or revolution or a typhoon or earthquake, the Americans will be there to organize the relief."
"I Wish We Could Make Him President"
Herbert Hoover's reputation as an international hero during and after World War I led for calls to him to run for president in 1920. "He is certainly a wonder," his future rival Franklin Delano Roosevelt wrote at the time, "and I wish we could make him President of the United States. There could not be a better one." Hoover declined to seek nomination that year but he did run eight years later and was elected in a landslide victory. In 1928, the "Master of Emergencies," as he was known, seemed the perfect man to manage the country's postwar prosperity and handle any problems that came its way.