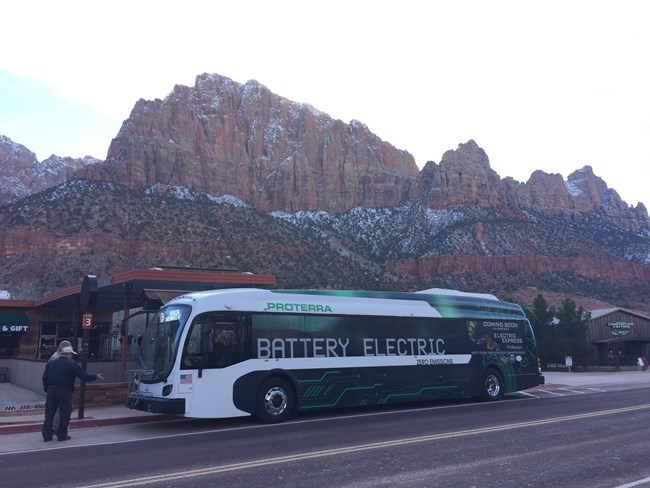 Each April, during the presidentially-proclaimed National Park Week, we celebrate America's treasures. We explore amazing places and discover stories of history and culture. National Park Week is a time to find your park!
National Park Week takes place April 20 through 28 and each day boasts a different theme. Tuesday, April 23, is Transportation Tuesday, where we'll celebrate the past, present and future roles transportation plays in getting visitors to and from parks.
Parks like Zion National Park are regularly identifying ways to ensure that future generations will be able to lose themselves in the majestic 229 square miles of red rock landscape at the Park. The Park has seen a 68% visitation increase in the past ten years so sustainable transportation is critical for resource protection and visitor experience. One of the proposed solutions is to replace the existing 19-year old propane powered bus fleet with battery-electric buses over time.
In 2017, Zion National Park operated 39 power units and 23 trailers that served 6.5 million boardings. The shuttle system supports multi-modal transportation connections through the park and adjacent town of Springdale, allowing visitors to park their cars, and relieving traffic congestion while maintaining access to the park.
The park is working to replace its propane-powered buses with electric ones. This year, the park expects to receive two 35-foot electric buses. The Park will use and evaluate the buses with the goal of replacing more fossil fuel-powered transportation with cleaner electric buses in the future. Fleet replacement with electric buses is expected to reduce lifecycle costs (operations and maintenance) of the Zion transit fleet by $300,000 annually through reduced fuel/energy consumption and maintenance needed for the existing buses.
Recreation is fundamental to American culture. The outdoors is where people go to unwind, get healthy, enhance relationships, reduce stress and more. The National Park Service (NPS) saw 318.2 million recreation visits in 2018, the third highest total since record keeping began in 1904. Today, NPS transportation professionals protect park resources and provide access to millions of visitors each year by planning, implementing, and looking for ways to improve the transportation systems.