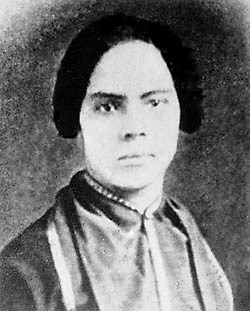 Mary Ann Shadd
was born free in Wilmington, Delaware In 1823. Her activist parents, Abraham and Harriet, raised their thirteen children to fight for the abolition of slavery. Because Delaware prohibited black education, the Shadds moved to Pennsylvania where Mary Ann attended a Quaker boarding school until 1839.
In 1850, Congress passed the Fugitive Slave Act which deprived fugitive slaves of legal rights and imposed harsh penalties on those who aided fugitive slaves. Along with scores of other free and enslaved blacks throughout the nation, Shadd and her brother Isaac emigrated to Canada. In 1853, Shadd founded Canada's first-antislavery newspaper, The Provincial Freeman. She was the first Black woman in North American to run a newspaper. The weekly publication encouraged blacks to flee America for their freedom.
In 1856, Shadd married Toronto barber, Thomas F. Cary. In 1860, Thomas Cary died. At the outbreak of the Civil War, Shadd Cary returned to the United States to become a Recruiting Officer for the Union Army in Indiana. After the war, she
moved to Washington, DC
to teach and in 1867, she enrolled in Howard University's law program. In 1883 at the age of 60, she graduated – only the second African American woman in the US to earn a Law degree.
During her later life, Cary was active in the women's suffrage movement. She was a member of the National Woman Suffrage Association (NWSA) and spoke at the spoke at NWSA's 1878 convention. She also advocated for the Fourteenth and Fifteenth Amendments at a House Judiciary Committee hearing. The Fourteenth Amendment defined citizenship and the Fifteenth Amendment granted African American men the right to vote. While Cary spoke in support of the Fifteenth Amendment, she was also critical of it as it did not give women the right to vote.

Mary Ann Shadd Cary died on June 5, 1893.