Denali's Climate Change Response - 2012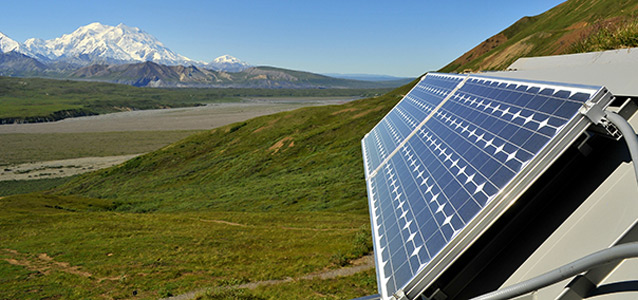 Climate change is real. Scientists who observe Earth's climate have documented a warming trend caused by human activity, and the consensus is that the trend will continue. Climate change transforms the natural and cultural landscapes of national parks and impacts the visitor's park experience. These changes and impacts are already being experienced at Denali National Park and Preserve. How is the park responding to these changes?
As the scope and intensity of climate change increase, the historical or "natural" conditions in parks will be difficult or impossible to maintain. What will it mean to protect park resources "unimpaired for future generations" in the face of climate change?
The National Park Service (NPS) response to climate change began with a committee—representing parks, regions, and subject-matter experts—that examined park policy, listened to suggestions, formulated recommendations, and helped develop the NPS Climate Change Response Strategy (2010). In 2012, the NPS released a Climate Change Action Plan, which provides context, sets short-term priorities, and considers future planning for the Climate Change Response Program's four emphasis areas:
Science: using science to help manage parks
The NPS will apply the best available climate science. By collaborating with scientific agencies and institutions, the NPS can address the specific needs of park managers and park partners as they confront the challenges of climate change.
Adaptation: planning for an uncertain future
Climate change will alter park ecosystems in fundamental ways. The NPS must remain flexible amidst a changing landscape and uncertain future, and swiftly address both natural and human systems when necessary. Scenario planning is a key tool for adaptation for national parks. When future conditions are uncertain, scenario planning creates multiple scenarios and finds the beneficial actions common to each one.
Mitigation: reducing the NPS carbon footprint
The most effective way to lessen the long-term effects of climate change is to reduce greenhouse gas emissions. The NPS is demonstrating leadership in reducing its carbon footprint through energy efficient practices and in integrating climate-friendly practices into administration, planning, and workforce culture.
Communication: educating about climate change
National parks are visible examples of how climate change can affect natural and cultural resources. Through clear communication, the NPS will prepare park staff and connect visitors with information concerning the impacts to parks and steps the agency is taking to preserve our heritage.
Denali is responding to climate change in all four areas. Selected planning and accomplishments for 2012 within each area are listed below.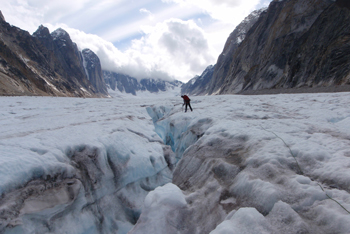 Science:
Climate monitoring
Glacier monitoring for cumulative mass balance, terminus location, and rates of reduction in area and thickness
Use of digital elevation models and GIS to determine topographic change due to glacier change, mass wasting, and other processes
Lake ice and snow measurements at Horseshoe Lake to document changes in iceon and ice-off for Alaska lakes
Development of permafrost monitoring protocol (Central Alaska Network) to detect changes in permafrost due to climate change
Repeat photography of park landscapes after 50-90 years
Repeat measurements of vegetation plots on the McKinley Bar (changes since 1958)
Analysis of data from 1,500 vegetation plots to establish baseline for future changes (Central Alaska Network)
Phenology of aspen leaf-out and fall color change in relation to climate data
Monitoring white spruce cone and seed production in relation to climate data
Social science visitor surveys (Slippery Rock University) to determine attitudes of visitors toward sustainability, climate change, and the role of the NPS in providing information
Social science interviews with rural community members and park staff to collect knowledge about how climate change has affected resources in Denali
Adaptation:
Incorporation of climate change into Denali's Foundation Statement (planning document)
Training completed by park managers to implement Climate Change Scenario Planning
Development of plant diversity maps for use in scenario planning and visualization, e.g., encroachment of woody vegetation upslope 200 meters (yards) into tundra would pose a major threat to Denali's vulnerable tundra plant species that are already rare
Planning sessions with the Landscape Conservation Cooperative for Interior Alaska—Northwestern Interior Forest LCC
Discussion of potential use of prescribed fire in managing changes in fire size and frequency that have resulted due to climate change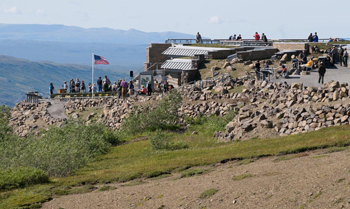 Mitigation:
Ongoing
Use of shuttle and tour buses to reduce traffic and emissions on the park road
Use of solar, hydro-electric power
Employee use of buses to reach work locations
Employee travel to wilderness work sites on foot instead of helicopter when feasible
Use of green practices by the Murie Science and Learning Center (MSLC) Field Camp (using reusable lunch bags, a fuel-efficient diesel van)
2012 outcomes
Audit of Denali's Environmental Management System—highlights many accomplishments
Fleet includes 11 hybrid and three 100% electric
Savings from "smart" vehicle plug-ins in winter— reduced electric use by 19,066 kilowatt-hours
Reuse or recycling of paper, glass, cans, and metal—saved 46,326 pounds from the landfill
Project funded to complete five additional water bottle-filling stations with the goal to eliminate use in the park of plastic throw-away bottles
Walking, carpooling, and biking to work, by 48 employees during 14 weeks of recordkeeping, saved 23,785 pounds of emissions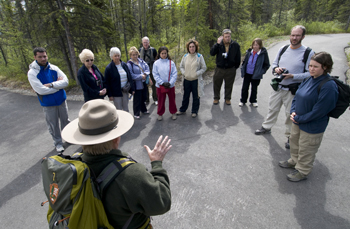 Communication:
Training sessions on climate change for park rangers (interpreters) and bus drivers
Climate change messages included in most interpretive programs and MSLC education offerings
New fact sheets include How to "Green" Your Visit to Denali, Glacier Monitoring, and Permafrost Thaw and the Nitrogen Cycle
Opportunities for citizen scientists to learn about climate change during MSLC field seminars (glacier terminus mapping, repeat landscape photography, and climate change)
MSLC climate change programs (e.g., dinner and discussion; Teklanika Bus Tour on how climate change affects landscapes)
How can you respond to climate change?
Last updated: April 21, 2016