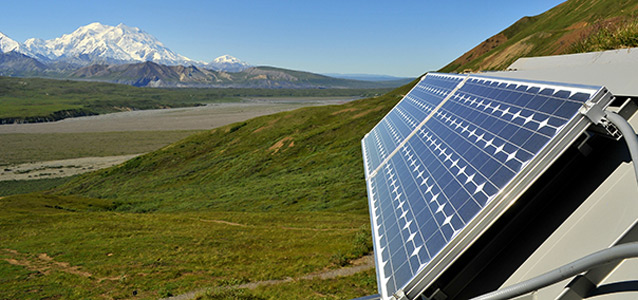 Climate change is real. Scientists who observe Earth's climate have documented a warming trend caused by human activity, and the consensus is that the trend will continue. Climate change transforms the natural and cultural landscapes of national parks and impacts the visitor's park experience. These changes and impacts are already being experienced at Denali National Park and Preserve. How is the park responding to these changes?
As the scope and intensity of climate change increase, the historical or "natural" conditions in parks will be difficult or impossible to maintain. What will it mean to protect park resources "unimpaired for future generations" in the face of climate change?
The National Park Service (NPS) response to climate change began with a committee—representing parks, regions, and subject-matter experts—that examined park policy, listened to suggestions, formulated recommendations, and helped develop the NPS Climate Change Response Strategy (2010). In 2012, the NPS released a Climate Change Action Plan, which provides context, sets short-term priorities, and considers future planning for the Climate Change Response Program's four emphasis areas:
Science: using science to help manage parks
The NPS will apply the best available climate science. By collaborating with scientific agencies and institutions, the NPS can address the specific needs of park managers and park partners as they confront the challenges of climate change.
Adaptation: planning for an uncertain future
Climate change will alter park ecosystems in fundamental ways. The NPS must remain flexible amidst a changing landscape and uncertain future, and swiftly address both natural and human systems when necessary. Scenario planning is a key tool for adaptation for national parks. When future conditions are uncertain, scenario planning creates multiple scenarios and finds the beneficial actions common to each one.
Mitigation: reducing the NPS carbon footprint
The most effective way to lessen the long-term effects of climate change is to reduce greenhouse gas emissions. The NPS is demonstrating leadership in reducing its carbon footprint through energy efficient practices and in integrating climate-friendly practices into administration, planning, and workforce culture.
Communication: educating about climate change
National parks are visible examples of how climate change can affect natural and cultural resources. Through clear communication, the NPS will prepare park staff and connect visitors with information concerning the impacts to parks and steps the agency is taking to preserve our heritage.
Denali is responding to climate change in all four areas. Selected planning and accomplishments for 2012 within each area are listed below.