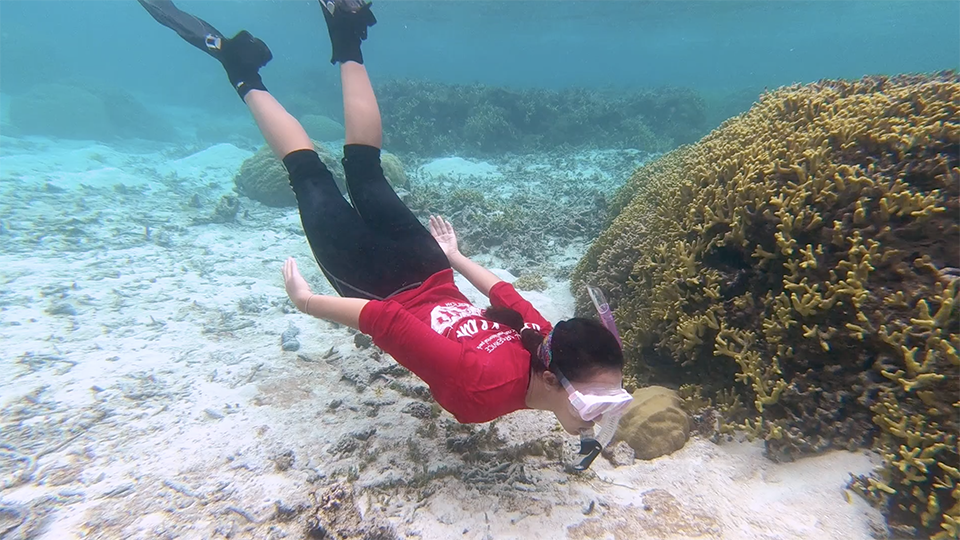 More than a million people explore coral reefs in national parks every year, and many of them apply sunscreen during their visit. However, many sunscreens contain oxybenzone, octinoxate, or avobenzone, and these ingredients pose a threat to coral reefs. When these chemicals wash off our bodies, they can harm reef health.Small steps can make a big impact when protecting the health and economic value of coral reefs in our national parks.

To protect park resources and visitor safety, the National Park Service encourages the use and sale of reef-friendly sun protection. This includes protective clothing and non-nanotized, mineral-based sunscreens.
What are alternate forms of sun protection?
Visitors to parks with coral reefs can prevent a sunburn by wearing a stylish hat, sunglasses, and a UV-blocking shirt (such as a rash guard or sun shirt). Non-nanotized, mineral-based sunscreens use zinc or titanium dioxide to reflect the sun's rays and are much less likely to harm coral reefs and the biodiversity they support.
How do we encourage visitors to use alternate sun protection?
Concessionaires can help by displaying protective clothing and reef-friendly sunscreens beside each other in stores. This helps park visitors make decisions that protect them from harmful UV-rays and our coral reefs. The National Park Service developed a set of graphics that make it easy for customers to identify reef-friendly sunscreens and alternate options. Concessionaires can download these graphics for use with items that are include non-nanotized Titanium dioxide, non-nanotized Zinc oxide.

These and other efforts can help improve the condition of coral reefs that are declining worldwide. For more ways that you can help preserve healthy coral reefs, the visitors they attract, and the economic vitality of the local community try living blue.