Coastal Biophysical Inventory of the San Francisco Bay Area Network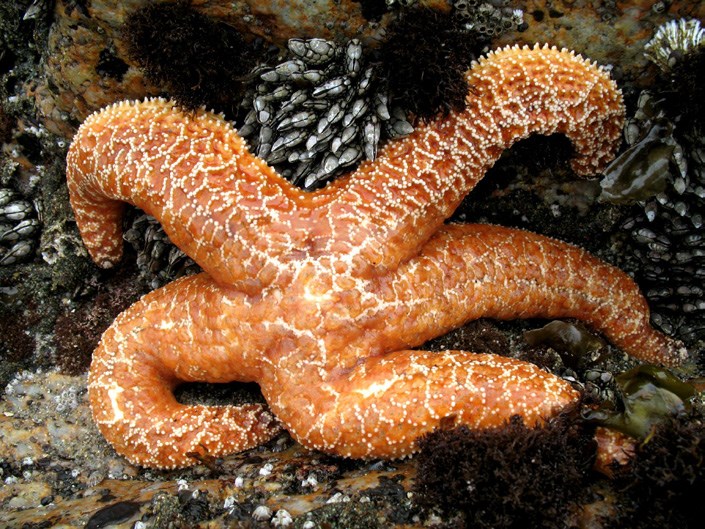 Importance
The rocky intertidal zone has a tremendous diversity of plants and animals that are sensitive indicators of environmental change.
The intertidal zone is a narrow band between land and sea that is bounded by high and low tides. These wave-swept rocky shores are home to many species that are sensitive to conditions such as salinity and temperature, making them good indicators of environmental shifts. The National Park Service contributes to collaborative long-term intertidal monitoring programs along the Pacific coast, with the Multi-Agency Rocky Intertidal Network (MARINe) and the Partnership for Interdisciplinary Studies of Coastal Oceans (PISCO). In addition, the National Park Service does rapid assessments of the intertidal zone in San Francisco Bay Area coastal parks, in part to help prepare for and respond to oil spills.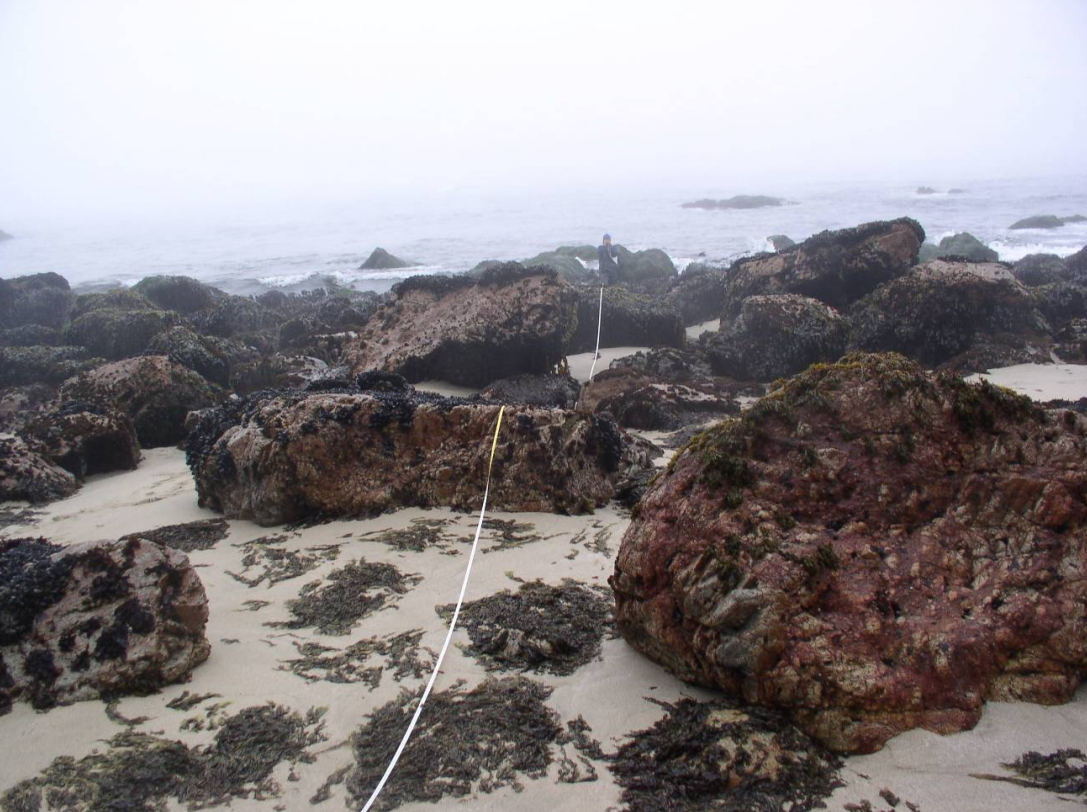 Inventory Methods
The National Park Service inventoried intertidal zone species and their rocky habitat at Point Reyes National Seashore and Golden Gate National Recreation Area.
The Coastal Biophysical Inventory's rapid assessments yieldquantitative snapshots of the geology and biology of an expansive shoreline. Coastal segments were categorized by rock type, such as sandy beach or rocky shoreline, and surveyed for intertidal species, such as algae, barnacles, mussels, sea anemones, and sea stars. This information has helped park scientists survey key intertidal species more efficiently and assess areas damaged by oil spills and other catastrophes. It has also helped identify priority areas to protect, including animal breeding grounds and areas where oil collects. Estimating damage quickly is critical to securing emergency funds.
Status and Trends
The baseline Coastal Biophysical Inventory and database are complete. This information was used to help assess the intertidal impact of the 2007 Costco Busan oil spill in the San Francisco Bay.
National Park Service staff and PISCO researchers inventoried 100 miles of coastline in Point Reyes and Golden Gate. They classified approximately 450 sections of coastline into coastal segments by rock type, and noted the presence of more 138 types of organisms. In coastline dominated by boulders or bedrock, they identified more than 75 different organisms in less than 10 minutes, including a variety of algae, kelp, barnacles, crabs, fish, limpets, mussels, sea anemones, and sea stars.
Researchers used information from the Coastal Biophysical Inventory to characterize the oiled shoreline after the Cosco Busan oil spill in November 2007, including the extent and abundance of intertidal plants and animals, as well as the degree of oil contamination. About 385 acres of rocky intertidal habit were exposed to oil. About 25 acres were moderately-to-heavily oiled while the rest were lightly-to very-lightly oiled. As of October 2009, there was no remaining discernable damage to most of the affected shoreline habitat.
Last updated: May 10, 2018