Intertidal Ecosystems
In the narrow band between land and sea, plants and animals must endure being pounded by icy waves at some times while being parched by hot, dry air at others. Despite these extreme conditions, wave-swept rocky shores are full of life because they also have plenty of light, nutrients, and oxygen.
Bounded by high and low tides, the intertidal zone is rich in algae and invertebrates, but the particular mix of species varies with proximity to shore. The high intertidal zone, which is inundated only during high tides, has species including rockweed, acorn barnacles, turban snails, and lined shore crabs. The middle intertidal zone, which is exposed to the air at least once a day, is home to creatures such as sea lettuce, aggregating anemones, chitons, gooseneck barnacles, mussels, and ochre stars. The low intertidal zone, which is exposed only during very low tides, is inhabited by coralline algae, giant green anemones, purple sea urchins, and bat stars.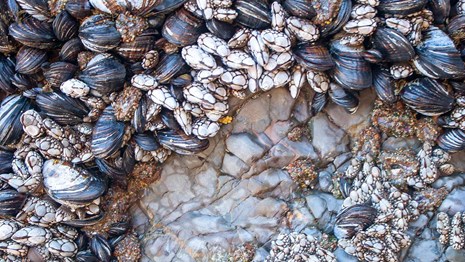 Quick Reads
Browse articles and information summaries about intertidal ecosystems in the San Francisco Bay Area.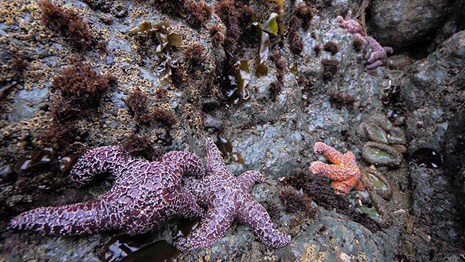 Photos and Multimedia
Explore visual media for intertidal ecosystems in the San Francisco Bay Area.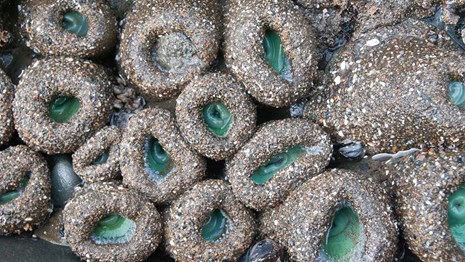 Blog
Get the latest on intertidal ecosystems from the Bay Area Nature & Science Blog.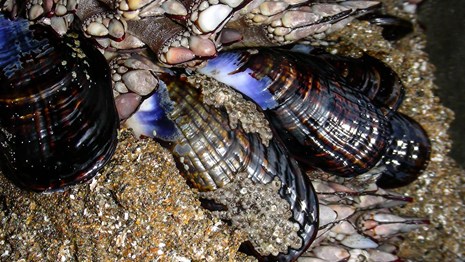 References and Links
Want to know more? This is your source for further information on intertidal ecosystems in the San Francisco Bay Area.
Long-term Monitoring
While resilient to the normal extremes of their environment, intertidal species are also sensitive to fluctuations in salinity and temperature, and so serve as indicators of environmental change. In the San Francisco Bay Area Network, park staff do both long-term monitoring and rapid assessments of the intertidal zone. This monitoring can reveal environmental shifts driven by factors such as development, chemical spills, and climate change. In addition, monitoring data can facilitate timely responses to catastrophes such as oil spills.

The National Park Service Inventory and Monitoring Program monitors rocky intertidal communities at five sites in Golden Gate National Recreation Area and Point Reyes National Seashore. Though rocky intertidal monitoring has taken place at some sites since 1989, adoption of a new monitoring protocol in 2006 developed for the Multi-Agency Rocky Intertidal Network (MARINe) has enabled direct comparison to more than 100 other MARINe network sites.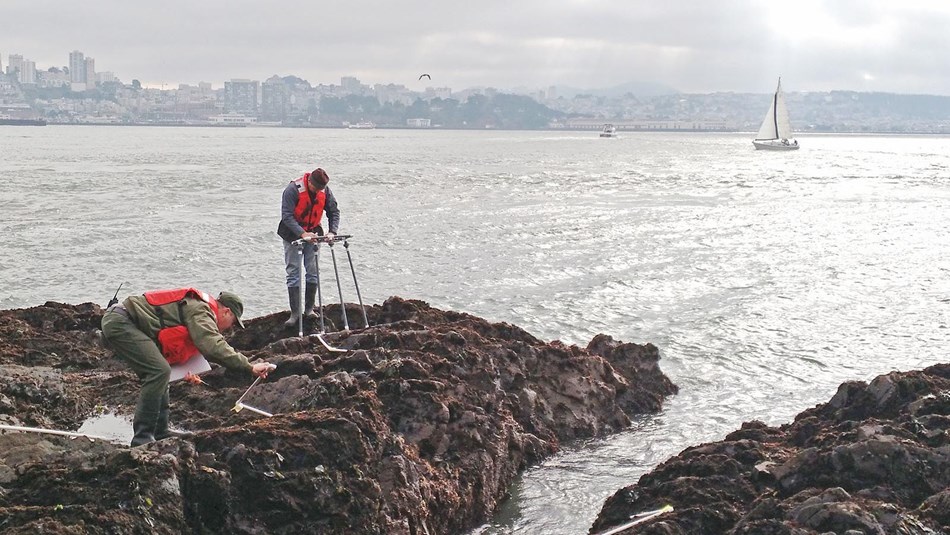 Rocky Intertidal Monitoring
Dig in to monitoring protocols, reports, and more on the San Francisco Bay Area Network's Rocky Intertidal Monitoring page.
Last updated: July 5, 2018