"Let us be silent awhile and listen to nature." Frederick Douglass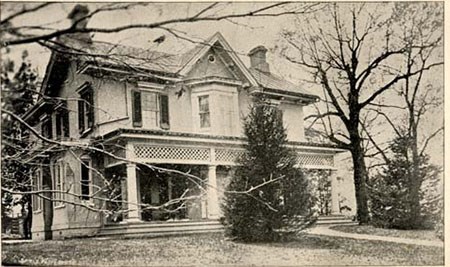 Frederick Douglass escaped from human bondage to wage oratorical and written battles to ensure justice for men and women who were excluded from the democratic process. Aside from his staunch abolition, civil rights, and women's rights activities, he displayed a lifelong attraction to nature's great outdoors. He acquired a poet's love for horticulture and the natural beauty around him.

In the summer of 1877, he purchased close to ten acres of farmland and a mansion on the outskirts of the city of Washington, leaving his A Street urban dwelling two blocks from the Capitol to escape the hustle and bustle of the District of Columbia for a more simple and tranquil countryside in the suburban village of Anacostia. One of the reasons why Douglass chose this property was because of its serene physical character. He named his final residence Cedar Hill, because of the cedar trees that already encompassed its sprawling landscape.

It stands atop a hill with an expansive panorama toward the south east of the city. Off in the distance to its far left is a beautiful view of the Capitol. To the far right is a tranquil vista of the state of Maryland. This beautiful outlook acts as a vivid metaphor for Frederick Douglass's life. It signified to the world the heights to which he rose by the latter years of his life.
Cedar Hill's stretching green landscape also reflects his deep appreciation for nature. Its topography is engulfed with ecological beauty comprised with trees, rolling hillsides, deep glens, and a natural flowing spring. Douglass made a series of additions to the house and continued to convert its grounds into his own rustic sanctuary to escape the mental and physical demands of being a public figure. When he was not in the public eye, he often engaged Cedar Hill's natural surroundings to physically and mentally recharge. Douglass's daily use of Cedar Hill's indoor domestic space and outdoor landscape communicates ongoing interplays with nature during the last seventeen years of his life.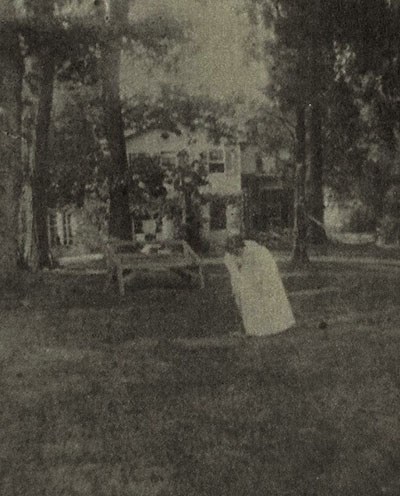 He enjoyed spending a great amount of time out in Cedar Hill's open air communing with nature. Douglass lifted weights on his front lawn, lounged in the property's hammocks, rockers, and played croquet with family and friends on its back lawn. Daily he explored and utilized his property's every inch. With his walking stick in hand he strolled his estate, alone, with family members, or with other guests who sought to spend time with him.

British journalist Catherine Impey on one of her visits to Cedar Hill in 1892 had an opportunity to accompany Douglass on one of his nature walks. As they both wandered through the woods, Douglass and she stopped along the way to rest on a fallen tree. He then turned to her and asked "let us be silent awhile and listen to nature."[1]

Douglass treasured other moments in silence and sought to work in a more natural setting, when not at work in his study off the east parlor. At times after breakfast and a morning walk he withdrew from everyone to his outdoor "little rustic," human lair called the Growlery.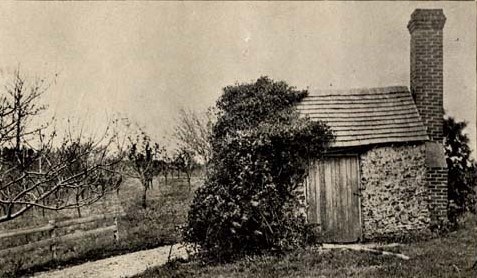 A walkway led from the back of the home to a cozy little windowless retreat where he kept a second desk filled with books and paper to write, read, and contemplate his thoughts all year round.

A couch was also housed in this space for further relaxation. During the spring and summer months, this small simple stone room could be observed surrounded by exotic vegetation; among them a "wisteria vine crawled up and down onto the roof; strawberry, orange blossom, and lilac bushes...".[2] Douglass also sought refuge in this chalet during the winter. It had a fireplace to keep him warm from the harsh seasonal elements. Douglass attained a rejuvenation of vigor and a deeper appreciation for the greater world around him in this natural setting.
Over the years Douglass continued to connect with nature. He planted trees, and flowers, and cultivated fruits and vegetable gardens on the hillsides and glens of his property. His gardens acted as great trophies of his physical labor and he was not shy about showing them off to friends. Educator and writer Josephine Turpin Washington once recalled that during one of her visits to Cedar Hill for one of his weekly Monday Night Literary Club meetings, Douglass made her take time out before she left to observe his "strawberry bed and his flowers." [3]

He grew shrubs and harvested flowers such as persimmons, honeysuckle, and strawberry bushes that displayed vibrant colors. Douglass like many Victorians, also brought the natural world inside his home. Throughout his life, he was a conscious collector of different types of flora and fauna. Douglass often brought flowers inside Cedar Hill to be curated in his study, parlors, and dining room. His appreciation for plant specimens extended to the Victorian hobby of flower pressing. Douglass collected and pressed, mustard, lesser club moss, wild rose, crimson clover, jasmine, wood sorrel, grape hyacinth, Kentucky bluegrass, thorny bamboo, sweet gum, red maple, trumpet honeysuckle, and ferns. These plants were found years later pressed in many of books in his home study.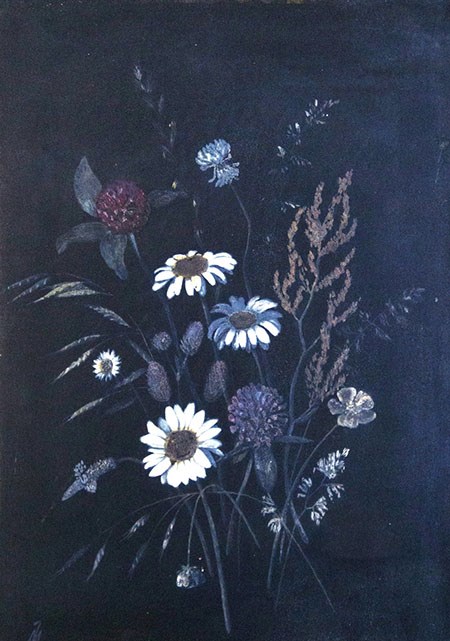 Douglass also revealed another extension of his deep affinity for seed-bearing plants with the display of his botanical paintings. In his east parlor, he exhibited behind a bust of the great orator and abolitionist Wendell Phillips an oil painting of dandelions framed in a deep purple velvet frame by his good close friend and artist Sarah Eddy.

Across the room above the Greek statue, Psyche, is another oil painting of a bouquet of flowers and ferns displayed in a gold frame. These forms of material culture act as further tangible indicators of Douglass's intimate expression of the natural world.

His personal connection with his final residence reveals a sophisticated utilization of his indoor domestic space and his landscape as a naturalist in the nineteenth century. A passion that he shared until his death on February 20th, 1895. Douglass's life, his accomplishments, and, most importantly, his words and ideals were rooted in his love for nature as he shepherded this nation to live up to the ideals of freedom and justice for all humankind.
Cedar Hill remains a tangible symbol of Douglass' enduring relationship with the natural world. Today, when visitors walk through Douglass' former Cedar Hill home they are presented with the material "bounties of nature" that are evident in nearly every room. They specifically communicate the social value that Victorians like Douglass consciously or subconsciously placed on their natural environments and their relationships with or within it. Here lived a man of complexity who experienced wonderful times with friends and family inside and outside on the lawn of Cedar Hill. The natural landscape that Douglass loved so much is one piece of his continuing legacy of leadership, from his home on a hill to the stage of national history.
---
[1] Catherine Impey, "Extracts from the Editor's Diary of Visit to Cedar Hill," Anti-Cast, 7 (Somersetshire, England, May-May, 1895), p. 15.

[2] Anna Coxe Toogood, Frederick Douglass Home: Cedar Hill Historic Grounds Report Historical Data Section, Division of History: Office of Archeology and Historic Preservation, United States Department of Interior, National Park Service, May 1968. pp. 47-48.

[3]
Josephine Turpin Washington, "A Gifted Women's Tribute to Mr. Douglass, the Man and Friend," New York Age, March 14, 1895; Anna Coxe Toogood, Frederick Douglass Home: Cedar Hill Historic Grounds Report Historical Data Section, Division of History: Office of Archeology and Historic Preservation, United States Department of Interior, National Park Service, May 1968. P.19.