Captive Rearing of Redwood Creek Coho Salmon
Coho salmon in Marin County's Redwood Creek are at critically low numbers, and are at risk of local extinction. To prevent permanent loss of the fish, a team of scientists and land managers are removing juvenile coho from Redwood Creek and rearing them to maturity. Mature coho salmon will be released back to the creek to choose mates and spawn in their natural environment. The first collection of juvenile fish occurred in August, 2014.
Collaborating agencies: California Department of Fish and Wildlife (CDFW), National Oceanic and Atmospheric Administration, National Marine Fisheries Service NOAA -NMFS, Army Corps of Engineers (ACOE), California Department of Parks and Recreation (CDPR), National Park Service (NPS), Golden Gate National Parks Conservancy (GGNPC), and Friends of Lake Sonoma.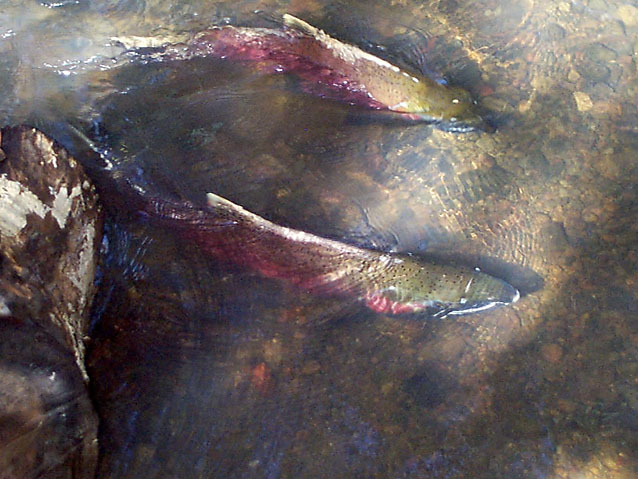 What Actions have been taken to protect Redwood Creek's coho salmon?
Within the Redwood Creek watershed, large-scale restoration projects have reversed some historic coho habitat losses. Other projects, including removal of in-stream fish barriers and relocating structures away from the Redwood Creek, have also been undertaken to improve existing habitat.
Why Captive Rearing?
Captive rearing is a temporary measure to prevent extirpation of a population that is too small to sustain itself through natural reproduction. Juvenile coho will be collected from Redwood Creek again in 2015 and 2016. All fish will be reared at Warm Springs Fish Hatchery in Lake Sonoma. Three to four year old adults will be released back into Redwood Creek to spawn.
To learn more:
For more information on coho salmon or to volunteer on restoration projects in the Golden Gate National Recreation Area, go to:
http://www.wildlife.ca.gov/Regions/3/Redwood-Creek-Coho
https://www.nps.gov/rlc/pacificcoast/coho-steelhead.htm
http://www.parksconservancy.org/get-involved/volunteer
Or contact:
California Department of Fish and Wildlife
Manfred Kittel: Manfred.Kittel@wildlife.ca.gov
Gail Seymour: Gail.Seymour@wildlife.ca.gov
Army Corps of Engineers
Peter LaCivita: Peter.E.LaCivita@usace.army.mil
Ben White: Benjamin.C.White@usace.army.mil
National Park Service, GGNRA
Darren Fong: Darren_Fong@nps.gov
National Oceanic and Atmospheric Administration
Bob Coey: Bob.Coey@noaa.gov
Last updated: May 24, 2017