Louisiana: Cane River Creole National Historical Park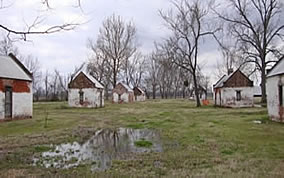 In a rural and pristine area of western Louisiana near the winding Cane River, visitors can experience over two centuries of history by exploring Cane River Creole National Historical Park, a National Park System unit within the Cane River Creole National Heritage Area. Cane River Creole National Historical Park preserves the landscapes and many buildings and structures of two historic plantations. At Oakland and Magnolia plantations, visitors can learn about plantation economies, slavery, cash cropping, Creole culture, the Civil War, sharecropping, and modernization to see how different people, both black and white, lived and adapted to historical, economic, social, and agricultural change.
In 1789, Jean Pierre Emmanuel Prudhomme established Oakland Plantation on a land grant from the Spanish government. By the early 1800s, Prudhomme began using his plantation, originally named Bermuda, to grow cotton, a major cash crop. Through cotton production, Prudhomme amassed great wealth. To ensure success, Prudhomme used enslaved laborers year round to grow, harvest, and bail cotton, which is a labor intensive crop. 

In 1859, for instance, 145 slaves, who lived in 30 dwellings at Oakland Plantation, produced 698 bales of cotton and 7,000 bushels of corn. While many of the slaves toiled in the cotton fields, others worked as midwives, nurses, cooks, weavers, shoemakers, brick masons, painters, and ginners. The success of Oakland Plantation allowed Prudhomme and his descendants to expand the land holdings of the estate and to construct multiple outbuildings on the property. The Prudhomme family resided on the plantation until late in the 20th century. 
A self-guided tour winds its way through the grounds and many of the original buildings and structures of this once bustling plantation. Visitors can see the main house, the carriage house, the doctor's cottage, slave/tenant quarters, the overseer's house, the cotton gin ruins, the store and post office, and many sheds, shops, and storehouses. Most likely built by enslaved African Americans in 1821, the Oakland Plantation main house is an example of a raised Creole plantation house constructed of bousillage. Bousillage is an infill material of mud, Spanish moss, and deer hair. 

The historic landscape of the main house includes an 1835 bottle garden and a short alley of live oaks. Believed to be one of only two such gardens surviving in the Mississippi Valley, the bottle garden displays parterres outlined by bottles from Scotland, Ireland, England, and France. A number of sheds and shops remind visitors of the many "behind the scenes" tasks that went into the smooth running of a plantation. The old store is evidence that even when slavery ended and a sharecropping system replaced it, many freed people were still tied to a plantation-like system.
Magnolia Plantation still has 21 standing historic buildings and structures. Visitors can see a slave hospital, a pigeonnier, eight brick slave houses, a gin house, and a plantation store. While Jean Baptiste LeComte I originally acquired the land on which Magnolia Plantation stands in 1753, it was not until about 1840 that Ambrose LeComte II built the first main plantation house on the grounds. By the 1860s, the LeComtes expanded the landholdings of plantation and shifted to cotton production. Magnolia Plantation soon became the largest cotton-producing plantation in Natchitoches Parish, with the LeComtes owning the most slaves in the area. 
Enslaved African Americans lived in a double row of eight brick slave houses at Magnolia. On both Oakland and Magnolia plantations, the slave quarters were places where enslaved workers created their own institutions, community, internal governance, recreation, and religious practices. Out of sight of their masters within these slave communities, they married, started families, and produced domestic goods such as clothing, furniture, tools, and toys. They also had their own gardens where they raised crops of sweet potatoes, watermelons, turnips, and other vegetables.
The 1860s brought great changes to both plantations and to the southern plantation system way of life. During the Civil War, Union troops swept through the area burning a steam cotton gin and 400 bales of cotton at Oakland Plantation. Union soldiers burned the original main house at Magnolia Plantation in 1864. Following the fire, the LeComtes lived in the former slave hospital and did not rebuild the main house until 1899. The Civil War and the Emancipation Proclamation had lasting effects on southern plantations. After the war, many freed slaves became sharecroppers on plantations under conditions that were not very different from slavery. Under the sharecropping system, freed workers became forever indebted to the plantation store for what they needed and were never able to secure the land, money, education, or skills necessary to move beyond plantation life.
Visit Cane River Creole National Historical Park to better understand this diverse and controversial period of American history in a park that brings alive the world of plantation owners and African Americans in this part of the South.
Cane River Creole National Historical Park is a unit of the National Park System. Oakland Plantation, a National Historic Landmark, is located on Hwy. 494, 12 miles south of Natchitoches, LA and is part of the Cane River Creole National Historical Park and the Cane River Creole National Heritage Area. Magnolia Plantation, also a National Historic Landmark, is located at 5549 Hwy. 119 in Derry, LA. Magnolia Plantation Home is privately owned and is no longer open for tours. For more information about park tours, please call the park directly at (318) 352-0383, ext. 16 or visit the park's website for tour times as schedule do change.

Oakland and Magnolia Plantations are also featured in the National Park Service's Cane River National Heritage Area Travel Itinerary. The National Park Service Archeology Program has online tours of the Oakland Plantation and Magnolia Plantation. The National Park Service's Historic American Buildings Survey has documented several different buildings at the Oakland Plantation. At the Magnolia Plantation, the Historic American Buildings Survey has documented the Plantation, Slave Quarters, and Cotton Gins.
Last updated: August 4, 2017