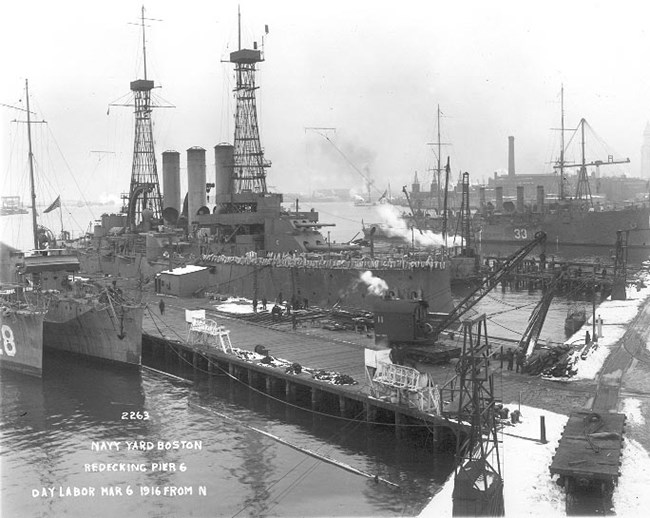 by David Hannigan, Park Guide
At the turn of the 20th century, the Boston Navy Yard (now known as Charlestown Navy Yard) entered its second century of service by embarking on its first major expansion since the Civil War. This growth was in line with the goals of President Theodore Roosevelt's administration, which wanted the United States Navy to expand and modernize, heralding the emergence of America as a world power. In Boston several new buildings and a second dry dock were built to meet the demands of the growing fleet that it served.
Shortly after the outbreak of World War I in August 1914, President Woodrow Wilson declared that the United States would remain neutral. It would become the navy's job to protect the nation's neutrality at sea and at home by stationing destroyers at Boston Navy Yard.
In the aftermath of the sinking of the RMS Lusitania in May 1915, President Wilson sided with the growing number of advocates of military preparedness who sought to protect America's interests at home and abroad. As part of the preparedness movement, Wilson called upon Congress to authorize the construction of over 150 warships. With the passage of the Naval Act of 1916, the Boston Navy Yard prepared for an increase in the number of ships built, outfitted, and repaired at the facility.
Throughout the war years, many of the yard's older buildings were renovated or replaced, while several new buildings were erected, including a massive general storehouse. An inclined shipway, where vessels could be built and launched, was constructed and towering hammerhead cranes were erected after the Navy Department selected the Boston Navy Yard for the construction of the first ship specifically built to carry supplies and provisions for overseas fleet replenishment. For the repair of smaller vessels, a marine railway was constructed between the yard's two dry docks.
As preparations intensified, the number of workers at the yard increased dramatically, growing from approximately 2,500 to 4,400 skilled and unskilled laborers by 1917. This workforce would come to include a number of women who filled a variety of roles from clerical workers to manufacturing assistants in the yard's ropewalk, which had greatly increased its production of cordage for the navy.