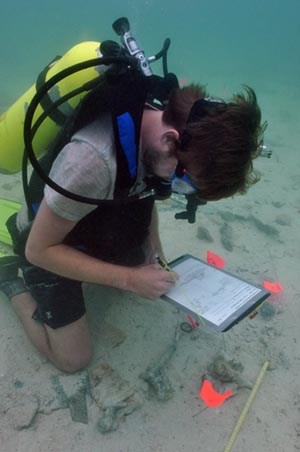 Over 40 shipwrecks are located within the waters which now make up Biscayne NP in southern Florida. Among those wrecks, the English China Wreck is one of the best preserved. Unfortunately, looting and unintended damage caused by fishing and diving are a threat to the site's integrity and artifacts. These threats, along with a search for conclusive proof of the ship's identity, led the NPS, in partnership with George Washington University, to conduct field excavations during the summer of 2011.
The English China Wreck (ECW) was discovered in 1975, and first evaluated in 1984 by NPS archeologists. The ECW was identified as a middle- to late-eighteenth century vessel, carrying a cargo of British ceramics for export. The wreck was named "The English China Wreck" due to the large quantity of British "chinaware" ceramics onboard. During the 1984 evaluations, archeologists speculated that the ECW could be the remains of either the Ledbury, a British vessel lost in 1769, or the Hubbard, a British vessel reported lost in the area in 1772. In 2010, however, a non-invasive surface ceramic inventory was conducted which cast doubt on that original assessment. The presence of Spanish-made ladrillos (bricks) on the wreck, along with British materials, may indicate the ship was involved in secondary trading, and could in fact be of North American, not British origin. Since its discovery in 1975, the ECW has been protected and monitored by law enforcement authorities and the Biscayne NP archeologst. Despite this protection, the wreck has been a target by looters because of its large quantity of easily collectable artifacts.
As a result of the threat posed by looters and the new theory of a possible North American origin, further study of the wreck was proposed with an eye toward expanding on knowledge of American colonial history. This past summer, Biscayne NP partnered with George Washington University and their Southern African Slave Wrecks and Diaspora Heritage Project (SASWDHP) to conduct an archeological field school. The field school was held in June and July of 2011, and included George Washington University graduate students, as well as participants from IZIKO-Museums of South Africa, and the African Heritage Resources Agency (SAHRA), both of which are located in Capetown, South Africa. The field school was overseen by Charles Lawson, Biscayne NP Archeologist; Stephen Lubkemann, George Washington University; and NPS Southeast Regional Archeologist, David Morgan.